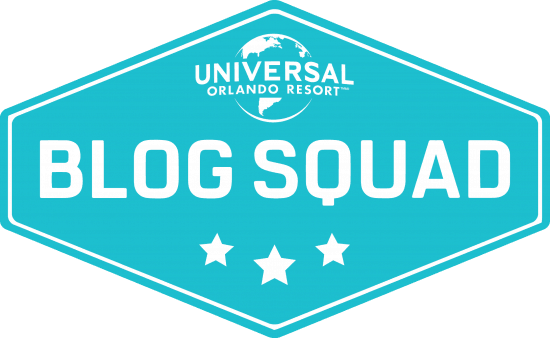 I am an unapologetic Universal fan, whether it's Universal Orlando Resorts in Florida (I went there last year for Halloween Horror Nights), or Universal Studios Hollywood (I went there on a getaway last month with a family teenager). So you can imagine my enthusiasm when Universal Orlando Resorts asked me to join their Blog Squad, a year long ambassador program to discover and write about the theme parks (and a water park opening early next year), special events, world-class hotels and entertainment venues, shopping, food, and more. (You can read the announcement here.)
This opportunity to discover more about Universal Orlando starts tomorrow! I'm excited to spend five days on site in the company of other bloggers, photographers, and videographers, many of whom I've not yet met. My stories of discovery and fun will come weeks and months down the road, you can follow along with what I'm doing on social media, specifically my Facebook profile, Twitter, a Universal Orlando Resorts board on Pinterest, and Instagram, where I'll be changing my profile to show that I'm at Universal Orlando Resorts. If hashtags make your social media life easier, we will all be using #UORBlogSquad. While this is a sponsored opportunity, I'll be discovering the attractions and stories of interest to me (and hopefully to you), and by now you all know that I say what I think regardless of who is paying.
We'll be staying at 1,000 room Loews Sapphire Falls Resort, a Caribbean-inspired property reminiscent of a tropical estate. Lush grounds and a 16,000 square foot pool surround by waterfalls will give me plenty to explore and enjoy. Although it's a busy schedule, it looks like I will have some pool time.
Here are some of the things we'll be doing next week:
Visiting both theme parks, Universal Studios Florida and Universal's Islands of Adventure, eating at numerous venues in the parks. You can bet I'll be having some more ButterBeer at either (both?) Wizarding World of Harry Potter or Diagon Alley. The third theme park, Universal's Volcano Bay Water Theme Park will open in 2017, but we will get a little peek at the development.
Halloween Horror Night activities, including a makeup demonstration and RIP tour.
Time to explore CityWalk, including restaurants, bars, evening entertainment, and a performance of Blue Man Group.
A photo op with the Minions from Despicable Me.
Resort time to explore the hotel property, try out the restaurants and bars, and slide down a waterfall into the pool.
Follow along next week as I take you along with me to Universal Resorts Orlando. Pin this to your favorite Pinterest boards and keep track of lots of ideas for your future visit.