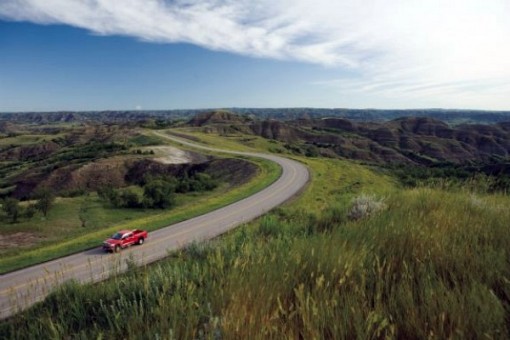 Summer is the time of year for the classic road trip.  Whether you pack up the family car, RV, or score a discount car rental, a road trip screams out to get away from the crowds and try something new.  For me, a road trip would be to places that I haven't been before, so let's spin the map of the U.S. and see what we can come up with.
How about North Dakota?  It's a state that I haven't been to, somewhat obscure in the travel promotion department, and it just seems like the kind of place that would make for a good road trip or family vacation.  Now, what's there to do or see?
According to North Dakota Tourism, I've been missing out on a lot, as the state is Legendary (their tourism slogan).  Here are 10 reasons to take a road trip to North Dakota:
Agriculture – Learn about flowers, farming, spinning wool and and making wool products, and how to run a cold climate winery.
American Indian Studies – Learn about the tribes in North Dakota and how their histories and language differ from one another.  There are some great tours and museums are available.
Art – See the landscapes that have been the inspiration for so many artists, or learn stain glass, glass fusing, or Ukrainian egg painting.  There are lots of ways to be artistically involved, depending on your interests.
Birding – With over 400 species spotted in a single year, it's no wonder that birding packages to the state are so popular.  Lake Sakakawea, Cross Ranch State Park, and along the Missouri River are just a couple of the hot spots for birding.
Crafts – Needlework, quilting, scrapbooking, spinning, weaving, and more tell the history of this part of the U.S.
Culinary – The diverse immigrant cultures found in North Dakota, as well as a commitment to organic farming, have made the area an interesting culinary experience.  And don't forget, they have wineries.
Cultural – With large immigrant populations from the Ukraine and Norway, you can get a taste of the exotic side of North Dakota.  Discover how ethnic art, food, and culture thrive on the prairie.
History – Discover and learn about the earth lodges in Mandaree, as well as other living history programs available throughout the state.  There are plenty of forts and historic sites, and don't pass up the opportunity to learn about how things were done back in the "olden days."
Paleontology – Long believed to be the playground of prehistoric creatures, there are fossil digs near Marmarth, Rhame, and Medora.
Photography – Beautiful scenery will make this an easy way to spend some time.  Explore on your own or join up with other photographers for a tour.
With all of these ideas, plus the fact that North Dakota is very affordable, means you need to put in your road trip list.  With a goal to eventually get to all 50 states, I know I do!
Have you been to North Dakota?
Photo credit:  Courtesy of North Dakota Tourism
NOTE:  This post was sponsored by USave