Plan a weekend getaway trip to Tulsa, Oklahoma, for a perfect combination of relaxation and fun activities. It might not be top of mind when planning a getaway, but it offers the same amenities you expect at a resort for a fraction of the price.
For your getaway weekend, I recommend River Spirit/Margaritaville Casino Resort as a great choice for a couples getaway, a girls spa weekend, or even a bachelor/bachelorette weekend. Located on the banks of the Arkansas River, the Oklahoma resort has two casinos set within the complex along with diverse restaurants and bars, stylishly themed rooms, a spa, and a whole host of entertainment options.
Here is what you can expect on your getaway weekend to River Spirit/Margaritaville Casino Resort:
Rooms
There are two types of rooms available at River Spirit/Margaritaville Casino Resort, along with two types of suites,
The Standard Queen rooms are furnished with two queen beds and feature a flat-screen TV, writing desk, fridge, coffee maker, and safe. The Standard King rooms have all the features of the Standard Queen rooms but have a king-size bed with a chaise lounge.
The Signature Suite has views of the Arkansas River. You get your own living room with sectional couch and club chairs, a powder room, and a private bedroom with a king-size bed. The master bathroom is equipped with a bathtub and walk-in shower. There are large flat screens in both the living room and bedroom, as well as a smaller one in the bathroom, and a desk for working.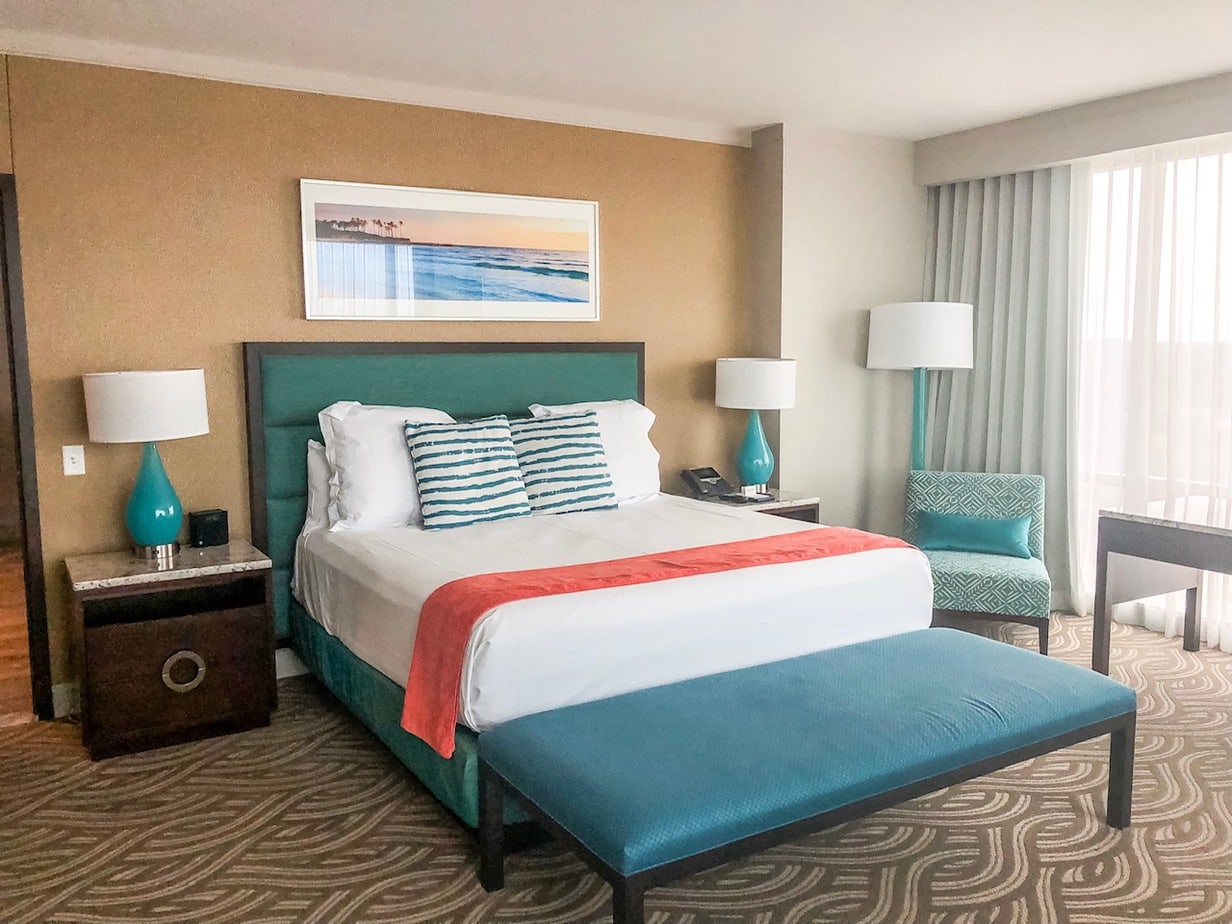 I stayed in a Signature Suite on the 24th floor and with over 1,000 square feet to roam around in, was larger than any apartment I ever lived in. The decor is tropical – turquoise, teal, and pops of orange – with a view of the tropical-themed pool area from the living room. A refreshment area had a fridge, coffee maker and complimentary coffee, complimentary water, and eating utensils. I worked at the high top dining room table, but there was a standard work desk in the bedroom.
The bathroom and dressing area were impressive. A soaking tub in the dressing room provided a view of the Arkansas River, situated so no one can see in. Bath salts were provided – just add a glass of wine or a book, I'm set for a soak. A walk-in shower was located in a separate room and was big enough for two.
All of the rooms and suites are non-smoking and have complimentary WiFi.
Restaurants and Nightlife
River Spirit/Margaritaville Casino Resort offers sufficient dining choices, that's there's really no reason to leave the property. Sometimes a getaway weekend needs to be simple and self-contained, and you can have that here.
Here are a few of the dining choice you have:
Jimmy Buffett's Margaritaville
Part of the tropical-themed chain owned by Jimmy Buffett, the American singer-songwriter famed for his "island escapism" music and lifestyle, Margaritaville gives you the chance to dine in a little piece of tropical paradise. It is the resort's signature restaurant and has an extensive menu featuring all kinds of Caribbean- and American-style dishes to sample. A great accompaniment to your meal is a LandShark beer, Jimmy Buffett's own brew.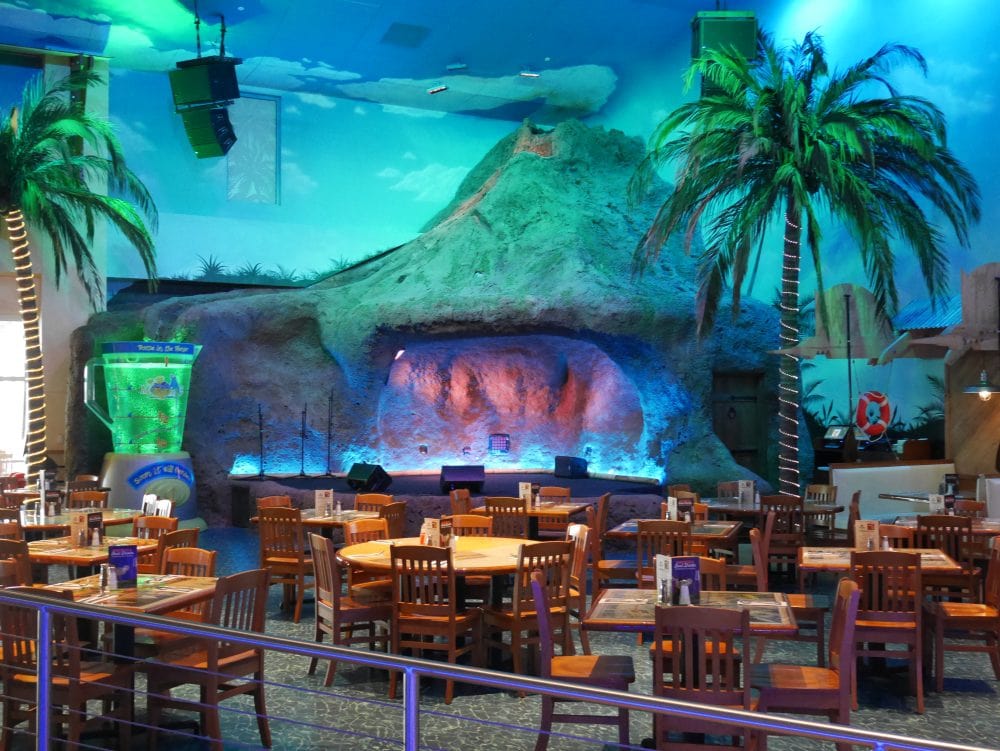 As well as the main restaurant, there are two bars – the exclusive Salty Bar and the Dock Bar – and terrace dining offering river views. You'll be singing Cheeseburger in Paradise and Margaritaville in no time at all.
But Jimmy Buffett's Margaritaville is not just about the food, although this alone is a great reason to go. If you visit in the evening, you will be treated to the nightly volcano show; at the end of the song "Volcano," the volcano in the bar erupts. Where ya gonna go when the volcano blows?
Ruth's Chris Steak House
At the resort's fine dining restaurant, you can expect the high quality and service that Ruth's Chris Steak House is known for. They use a well-perfected broiling technique to ensure that their steaks are cooked to perfection every time. As well as a great selection of beef steaks, you can also opt for some seafood and other specialties. They have an extensive cocktail menu featuring vintage classics, your old favorites and their own concoctions, as well as an impressive wine list.
In addition to the standard menu, there are also menus for those on gluten-free or Keto diets, a vegetarian option, as well as a lighter bites menu which has dishes all under 750 calories.
Visions Buffet
Oklahoma's largest casino buffet, Visions has long been a favorite among locals and hotel guests alike. You get a huge choice of different dishes, including all kinds of meat, seafood, fresh vegetables, baked breads, and lots of options at the salad bar. There's also a vast selection of desserts, if you happen to have a sweet tooth.
here are some themed nights, such as seafood night on Thursdays, where you can try a variety of fish and crab legs (note that there is an extra charge if you want to add the crab legs).
Rain Bay Cafe
For simple American classics such as burgers and hot dogs, Rain Bay Cafe is an easy choice. It has a small menu with just a few favorites, but it is a great place to go if you just want something non-fancy and easy.
Landshark Pool Bar and Tiki Bar & Dining
Open from 10 am to 10 pm to coincide with the hours the resort pool is open, the Landshark Pool Bar and Tiki Bar and Dining are the answer to all your poolside beverage and food needs. Situated alongside the Arkansas River, the bar offer the delicious frozen concoctions Margaritaville is famous for, as well as the pool bar's namesake, LandShark.
The Tiki dining menu features light dining, such as turkey and avocado wraps, personal pizzas, and shrimp ceviche.
Fireside Grill
For cozy, casual dining, Fireside Grill offers a variety of steak and seafood options, as well as a great selection of sandwiches, salads, and burgers. It's a great spot for lunch, I prefer Ruth's Chris for dinner.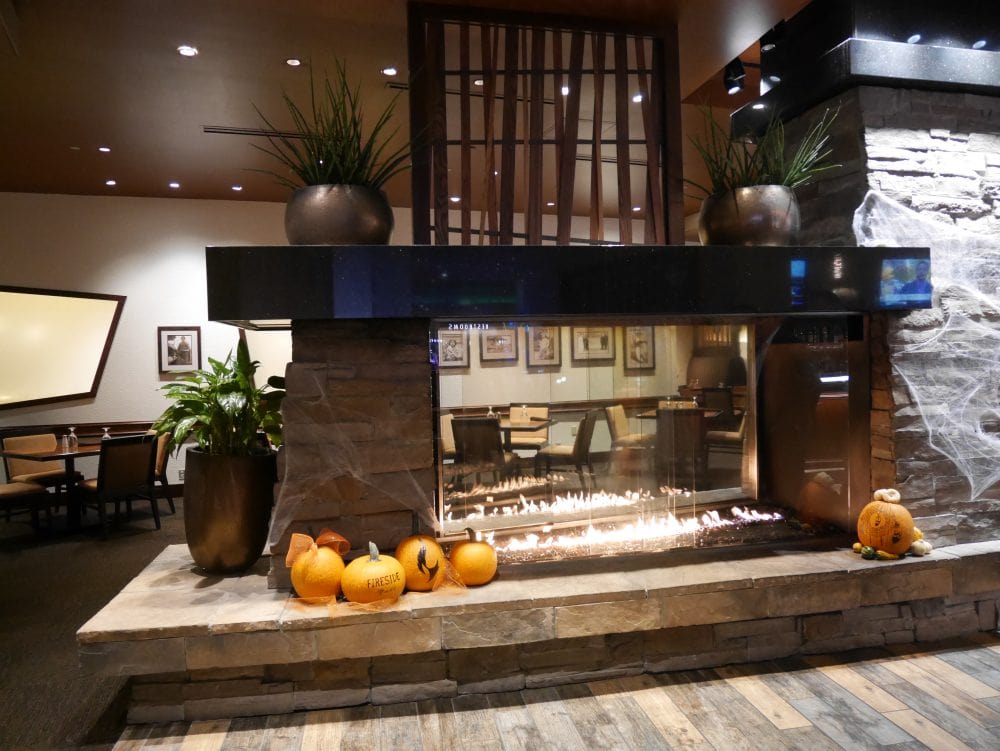 Fireside Grill also offers room service dining if you would prefer to enjoy your meal in the comfort of your room or suite. I enjoyed room service one morning when I needed to knuckle down and get a little work done.
5 o'Clock Somewhere Bar
Harking back to the days when lots of places in Tulsa had live music every night, 5 o'Clock Somewhere Bar is the place to head if you are looking to take in a concert as part of your stay. They hold live gigs every night of the week, hosting a mix of local up-and-coming musicians with touring acts. Combined with the delicious frozen cocktails Jimmy Buffet is famous for, the 5 o'Clock Somewhere Bar makes for a fun evening.
Pour me somethin' tall an' strong,
Make it a "Hurricane" before I go insane.
It's only half-past twelve but I don't care.
It's five o'clock somewhere.
Scoreboard Sports Bar
Watch your favorite sports teams on more than 20 HDTVs, including the gigantic 103-inch Godzilla-tron. There's no sports betting, but you can enjoy a beverage and a game.
Resort Pool
Open during peak season, the resort pool is a fantastic place to chill out on a hot day. As well as the usual sun loungers, there are lily beds for you to float around on the water with; these are on a first-come, first-served basis.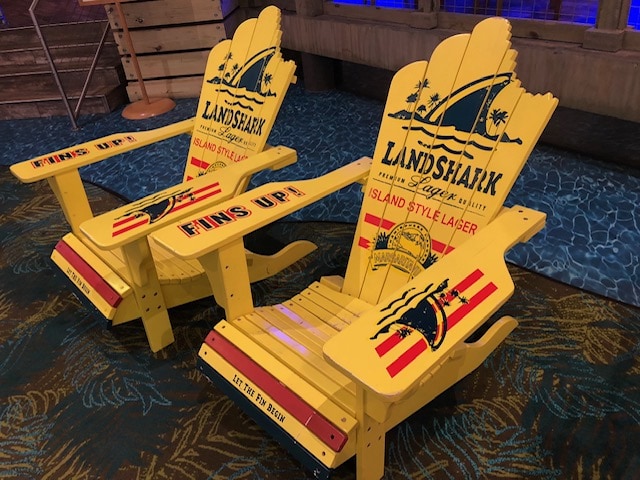 Pool entry is free for all hotel guests, but you need to make sure you are wearing your wristband to gain access; these will be given to you when you check into the resort. King rooms include two wristbands, Double Queen rooms four, and suites six. It is also possible for non-guests to pay for access to the pool. Many locals do this on the weekends  – the pool is a popular place for dates and meetings with friends – so if you want to use the pool at this time, plan ahead to make sure you grab a lounger or lily pad.
As a hotel guest, you also have the option to rent a cabana for the full day (Mondays-Thursdays), and for half-days or full days on weekends. You can choose from traditional cabanas, which can accommodate up to six people or a cabana suite for up to twelve people. Both types include water, a fan and TV.
Featuring the Landshark Pool Bar as mentioned above, you can order poolside food and beverages from Margaritaville's Tiki Bar and Dining.
Emerge Spa and Salon
Of course, everyone needs a little TLC and pampering once in a while, and during your stay at River Spirit, you can certainly get that at Emerge Spa and Salon.  The spa has a good selection of treatments on offer, including facials, tinting and waxing treatments, nail treatments and massages.
The variety of massages and body treatments available to guests will leave you spoiled for choice, although the coconut exfoliating and firming body treatment is highly recommended. The salon services are excellent value for money, particularly for a hotel resort, and they even offer hair extensions and keratin treatments.
The spa offers dressing rooms with lockers, personal showers, along with sinks and mirrors. In addition to the treatment rooms, the spa offers a dry sauna, steam room, whirlpool in the women's locker room, and a sauna and steam room in the men's. A co-ed hydration room is also available.
Use of the spa is included with all treatments, so if possible, plan to allow in a little time on both ends of your treatment to ease into and out of the experience. Day passes are also available (currently priced at $25)  if you're not having a treatment, and include the co-ed hydration room, dry sauna, steam room, and whirlpool as well as the locker rooms.
Casino
The resort has two casinos – River Spirit Casino Resort and Margaritaville Casino – each offering a different atmosphere but connected by a short hallway, meaning you can easily move between the two depending on how your luck is going. The River Spirit Casino is more of an old-school Las Vegas-style casino with dark and traditional decor, whereas the Margaritaville Casino, as you can probably guess, has a bright, vibrant Caribbean-themed decor complimented by Jimmy Buffett memorabilia.
There are more than 3,100 of the most popular state-of-the-art electronic games and slot machines, along with the usual table games – Blackjack, Craps, Roulette, and Mini Baccarat, and a variety of poker tables.
Entertainment
The River Spirit/Margarita Casino Resort is not just about fabulous rooms, delicious food in its restaurants, and fun times gambling in the casinos. The resort also offers entertainment at Paradise Cove, located adjacent to the hotel.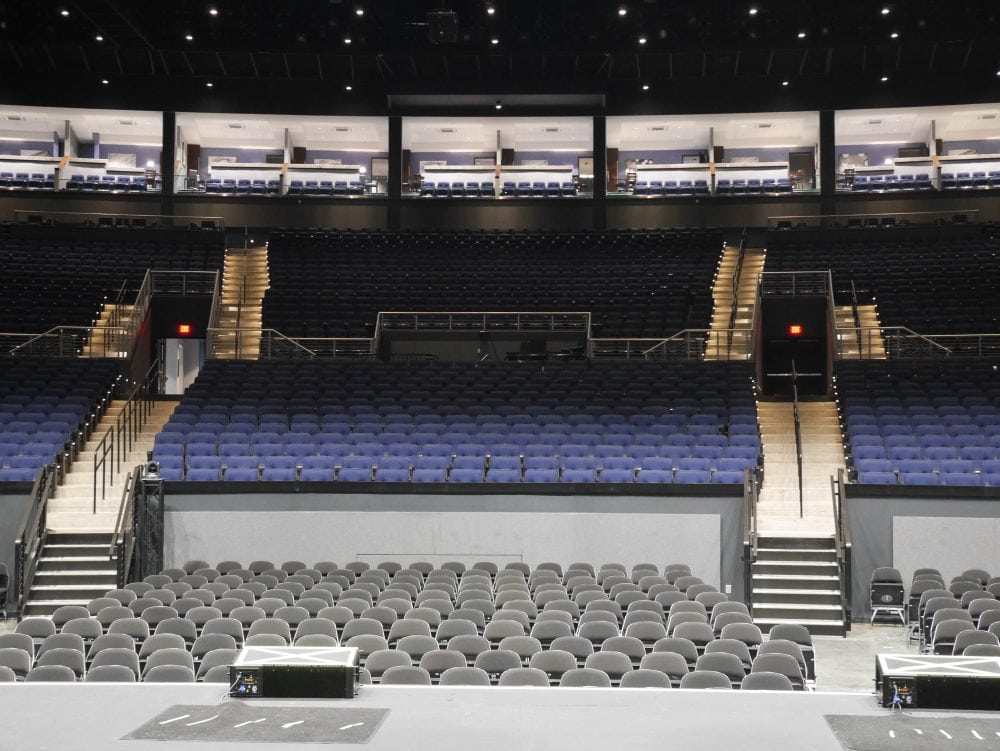 This state-of-the-art, 2,500-seat entertainment venue host a variety of live performances, such as stand-up comedy, sports events, and concerts. If you happen to be catching a show at Paradise Cove, the hotel makes a convenient and easy place to stay, making it a great Tulsa getaway for an event.
If you want to hear live music but in a more casual and relaxed setting, Jimmy Buffett's Margaritaville and 5 o'Clock Somewhere Bar both have concerts every night of the week. The acts that perform play a variety of genres, from country and soft rock to funk and jazz-rock.
Golf
There is enough at River Spirit Casino Resort to keep you occupied, but if you want something more active to do on your weekend getaway, the FlyingTee Golf resort is located a short drive away.
This golfing, dining, and entertainment complex offers three levels of fun where you can use the center's high-quality imagery to play at one of 32 of the world's most famous golf courses. Try your luck at St. Andrew's Jubilee in Scotland or Devil's Island in the Bermuda Triangle.
There are also golf games to choose from, including Long Drive, where you need to shoot as far as you can, and Horse, an interesting mix of basketball and golf.
How to Get to River Spirit Casino Resort
The resort is located on Riverside Parkway in South Tulsa, just south of 81st Street and Riverside Drive, about a half-hour drive from Tulsa International Airport (TUL). Upon arrival, you can call the resort for an airport pickup or opt for an Uber or Lyft.
If you have a car, there is free self-parking and valet parking. If you are arriving from the airport but are not driving, you have two main options. And, with a car, you can make a side trip to Pawhuska, Oklahoma, home of Pioneer Woman Ree Drummond, about an hour away.
A stay at the River Spirit/Margaritaville Casino Resort has everything you need for the perfect trip away, from spacious rooms to fun and relaxing activities to enjoyably fill your time.
Find more ideas for getaway weekends here.
For Pinterest
Save this to your favorite Pinterest boards and use it for planning an upcoming getaway.