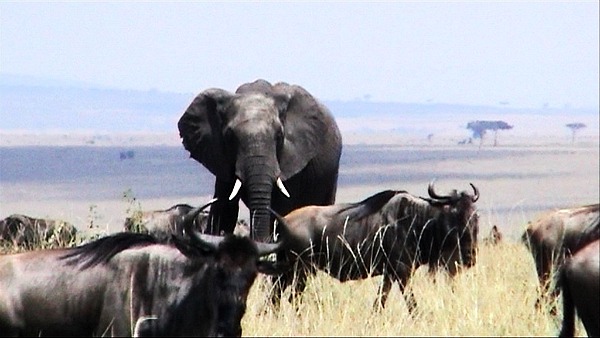 When it comes to thinking about an African safari, Kenya usually figures prominently on the list.  There are plenty of day trips and sights to see in Kenya, although most safaris in Kenya center on one of the major areas, parks, or reserves.
Amboseli National Park
Formerly known as the Maasai Amboeli Game Reserve, this park is part of a larger eco-system that spans the Kenya-Tanzania border.  The reserve has an active tourism economy and offers some of the best opportunities for viewing wildlife in Africa, if not the world.  You can have a very successful visit, even if only for a weekend, and offers the best opportunity for getting close to free-ranging elephants.  The Reserve has been designated a UNESCO Man and Biosphere Reserve, and in addition to the wildlife, visitors can enjoy the views of Mount Kilimanjaro and meeting local Maasai residents.
Buffalo Springs National Reserve
Located on one side of the Ewaso Ng'iro River in northern Kenya, and across from the Samburu National Reseve (see below), Buffalo Springs was first opened to visitors in 1985.  With Samburu it forms one larger eco-system.  You'll find four of the "Big Five" (no rhinos here), along with cheetah, eland, gazelle, hippo, oryx, and a large variety of bird species, including the Somali ostrich.
Laikipia District
The Laikipia region of Kenya does not yet have protected status, but it is home to a vast expanse of sustainable private and communal land.  The area plays an important role in Kenya's biodiversity with wildlife population second only to the Maasai Mara.  You'll likely see elephant (the second largest population in Kenya), black rhino, Grevy's zebra, reticulated giraffe, and Lelwel hartebeest.  Wildlife and other eco initiatives are entirely sustained by private landowners and communal activities and funding.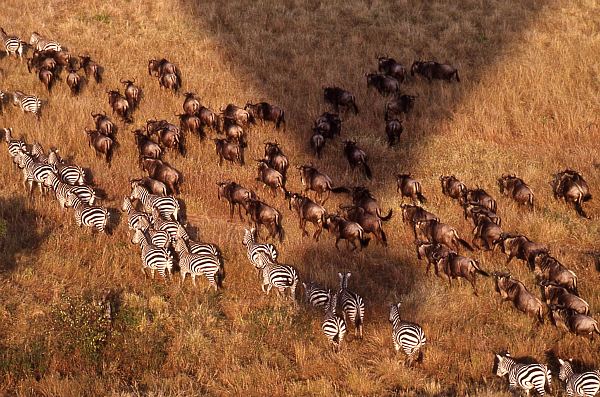 Maasai Mara National Reserve
This large game reserve in southwestern Kenya covers nearly 600 square miles and is probably the most well known wildlife destination.  If you want to see the "Big Five" (lion, leopard, black rhino, African elephant, and African buffalo), you'll likely be taking a long look at a visit to this reserve.  Maasai Mara is known for its population of big cats, and photos from the Serengeti's annual migration of zebra, gazelle, and wildebeest have been made famous in photos (as above).  You'll also be able to see hippos, crocodile, hyena, antelope, hartebeest, cheetah, fox, and plenty of other beautiful creatures.  When many travelers envision an African safari, this is what they think of.
Samburu National Reserve
Located on the banks of the Ewaso Ng'iro River in northern Kenya, the Samburu National Reserve is a little over 100 square miles and is located across the river from the Buffalo Spring National Reserve (see above).  Although you may not recognize the name, this area was one (of two) in which Elsa the Lioness, of Born Free fame, was raised by George and Joy Adamson.  Kamunyak is another lioness of some fame, and although she has not been spotted for a number of year, she became well known for adopting oryx calves (a type of antelope).  Her story was told on Animal Planet.  Other wildlife you can see in the Samburu include:  lion, cheetah, leopard, elephants, buffalo, hippo, gazelles dik-dik, impala, zebra, giraffe, and more.
Tsavo National Park
Tsavo spans Kenya with an East and West Park,  and Tsavo East is one of the oldest and largest parks in Kenya.  Tsavo East is flat, Tsavo West more mountainous, but both parks feature the "Big Five," including a black rhino sanctuary in Tsavo West.  Wildlife is abundant, and you'll be able to see dik-dik, cheetah, zebra, oryx, hartebeest, giraffe, and lots more.
Whether you opt for a luxury safari, a budget-minded adventure, or plan to stay at one of the many Kenya hotels and plan day or weekend trips, an African safari is likely to be on most everyone's travel bucket list.
Photo credit: Joan Gil via wikimedia (elephant and gnu); Viault via wikimedia (migration)
NOTE:  This post is sponsored by My Destination Info; the opinions expressed are those of the author.