If you're a wine lover visiting Woodinville, Washington, you won't want to miss the Long Cellars tasting room.
Located in Woodinville's Warehouse District, home to more than 55 wineries and tasting rooms, Long Cellars is a boutique winery producing Bordeaux varietals with fruit from Washington vineyards.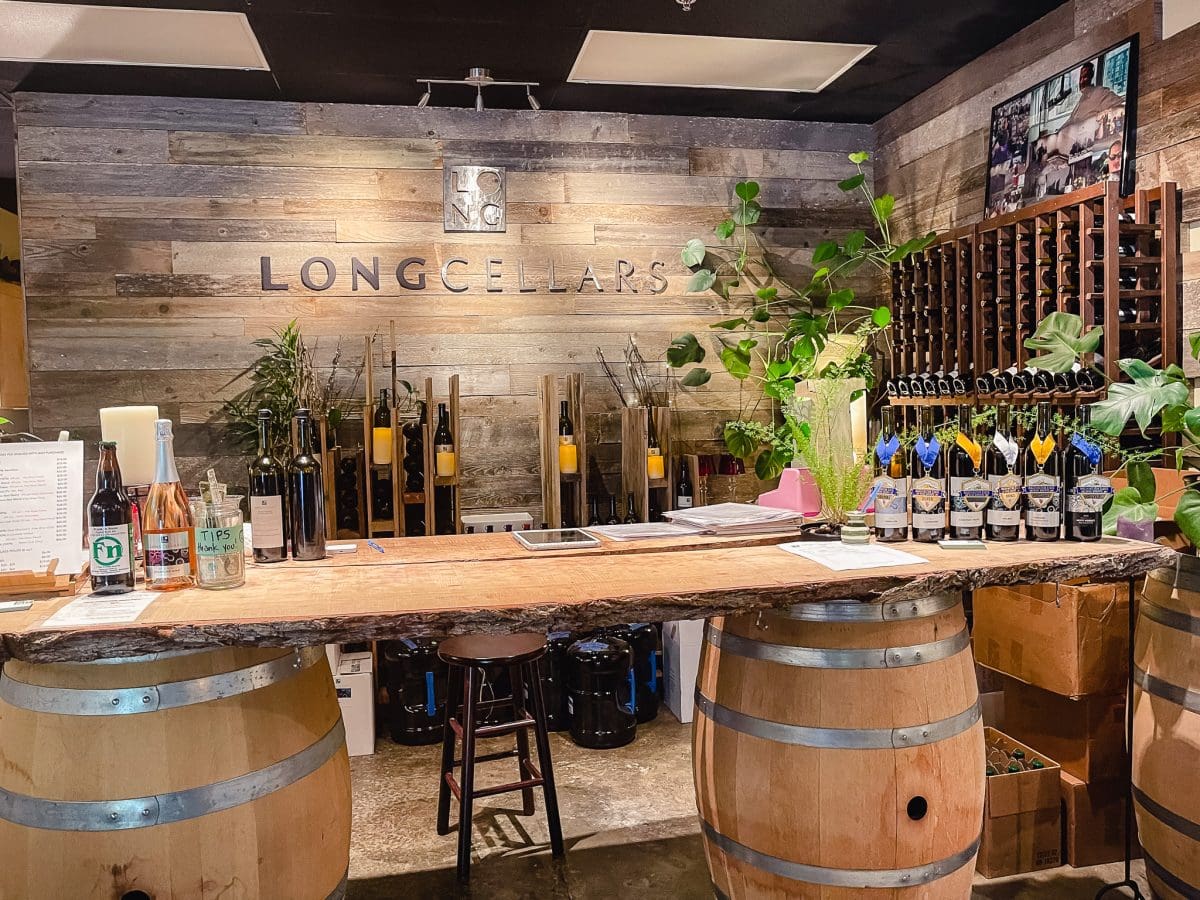 The Long Cellars Story
Long Cellars boutique winery was founded in 2010 by owner/winemaker Jason Long. Jason has been involved in the wine industry in Woodinville since 2006, starting out assisting wineries in the Woodinville area in the production and selling of their wines. In 2010, Jason produced his first vintage of wine and focused on Bordeaux varietals.
Long Cellars mission is to produce amazing Bordeaux varietals from outstanding Washington vineyards. Currently, Long Cellars sources fruit from two of the most well-known Washington State AVA's (American Viticultural Areas) – Yakima Valley AVA and the Red Mountain AVA. Representing all six Bordeaux varietals, you'll find affordable single vineyard and blends.
The tasting room creates an engaging environment to taste and learn about wine. Jason's background as a landscape artist is evident in the way natural elements have been included in the setting. We visited on a rainy day, yet still found a soothing and relaxing atmosphere for our tasting.
The Wines of Long Cellars
The range of wines at Long Cellars is quite extensive, with a focus on producing Bordeaux-style wines in Woodinville. Long uses the noble Bordeaux varietals to produce some amazing single-varietal reds – he has a straight Cabernet Sauvignon, Cabernet Franc, Merlot, Petit Verdot, and Malbec. In addition the single varietals, there are also a few blends.
Located in Woodinville's Warehouse District, home to more than 55 wineries and tasting rooms, Long Cellars is a boutique winery producing Bordeaux varietals with fruit from Washington vineyards.
In addition to the Bordeaux-inspired wines, Long Cellars produces a few other wines that don't have any ties to the famous French appellation. There is a Pinot Gris, an NV Brut Rosé sparkling wine, a Carménère, and a Marsanne. The "Screaming Baby" is probably the most well-known of the Long Cellars wines – a non-vintage (NV) blend of Cabernet Sauvignon and Malbec. We bought a couple of bottles of it for some new parents and grandparents.
You can see the line up of Long Cellars wines here. You can purchase these wines at the tasting room, or contact them directly to arrange a purchase.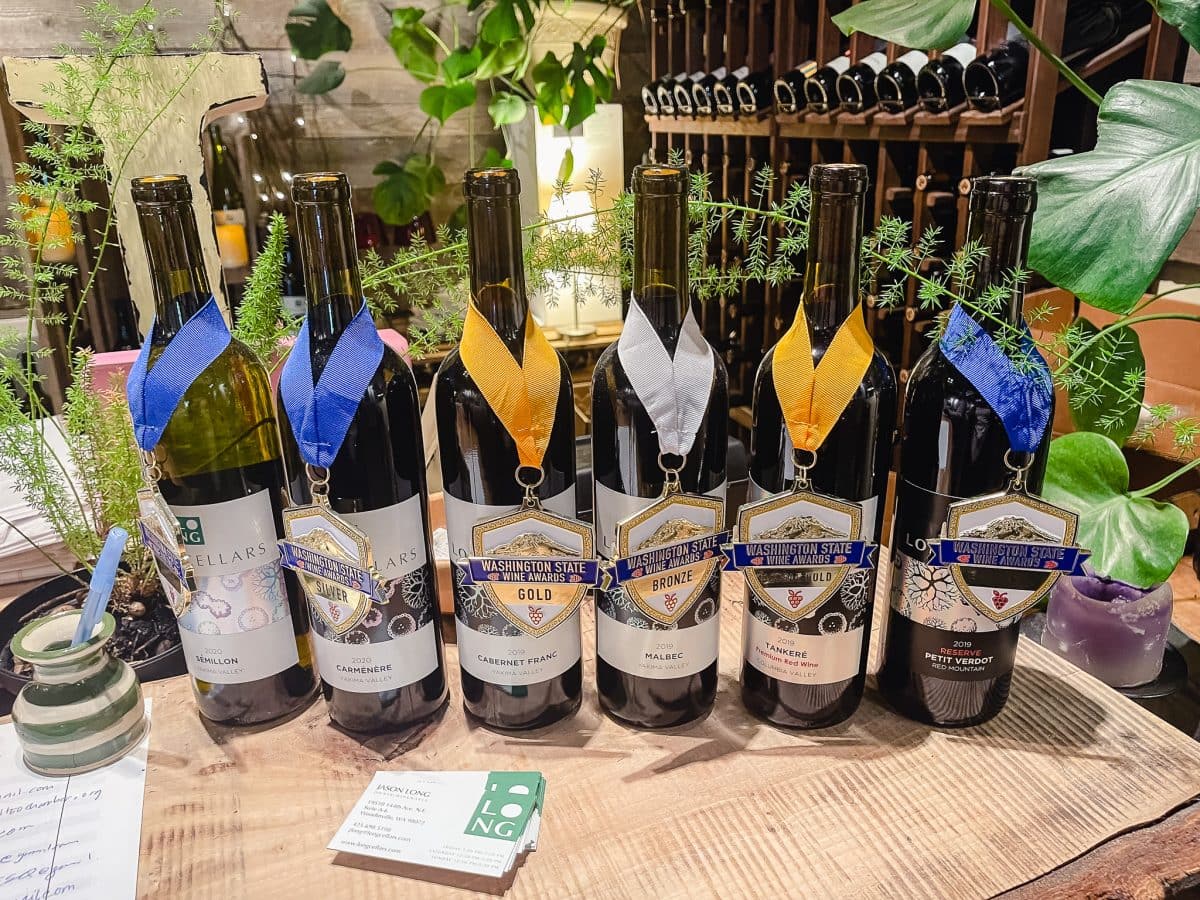 Wine Tasting at Long Cellars
We chose to visit Long Cellars tasting room because we were in the area for a book signing and we say the sign. When we peeked in, it looked inviting, so in we went. Serendipity, I guess.
Another group was just finishing up, so we grabbed a tasting menu and sat at one of the wine barrel high-top tables. With wine names like Screaming Baby and Cab Frank, we knew we were going to have a fun time.
What We Tasted
Long Cellars has a tasting menu which, like most wineries we've visited, changes throughout the year. We had an entertaining discussion with the tasting room manager about what we like -we always answer red wines – and what she was pouring that day. We tried some things on the menu, some off. We share what we tried and enjoyed.
2019 Cabernet Sauvignon (Colombia Valley)
Tasting Notes: Bold flavors of ripe red fruits, with a hint of spice and smoke.
Our Thoughts: Lots of cherry flavor, leaning a little more toward the sweet end of the spectrum that I expected. Nice, lingering finish made me want another sip. I'm filing this one if the liked it, didn't love it category.;
2019 Cabernet Franc (Yakima Valley)
Tasting Notes: 00% cab franc from the Boushey vineyard in the Colombia Valley AVA. Notes of red cherry, herb, and wood spices. Big fruit flavor tempered by oak. $40.
Our Thoughts: I love a big fruit-forward cab franc, and this was no exception. I found the dark fruit flavor delightfully finished with vanilla as it lingered on the palate. We took a bottle of this home.
Screaming Baby
Tasting Notes: A non-vintage blend that was initially created as a gift to a young couple with a baby and another one on the way. It's remained in the line up. $22
Our Thoughts: We didn't actually taste this wine, but the story behind it was perfect for some friends who were expecting their first baby, and parents for whom it would be their first grandchild. And at a $22 price point, it was easy to add on a bottle for ourselves as well. We haven't opened it yet, but my expectations are that it will in nicely with our every day wine rotation.
Cab Frank
Tasting Notes: a class French-style Cab Franc. Lots of cherry and dark fruit flavor. The name comes from Jason's first home winemaking experience when he pressed cab franc on Halloween night in 2010. $24
Our thoughts: Bright with cherry flavor in a refreshing, non-sweet way. Nice finish. Drinks far above its purchase price. Some of this came home with us as well, and it's already in rotation.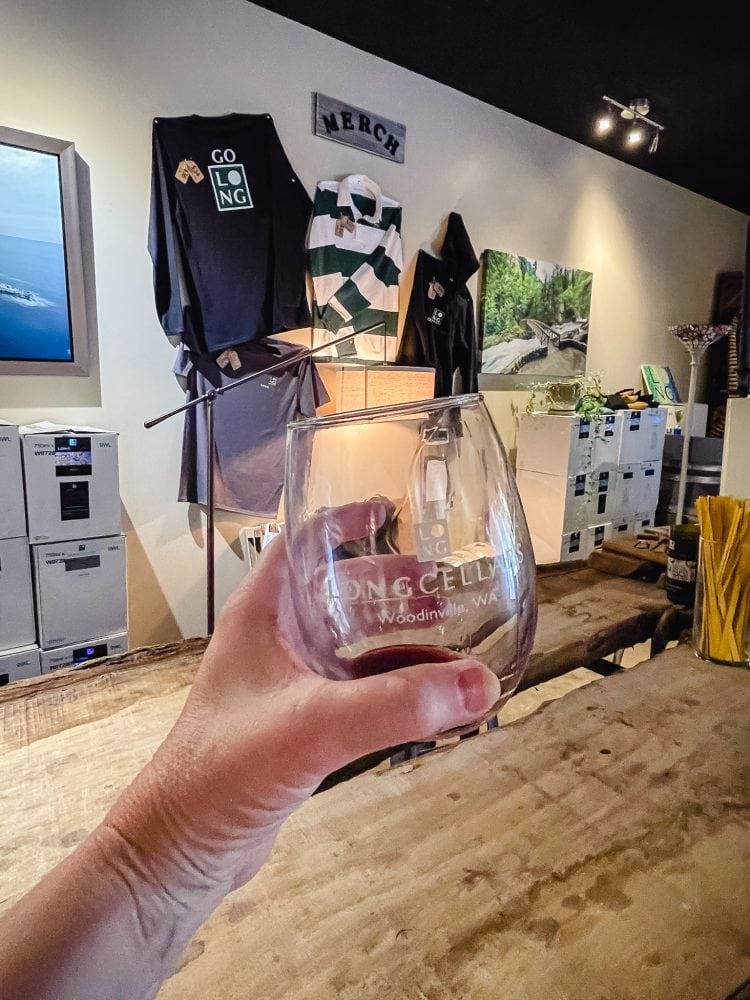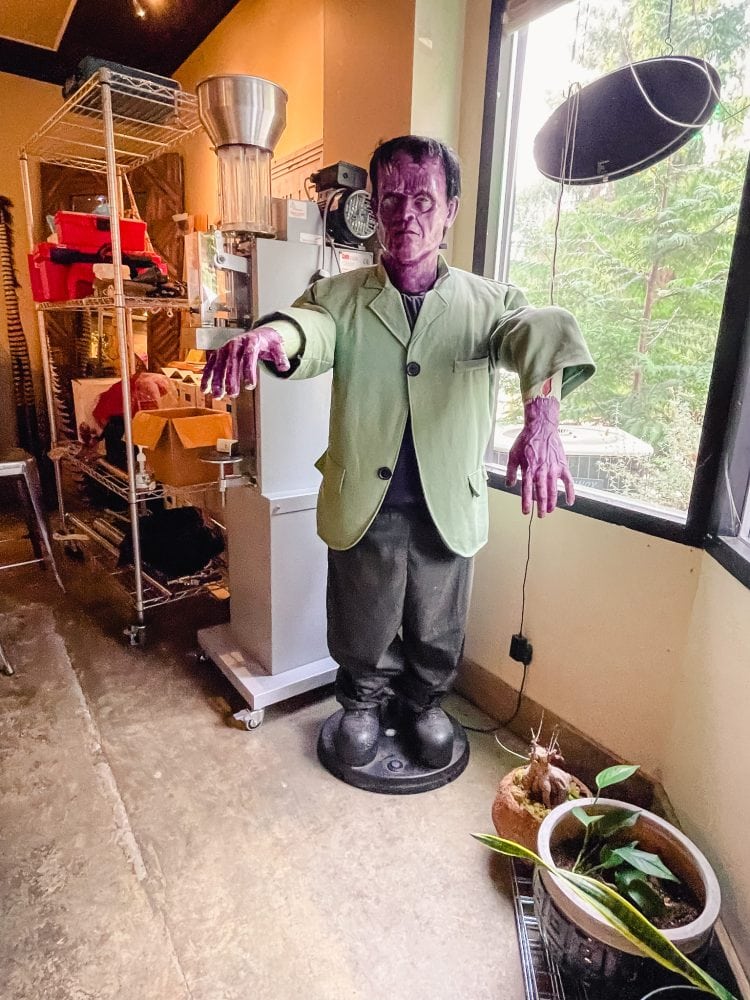 Need to Know
Location: 19510 144th Ave. N.E., Suite A6, Woodinville. (Warehouse District in Woodinville Wine Country)
Website: here
Hours: The tasting at Long Cellars is open on Fridays, 3-7 pm and on weekends,12:30-5 pm. Wine tastings are available Monday-Thursday by appointment only.
Reservations: Always a good idea, but not required (except as noted above). We walked in and were easily accommodated.
Special Policies: Tasting fee of $12. Waived with any purchase. Wine also available by the glass, ranging from $6-12.
Wine Club: Long Cellars have two wine club options – The Long Fellowship Wine Club and the Screaming Frank! Wine Club. Details about wine club memberships can be found here. Wine club members have special access to certain releases, and receive discounts on bottle purchase and special events.
Drink responsibly. Limit your tastes, select a designated driver, or take a cab or ride service when doing wine tasting.
We're not wine experts, we just have a love of wine. We enjoy tasting, learning about, and buying wines for our home cellar. We learn something new every time we visit a winery or tasting room, and we're interested in visiting different wineries here at home (join us a we search for Washington's best wines) as well as when we travel.
In other words, we're probably just like you. Cheers!
Save to your favorite Pinterest boards for your next wine tasting