Washington State is the second largest wine-producing state in the United States. With over 1,000 wineries and over 80 varieties of wine from Washington State AVAs, wine production has become a multi-billion dollar business in the state. Wine is big business in Washington State.
Since we finished building our wine cellar during the stay-at-home pandemic time, we've been visiting local wineries to perfect our tasting skills (there is some science and art to the process), get to know local wineries that we've overlooked, and make some purchases for our cellar. You'll be seeing more winery and wine reviews coming up, both wineries in Washington State as well as those we've discovered in our travels.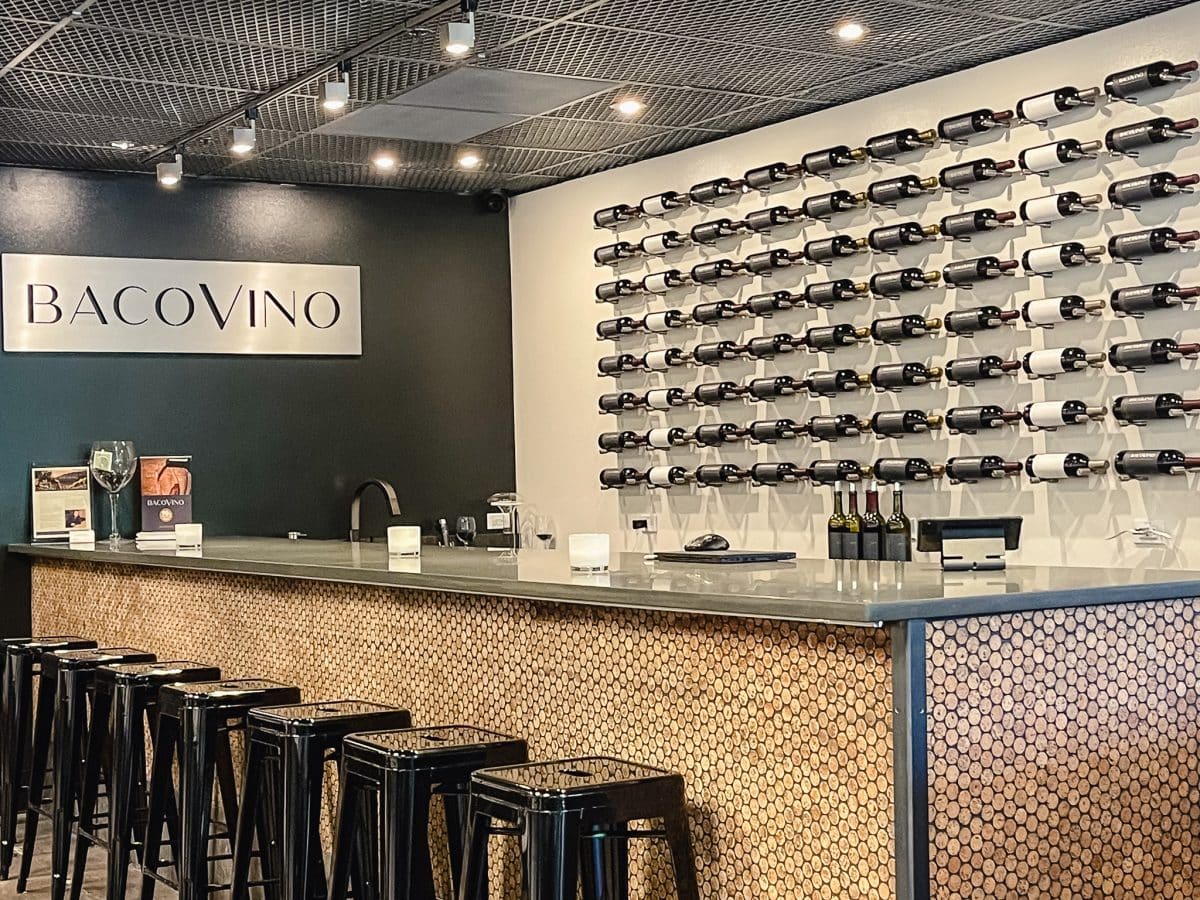 Pour a glass of your favorite, and learn more about Bacovino Winery in Tukwila, Washington.
Why We Chose to Visit Bacovino
Sometimes we have great reasons for choosing a winery to visit. Other times, it's more serendipitous. Our decision to visit Bacovino Winery in Tukwila was based on practicality.
Since we were at Southcenter running some errands, I used the Washington State Wine app to see if there were any tasting rooms in the area. The app can be a little frustrating at times, the search function doesn't always return relevant results, but after a few search attempts, I found the information for Bacovino, and off we went.
The Bacovino Story
Bacovino was founded in 2019 by owner and winemaker Randy Brooks. Although the wine production has only been going for a few years, the history of the brand goes back some 40 years to the tradition of a family gathering featuring salmon and wine.
The core philosophy of the brand is centered on gathering – a Brooks family tradition. Gathering to share great food, great wine, and great company is the real joy in life. And Bacovino incorporates the value of gathering in its wines.
Beautifully balanced and refined wines showcasing the terroir in which it is produced are a must for this south Seattle winery. The ability to achieve a harmonious balance between the vineyards, climate, and location, a gathering of the three if you will, is a core value of the Brooks family, and it comes through beautifully in their wines.
Grapes are sourced from eastern Washington and are brought to the Tukwila winery to be processed. All production is done on location in Tukwila. After fermentation and aging, wines are released that showcase unique characteristics and the balanced flavors of Bacovino wines.
The Wines of Bacovino
The current range of wine at Bacovino is comprised of 10 wines and is a mix of white, red, and rosé. All are 100% grape specific; the first blends are in the barrels now.
The rosé is made from 100% Syrah and at a modest 11% alcohol, is absolutely quaffable on a warm summer's day.
The Pinot Gris is beautifully aromatic and displays characters of stone fruit and green apple – it is both crisp and refreshing. The white varietals on offer are a beautiful citrus and herbaceous Sauvignon Blanc and an elegantly rich Viognier.
On the red side, the varietals produced include the vintner's Cabernet Sauvignon, Sangiovese, and Barbera. The signature range includes a Merlot and a Sangiovese. Finally, the flagship Reserve range
consists of the 2010 Reserve Tempranillo – a treat for a real special occasion.
Bacovino has a wine club available, with three membership options. Wine club members receive, depending on the option, a range of benefits – complimentary tastings, discounts, exclusive events, and more.
Wine Tasting Options
There are two tasting options available at this south Seattle winery – the signature flight and the cellar flight. The wines offered change based on availability, some of the popular wines will often sell out. Each pour is about 1 1/2 ounces, so a flight will roughly equate to one glass of wine (it's so easy to lose track of what you've consumed when tasting).
The Signature Flight ($10) is a combination of four red and white wines. The Cellar Flight ($15) is solely red wines.
Tasting fees are waived with purchase.
What We Tasted at Bacovino
We ordered one of each tasting flight and shared each taste, something we often do so we can taste more and drink less. We generally know if we're going to love something after a few sips, so this works just fine for us.
From the Signature Flight:
2019 Signature Sauvignon Blanc ($25)
Tasting notes: This light-bodied wine offers aromas of citrus, green apple, and herbs. The palate is bright and crisp, lacing minerality through notes of gooseberry, grapefruit, and lemongrass. Bracing acidity compliments the citrus notes to provide a refreshingly crisp, dry finish.
We thought: Although we are generally not fans of most white wines, we know that we need some in the cellar. We enjoyed the crisp citrus notes and bought a bottle, thinking that it would pair nicely with a salad or some seared prawns.
2020 Signature Viognier ($27)
Tasting Notes: Aromas of white peach, Asian pear, bright citrus, and melon. The palate expresses delicate honeysuckle notes with medium acidity.
We thought: Meh. We filed this in the liked it, didn't love it category. I was enthusiastic to try it and would like to have some Viognier in the cellar. Unfortunately, this one won't be it.
2018 Signature Merlot ($31)
Tasting Notes: Aromas of black cherry, boysenberry, raspberry, and spice. The palate is lush with Italian plum, cherry, and tobacco, with subtle notes of vanilla and mocha. Lush fruit followed by a velvety finish.
We thought: We liked this. A lot. It was full of juicy fruit and I think it would pair well with a pasta dish with a rich red sauce. This was a contender to go home with us until we tasted some of the others and moved in a different direction.
2018 Signature Sangiovese ($32)
Tasting Notes: Tantalizing nose of cherry, currant, cranberries, and vanilla lead into the fruit-forward vintage. The palate is filled with blackberry, tart cherry, fig, spices, and tobacco. Fruit, tannin, and acidity dance in balance throughout. Wine Enthusiast rated this 90 points.
We thought: We spent two weeks in Tuscany earlier this year, so are predisposed to enjoy Sangiovese. This one didn't disappoint. We bought two bottles, one to cellar for another couple years, and one to serve up with a steak and grilled vegetables.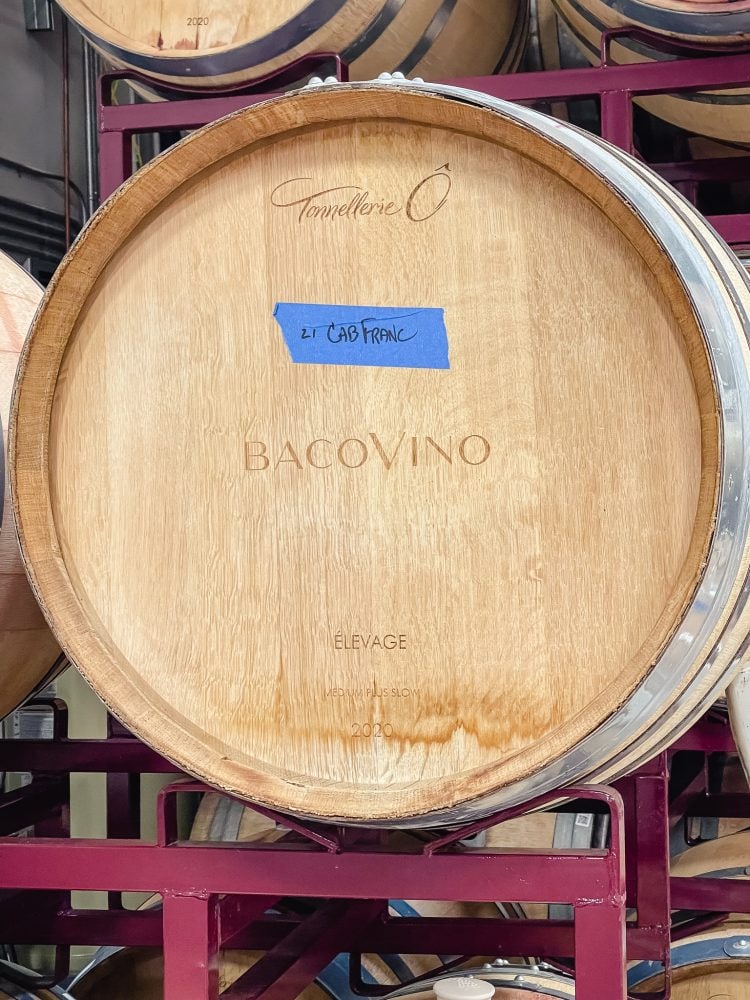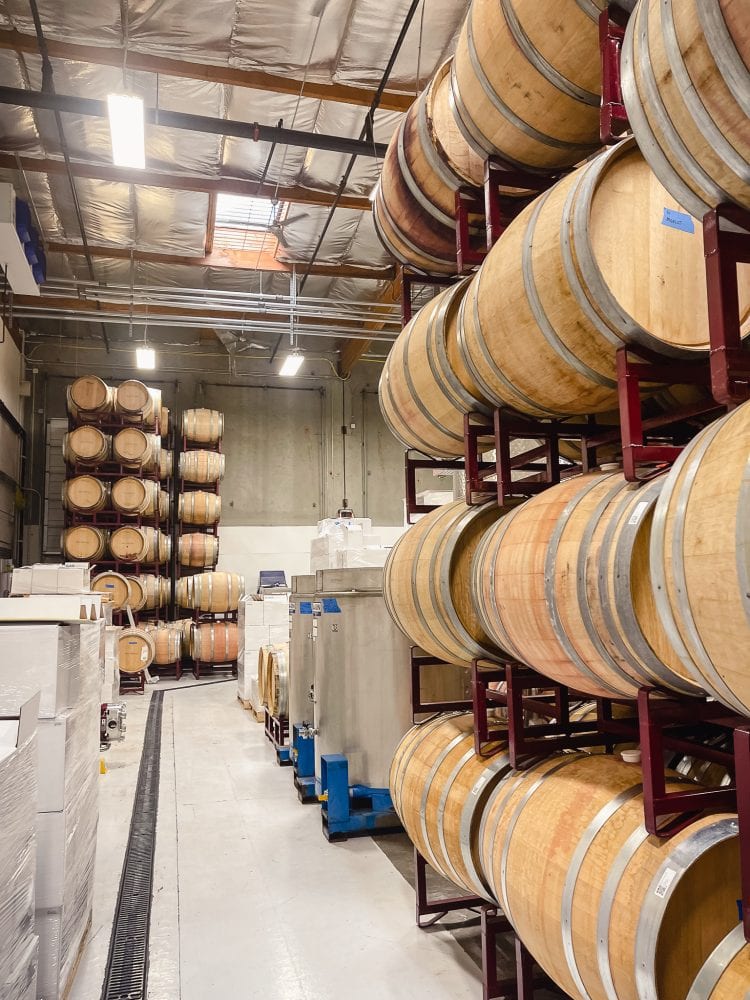 From the Cellar Flight:
2018 Vintner's Sangiovese ($38)
Tasting Notes: Forward notes of black currant and cherries fill the nose of this wine. The palate is loaded with rich dark flavors of ripe blackberry, currant, cherry, and leather with a sultry mouthfeel and well-structured tannins.
We thought: We liked this, but preferred the Signature Sangiovese.
2019 Vintner's Cabernet Sauvignon ($39)
Tasting Notes: Aromas of blackberry, cherry, and currant flourish with a hint of cassis. The palate is filled with ripe blackberry and cherry, and undertones of vanilla, pepper, and spiced oak. Ample tannins make for an elegant, structured finish.
We thought: We liked this a lot. However, we have lots of Cabernet in the cellar and this wasn't a sufficient enough standout to take home with us. We'll be back to order a glass, though, as it was tasty.
2018 Vintner's Barbera ($46)
Tasting Notes: Aromas of black currant and bright cherries highlight this wine. The palate is filled with luscious dark fruit flavors of blackberries, black currant, and cherries with a bold mouthfeel and velvety tannins to finish.
We thought: Delicious! Rich and warm and smooth. Both of us loved this, and even though we have quite a few bottles of Barbera in our cellar, purchased three bottles to take home. When we find a wine we really enjoy, we usually purchase three bottles – one to drink in the not too distant future (we'll probably pair this with some slow oven-barbecued baby back ribs), and two bottles to cellar (taking notes on how the wine changes over the years). Looking forward to opening up a bottle of this one.
2010 Reserve Tempranillo ($48)
Tasting Notes: A balance between earthiness and fruit brings forth aromas of cherry and leather in this wine. A full body layered with black cherries, red currant, cedar, and toasted spice that lingers with a smooth finish to coat the palate.
We thought: Oh sweet jee-bus! This delicious explosion in our mouths of earth and leather was like coming home again. Smooth, lingering, calling out for a pairing that brought out even more of the delicious flavor. Paired with a cheese plate with strong flavors, or maybe just a beef tenderloin with grilled vegetables on the side, there were so many options that we purchased four bottles to bring home. I expect we'll open up one of the bottles before the end of the year, maybe have friends over for some wine tastings, cellaring the rest for some special meals.
Need to Know
We recommend visiting Bacovino, especially if you live in or are out and about in the south end near Southcenter. While the exterior of the winery is industrial and you might be tempted to overlook it, the interior is visually stunning and the tasting experience is solid. With prices ranging from $21-48, you'll be able to find something enjoyable in your price range.
Location: Bacovino Winery is located at 3225 South 116th Street, Suite 169, Seattle (Tukwila), Washington. This is an industrial park, so it's easy to get confused and think you are in the wrong place. You're not – keep going!
Website: here
Tasting Room Hours: Wednesday-Friday, 3-7 pm; Saturday, noon-7 pm; Sunday, 1-5 pm.
Reservations: Not required. We stopped off without a reservation and were immediately seated. At the time, we were the only guest there, but people trickled in after our arrival. On Wednesdays, Bacovino has a food truck and music to celebrate Wine Wednesday. Special events are scheduled throughout the month.
21 and over only
Drink responsibly. Limit your tastes, select a designated driver, or take a cab or ride service when doing wine tasting.
For Pinterest