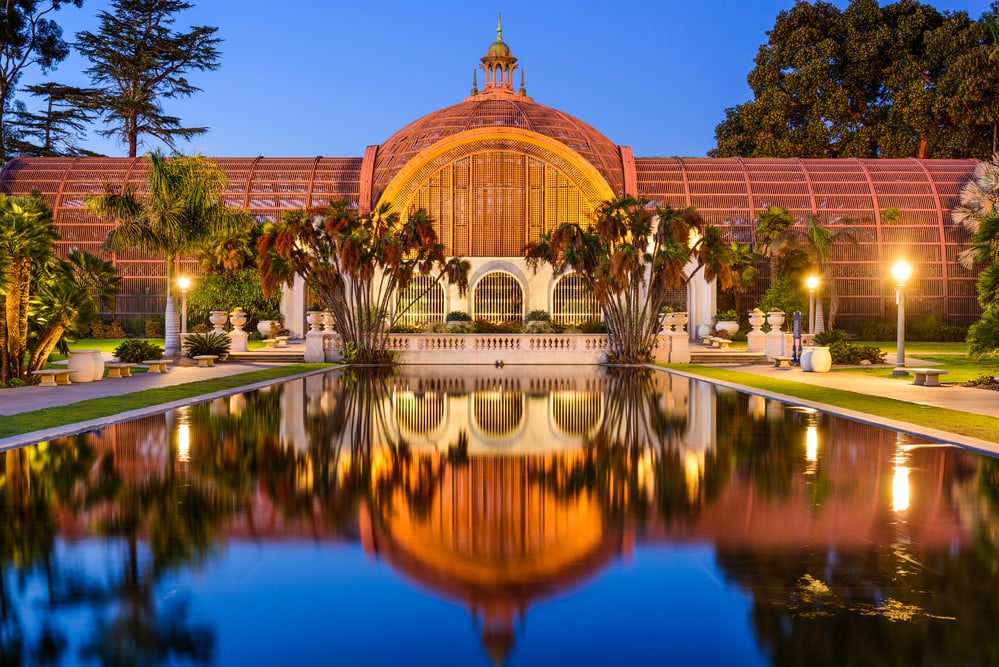 As the breadbasket of the country, California is known for its bountiful harvests of everything from avocados to grapes. But the Golden State is also home to a wealth of Eden-like gardens that thrive thanks to California's mild weather and variety of microclimates.
Here are 10 standouts, in no particular order, all with public access. Some are former estates, while others are public spaces set aside by cities for everyone's enjoyment. Whatever their origin, all today represent a legacy of beauty and tranquility available to locals and visitors alike.
1. Balboa Park Gardens – San Diego
San Diego is rightly celebrated for its sparkling water and lively Gas Lamp Quarter, but another treasure can be found in the heart of the city at the 1,400-acre Balboa Park. This magnificent urban greenspace includes a Botanical Building which holds more than 2,100 plants including tropical palms and orchids. 18 other themed gardens offer displays ranging from a California Native Plant Garden to the Alcazar Garden patterned after a Spanish palace.
Location: 1549 El Pardo, San Diego.
Official website here.
2. Descanso Gardens – La Canada Flintridge
The former estate of a Los Angeles publishing magnate, Descanso Gardens is an idyllic 150-acre botanical garden hidden in the Southern California foothill community of La Canada. Highlights include the much-loved Rose Garden, a Japanese Garden and Teahouse, a California Natives Garden, and the largest collection of camellias in North America shaded by a grove of native coastal oaks.
Location: 1418 Descanso Drive, La Canada Flintridge
Official website here.
3. Filoli Historic House & Garden – Woodside
Listed on the National Register of Historic Places, Fioli is the former country house of gold mining magnate William Bowers Bourn II. This 654-acre estate of manicured grounds was first planted in the early 1920s. The 16-acre gardens bloom with wisteria, camellia, magnolia trees, and an olive orchard. Located 30 miles south of San Francisco, the grand manor house and elegant formal gardens evoke a stately 19th-century European sensibility.
Location: 86 Canada Road, Woodside
Official website here.
4. Ganna Walska Lotusland – Montecito
Home to more than 3,000 plants from around the world, Lotusland is a botanical garden that was the former home and singular vision of opera diva Madame Ganna Walska. From 1941 until her death in 1984, she worked with top garden designers to create an exotic 37-acre refuge that includes everything from whimsical topiary designs to rare plants species. Multiple themed gardens bloom with specimens including bromeliad and butterfly-friendly gardens to the famous lotus pond, which was created from a converted swimming pool.
Location: Cold Spring Road, Montecito
Official website here.
5. Hearst San Simeon State Historical Monument Gardens – San Simeon
A National Historic Landmark and iconic estate perched on a hilltop along the Central Coast, Hearst Castle's opulence is matched by the eccentric elegance of its gardens. Hearst had hundreds of thousands of annuals, perennials, and bulbs planted so that the estate's grounds would be in bloom any time of year. Along the winding pathways of the estate's 127 acres, guests can see a wide variety of both native and non-native species including trees like cedar, Irish yew, and Italian cypress as well as tulips, snapdragons, and calla lilies.
Location: 500 San Simeon-Monterey Creek Road, Cambria
Official website here.
6. Huntington Library, Art Collections, & Botanical Gardens – San Marino
One of railroad tycoon Henry E. Huntington's most lasting legacies is the expansive and beautifully designed gardens that make up his former estate in San Marino now known as the Huntington Library, Art Collections and Botanical Gardens. A carefully curated collection of specimens from around the world, the Huntington features more than 1,500 plant varieties spread across 120 acres. The twelve different themed gardens include the Desert Garden, Rose Garden, Jungle Garden, and Japanese Garden with a ceremonial teahouse. There's an impressive art collection as well.
Location: 1151 Oxford Road, San Marino
Official website here.
7. The Getty Center – Los Angeles
Fittingly, the gardens at the Getty Center are as much an art installation as a horticultural display. Most prominently, the Central Garden is considered a living artwork, with constantly shifting elements created with the addition of new plants and artistic trimming. Defining features of the 134,000 square foot space include an artful, maze-like central topiary of azaleas in a central pool framed by tree-lined walkways, fountains, and over 500 different types of plants including bougainvillea and cactus. This is another opportunity to enjoy fabulous art and gardens in the same location.
Location: 17985 Pacific Coast Highway, Pacific Palisades
Official website here.
8. McKinley Rose Garden – Sacramento
McKinley Rose Garden in the state capital's McKinley Park is a much-loved display of 1,200 rose bushes. The 1.5-acre park went from a private to a public park in 1902 and has been a favorite Sacramento stop for photos, weddings, and other events ever since. The McKinley Rose Garden is also one of only several dozen to earn a place as an All-America Rose Selection display garden.
Location: 3255 H Street, Sacramento
Official website here.
9. San Francisco Botanical Garden – San Francisco
This 55-acre enclave in Strybing Arboretum in San Francisco's Golden Gate Park represents one of the most diverse displays of plant life in the world. Thanks to the Bay Area's unique microclimate, species from far-flung areas as diverse as Central American cloud forests and temperate areas of Asia thrive. Over 8,000 types of plants, including some extremely rare varieties no longer found in their native habitats, can be viewed here, as well as magnolias, native redwoods, and passion vines from Chile.
Location: 1199 9th Avenue, San Francisco
Official website here.
10. Living Desert Zoo & Gardens – Palm Desert
Dedicated to preserving desert environments through education and appreciation, the Living Desert Zoo & Gardens offers a unique opportunity to view thriving desert ecosystems from throughout the world. Focusing on the deserts of North America and Africa, visitors can view more than 1,400 species of desert plants in various themed areas separated by family – such as agave and ocotillo – as well as by geographic region, including Mohave, Vizcaino, and Upper Colorado.
Location: 47900 Portola Avenue, Palm Desert
Official website here.
Inspired to visit these beautiful California gardens? Pin this to your relevant Pinterest boards.