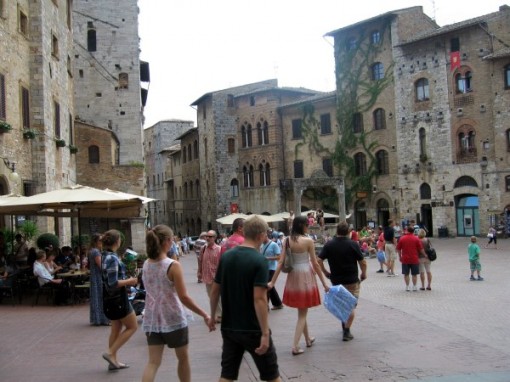 Travel and fashion can often be a difficult combination, especially when that travel is a 24 hour journey to one of the most fashionable countries in the world.  At home it's easy to throw on a pair of shorts and flip flops for bumming around during the day, and when you need to class it up a bit, you've got your whole closet right there waiting for you.  But packing smart for an extended vacation means packing light, so it's easy to let fashion fall by the wayside.  While certain concessions need to be made for practicality's sake, with a little bit of effort can help you blend in and look like a local and not a tourist.
Here are a few of the fashion trends that I noticed in Italy this year, and which can easily be incorporated into a travel wardrobe, and will help you blend in with the locals rather than stand out.
Jeans are always in fashion.  Especially if you're young and willowy.  If that's you're body type you can get away with skinny jeans, but if not just make sure they're not covered with stains, patches, or worn hanging down around your knees.  I think jeans take up too much room to pack, and are much too uncomfortable to wear in near 100 degree weather, but if you're going to pack them, make sure they're neat and tidy.
Ditch the trashy t-shirts.  Logo wear is all over the place, although those logos tend toward Ralph Lauren and Abercrombie and Fitch rather than your neighborhood bar or college fraternity.  You'll see t-shirts worn beneath suit jackets, with sweaters tied around the neck preppy-style, and under other types of shirt.  Pack classy not tacky and you'll fit right in.  My recommendation is a few practical colors that can be worn with everything.  These can be rolled up when you pack and shouldn't take up much room.
Shorts are for daytime.  Shorts were worn all over the place, although your experience will likely be different if you're in Rome or Milan.  They were typically a longer length, usually to the knee, for both men and women.  A looser fit (although not baggy) was worn by the more youthful, while those of a more "mature" age wore a more tailored fit.  Shorts were seen paired with t-shirts, loose fitting shirts (not tucked in), and floaty tops.  White was probably the most popular color, although that's a difficult color for travel, and I saw lots of various colors of plaid as well.  My suggestion would be to pack at least one pair of shorts in a solid dark color, and if there's room throw in a second pair of that same color or brighten things up with a fun plaid.  Remember, though, shorts are for day time.
Capris are for men and women.  Shorts were rarely worn by locals in the evening and as the sun was setting out came the capris.  This has been a European trend for a number of years now, but since capris for men still hasn't migrated its way to the U.S., I doubt many will be packing them.  White was again the most popular color, but if you choose to pack them, I'd again recommend a dark color that would coordinate with the rest your clothes.
Sundresses for day and evening.  Whether it was walking around town, shopping, or grabbing dinner and drinks, sundresses were a popular fashion choice for women of all ages.  Hem length seemed to depend on age, but was always age appropriate among the Italians.  Think cottons, simple lines, and a variety of prints.  These are lightweight and comfortable, easy to pack, and if you shop carefully can be picked up inexpensively.
Shoes are important.  Athletic shoes were worn by runners and people playing tennis. Or Americans. This is a tough issue for travelers, and since shoes take up a lot of room in your luggage you need to pare it down to what's practical.  If you'll be doing a lot of hiking, cycling, or even just walking, you're going to need to pack something that is kind on your feet.  My recommendation is to wear one pair, pack another, and toss in a pair of flip flops (which should be worn for the pool or beach only, and not for walking around town) or simple flat sandals (which are cute, but provide no support if you're going to be doing a lot of walking).  Unless you're logging miles of running, leave the athletic shoes at home.
Accessories make the outfit.  Scarves and jewelry were seen both day and night, with evening wear becoming a bit more flashy.  This is good news for travelers as accessories take up minimal room in your luggage and can turn a basic wardrobe into something chic.  I packed a lot of black and white, mixing it up with scarves and jewelry so that I never felt that I was always wearing the same thing.  You can also find some great buys on accessories while traveling, so consider buying some along the way as a practical souvenir.
Hats are practical and cute.  Baseball hats, a traditional staple of American headwear, were seen everywhere in Italy, and on Europeans as well as visitors.  It was labels, logos, and branding run amok!  Women tended toward sun hats and newsboy.  Hats can help protect your hair and skin from sun damage or hide a frizzy mess.  Pack something simple or plan to pick one up when you arrive.
Minimal make up.  Most women wore little makeup yet still managed to look pulled together with a healthy, outdoorsy look.  No bright eyes and cheeks, just a sun-kissed glow.  You won't have to take up much room packing cosmetics, just toss in a tube of mascara and some lipstick or lip gloss.
Bags are practical.  Cross-body bags of all sizes were carried by both men and women, and were as practical as they were fashionable.  I saw all sizes, from those itty bitty bags that can barely hold a cell phone, credit card, and lipstick to overnight sized leather totes.  My suggestion is to pick up a bag when you're there.  Italy has beautiful leather and you can find something at all budget prices.  I picked up a overnight bag in red leather and an every day bag (that can be worn on the shoulder or cross-body) that's a good size to hold most everything I need on a daily basis.  They are items I'll use for years and a great reminder of my travels.
Do you dress to blend in?  Do you have some fashion tips on how to dress like a local rather than stand out in the crowd?  Looking at the photo at the top of this article, can you pick out the Americans based on the way they're dressed?
Photo credit:  personal collection