I log a lot of travel miles each year, and every year I say that I'm going to keep track of just how miles that is. And every year, about half way through, I forget to update my miles and then I never seem to get back on track. Maybe next year I'll stick with it (and I say that every year, too). While many of of travels each year are a result of flight attendant work, I do manage to log a goodly number of other travel each year, usually averaging one trip a month.
This year featured two trips to Europe and a nice amount of U.S. travel. I am grateful for the many travel opportunities that have come my way this past year. I'm blessed beyond belief to be able to see the world and, as I look back on the year, I find myself singing, "I've had the time of my life."
Here's a month-by-month recap of what 2014 delivered up.
January
I welcomed in the New Year in Seattle, with dinner at my favorite steak house and a stay at the Seattle Westin. It's become a family tradition to stay in the city and watch the fireworks set off from the Space Needle.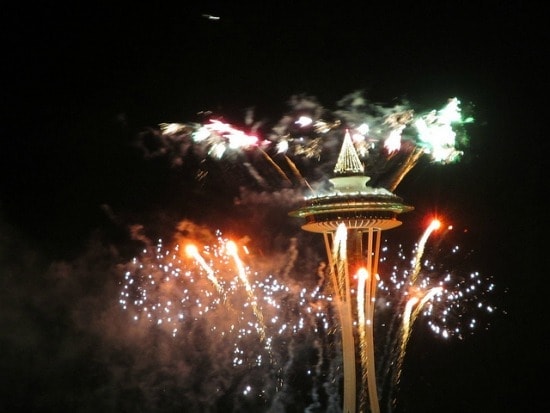 In a bit of tradition, New Year's Day started off with coffee, doughnuts, and travel friends at Top Pot. We've been informally gathering like this for a few years now to talk about travel and life, accompanied by sugar and caffeine.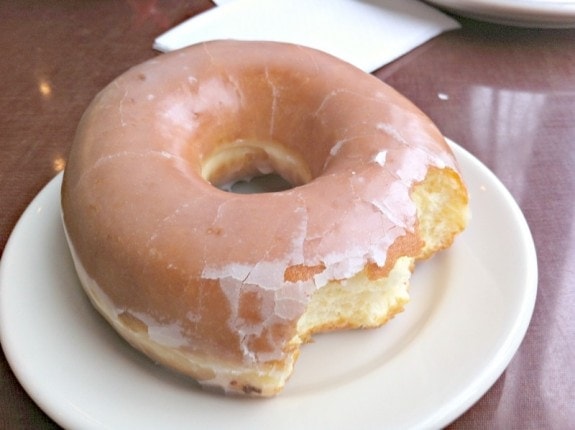 Also in January, I was off to Las Vegas for NMX (New Media Expo). My participation in NMX this year was two fold, first as a speaker on the topic of bloggers and brands working together, and secondly, to help out as needed with this sister show to TBEX. At one of the events, Tony had the opportunity to meet Miss America 2014, Nina Davuluri.

February
I've lived in Washington all my life, but there are still so many places that I haven't seen. As a typical local, I go to the same place over and over (which is also why I don't think traveling like a local is necessarily a great way to see a destination). In February, I had the opportunity to take in a lot of Western Washington that I'd been missing out on as part of a trip sponsored by GoWest.
From familiar starting points of Port Townsend and Port Angeles, we headed up to the Olympic Peninsula and visits to Hurricane Ridge (lots of snow) and the Olympic National Forest (remarkably, only a little rain).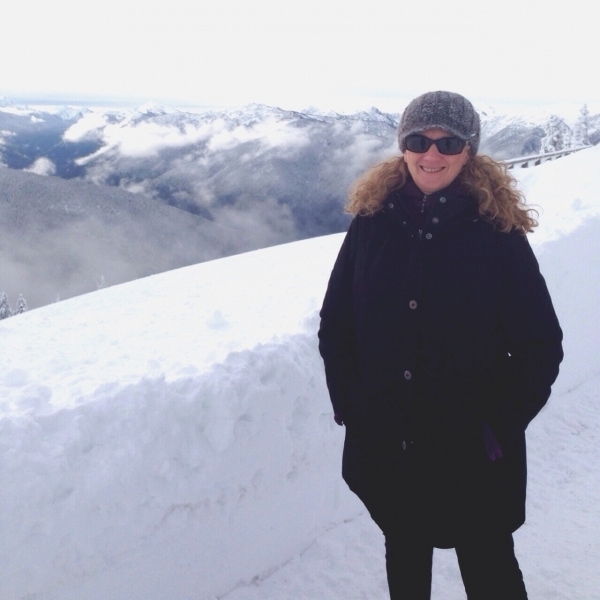 From there, we headed down the coast, with stops along the way to enjoy the spectacular and rugged beauty of the Washington coast.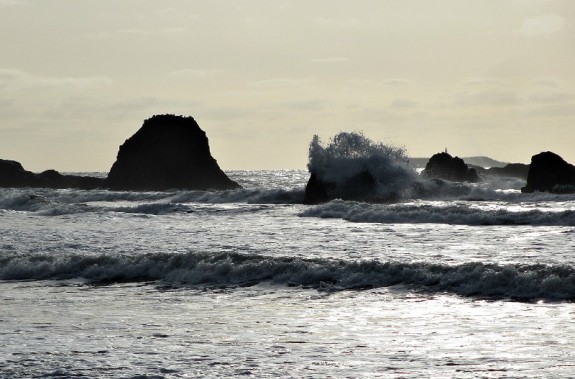 Continuing on down the coast, it was a chance to visit another part of the state that I've been missing out on — the coastal cities on the Long Beach Peninsula. It's easy to see why this area is popular all year round, and we were fortunate to have fairly nice weather during the winter.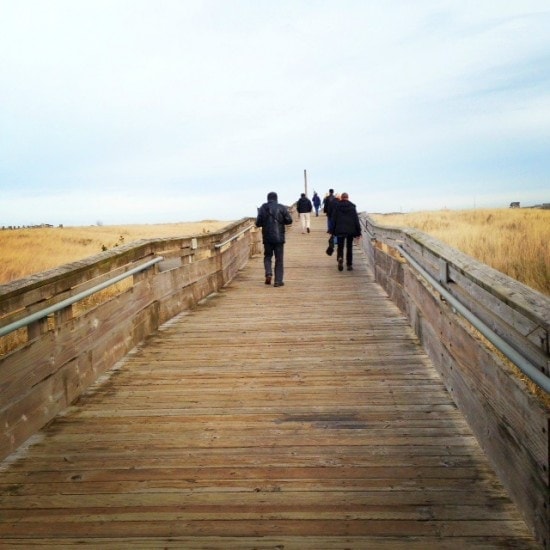 My tour around the coastal part of the state reminds me of how very fortunate I am to live in Washington State.
March
In March it was off to San Francisco for Canada Media Marketplace and a few days to enjoy the city. I have always loved San Francisco, and feel like I left my heart there on my first visit 40-some years ago. This trip was an opportunity to share the city with a first time visitor, and I enjoyed many of the touristy things that I haven't done in years – riding the cable car, wandering the wharf, and laughing at the sea lions on Pier 39. We stayed at the venerable Fairmont on the top of Nob Hill, enjoyed Italian food in North Beach, Chinese food in Chinatown, and can't wait to make a return visit.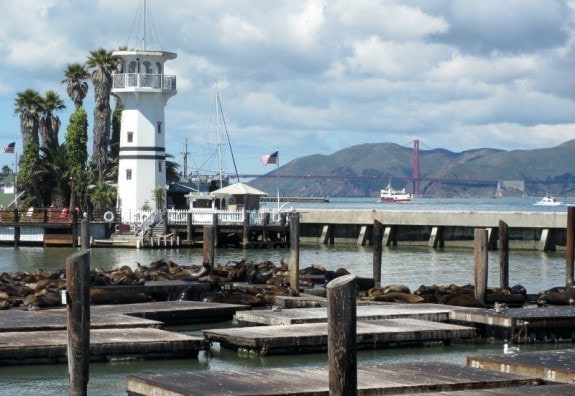 April
Off to Chicago for a long weekend. There was plenty of eating, including Polish with Susan McKee and Armenian with Katie Aune. I also enjoyed some beer tasting in the neighborhoods. I stayed at the beautful Hyatt Regency (on Wacker Drive), which was also well situated for exploring downtwon and shopping on the Magnificent Mile.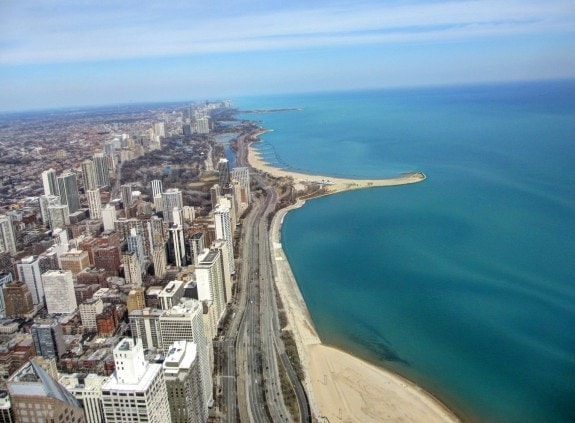 After a quick trip back home, it was time to pack again and head off to Athens, my first trip to Greece (and adding another country to my "visited"  list). The purpose for the trip was primarily business — a site visit for TBEX Athens, representing TBEX at a press conference, and attending a travel media event. The sites and food of this city just wowed me! And while I didn't have much time for sightseeing, I knew I'd be back. Plus, it was good to see travel pals Cacinda Maloney, Kerwin McKenzie, and Laurence Norah, and meet new friends Rebecca Hall, Paul Johnson, and Candice Walsh. I stayed at the Hilton Hotel, just a few blocks from the Megaron (the event venue).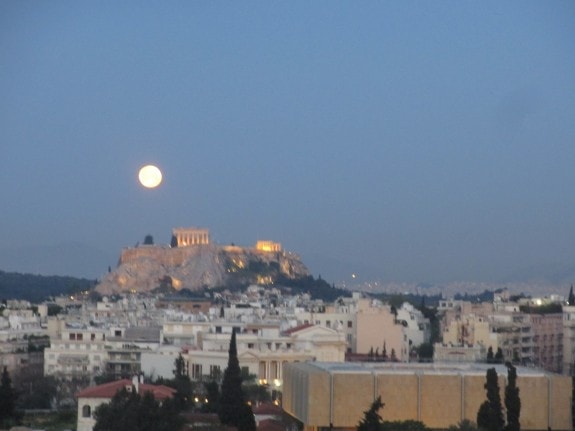 May
Back exploring in the Pacific Northwest, this time I headed north to neighboring Vancouver B.C. Again, this was a chance to check out some new places closer to home, including a trip to Grouse Mountain and a walk across the Capilano suspension bridge. I pushed my fear of edges to the back of my mind and managed to walk across (and back). Other fun activities included sightseeing from the water, visiting a few museums, a quick trip to Granville Market, and lots of great food and drink. You can do and see a lot in Vancouver with a long weekend, and I recommend making the trip often. This trip I stayed at the beautiful (and offering beautiful views) Fairmont Waterfront.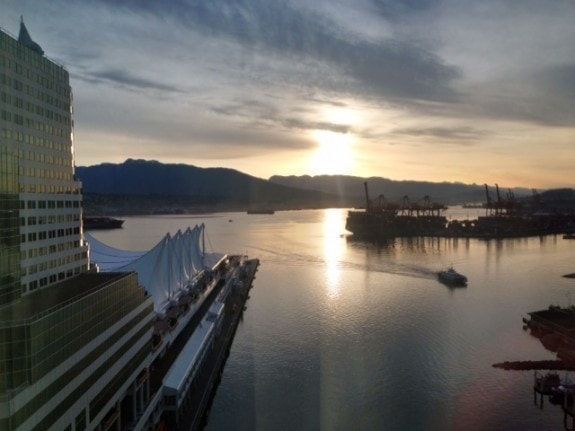 June
Off to Cancun, and a stay at the Moon Palace Resort. The trip was a site visit for TBEX Cancun, and the area sure has changed since I was last there. A couple of hurricanes will do that. The resort was beautiful, although time there was limited, as we toured hotels and other venues, and made a quick trip to Xcaret Park.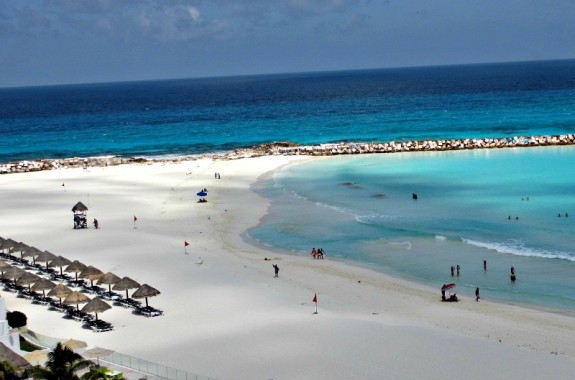 July
Back to Las Vegas this month, this time for a stop off at DMAI (at Aria) and to spend time with friends, including the Chuck and Susan Schwartz (from Convexx) and Jaume Marin from Costa Brava. I extended the stay for a couple more days of rest and relaxation (translation:  lying around a pool and drinking cold beverages) at Mandalay Bay, and also had time to check out the Da Vinci exhibit at the Venetian.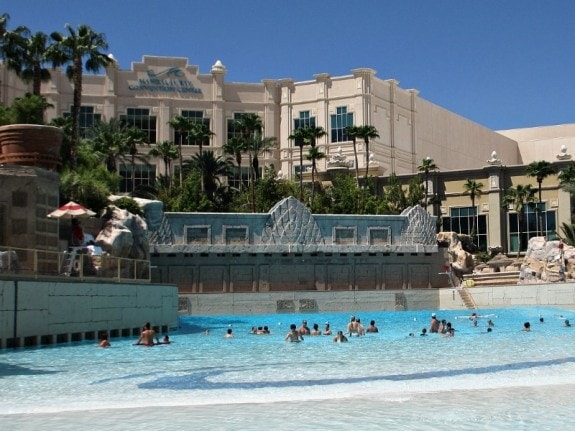 August
In August we headed to the eastern side of the state to stay in a teepee, learn about hops, and enjoy the food and wine of the Yakima Valley. Most of us know about the wine heritage and production from the Yakima Valley, but I didn't know that 70% of the domestic hop production comes from here. In fact, I didn't even really know what a hop was, what it looked like before it was dried, or how the crop was harvested. We learned about all that, and more, with a wonderful long weekend stay.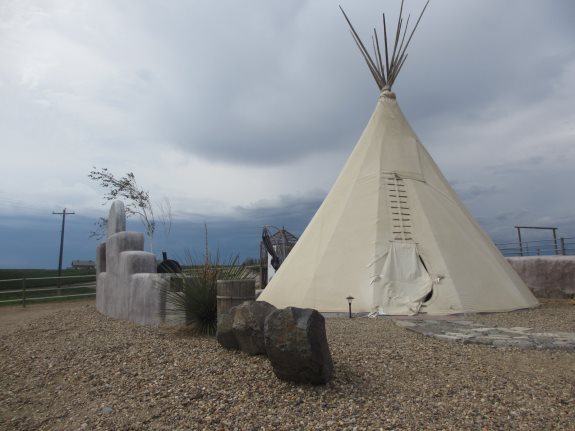 September
Back to Cancun for TBEX North America 2015, this time for a week long stay at Moon Palace Resort. In addition to the time spent at the resort, which did include some relaxation time by the pool, exploration of caves and dinner at Rio Secreto, and a wonderful show at Xcaret that depicted the history of the area. It's easy to forget that Cancun isn't all beaches (and spring break partying); this made for a nice week of activities.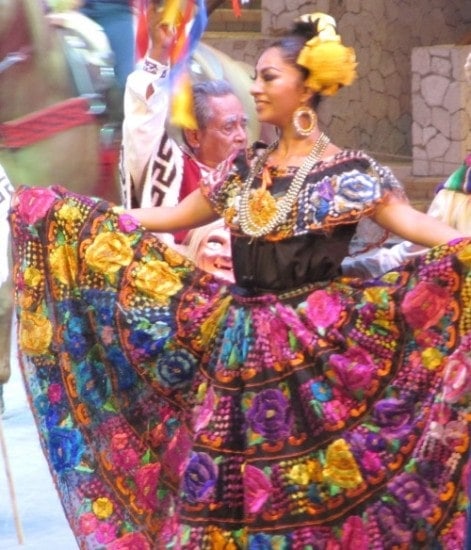 September also provided me an opportunity to visit a new state — South Carolina — to attend Euphoria, a food, wine, and music festival, in Greenville. What's not to like about that combination, huh?! I was charmed by Greenville's main street, from pedestrian-friendly sidewalks lined with restaurant and cafes, the independent shopping available, and the downtown green spaces and parks. The festival itself was an orgy for the senses with food tents and samples, demonstrations, classes, and concerts. I had never heard of the event before, but you can bet it's on my radar scope now. It should be on yours, too.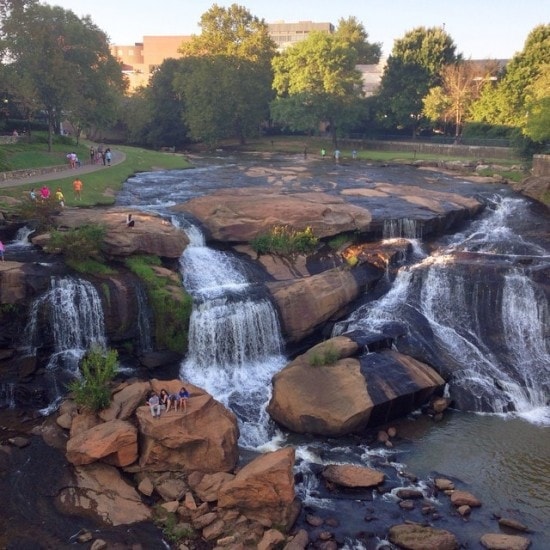 October & November
Back to Greece, not only for TBEX Europe 2014, but also for some personal exploration time. We were there for two and half weeks with time divided between Athens and enjoy baklava and Greek coffee, oohing and aahing over the antiquities in Athens, Volos, and Mt. Pelion, and enjoying the company of so many travel friends.
In Athens, I FINALLY got to climb up the Acropolis. Not only were the temples and ruins amazing, but it offered a view to match. There was scaffolding and workers everywhere, but I managed to look past that as I thought about Socrates and Plato and all the other Greek philosophers who hung out here. The new Acropolis Museum is also well worth your time.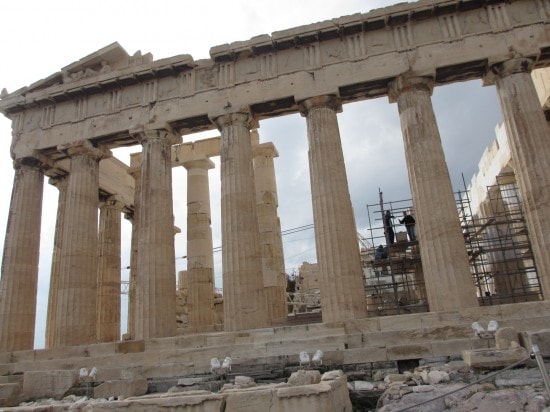 Much of the time in Athens was spent enjoying delicious food and drink, and I'll be forever spoiled by the yogurt and baklava I ate there. There were some favorites spots we returned to time and again, loving not only the food but the personality of the place. Owners were gregarious and welcoming, full of raves about their menu offerings, and we found them right much of the time. We generally opted for family owned cafes and street food, eschewing the fancy schmancy, and were perfectly happy with our choices.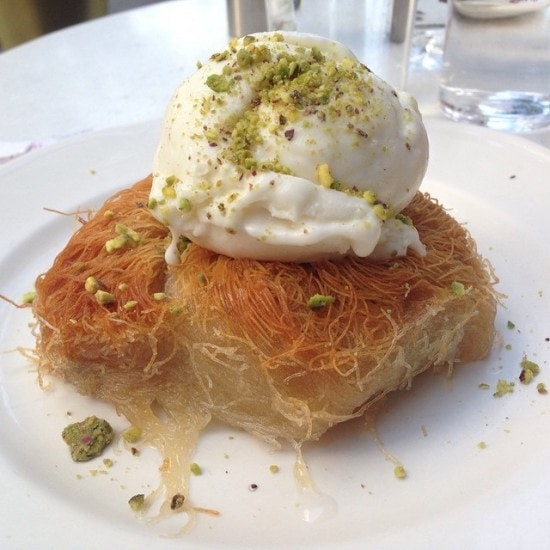 Volos is a relatively new port city, a couple of hours (by car) from Athens. What I liked about the area is that is provided a sea to mountain experience. The city has close ties with the mythology of Jason and the Argonauts, with a group of modern day voyagers re-creating the experience. The sea was a lovely view to start each day. I'm not sure how warm the water was, but every morning there were swimmers out there braving the temperatures.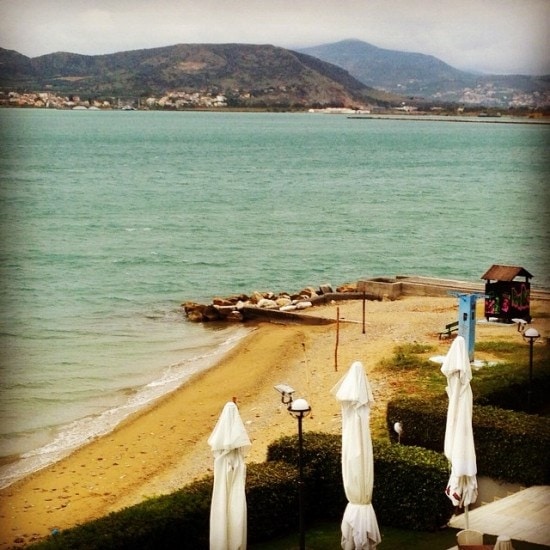 A short drive away, up narrow, winding roads, Mt. Pelion offers skiing and other snow activities. The highlight of Mt. Pelion was the traditional stone villages carved out of slate and clay that are built into the sides of the mountain. We enjoyed chestnuts roasting in the town square, learned about "spoon sweets" (a local preserve), and marveled at the views of the sea. There are few small hotels and inns in the area, and on a return visit, I'd want to stay in one of the villages.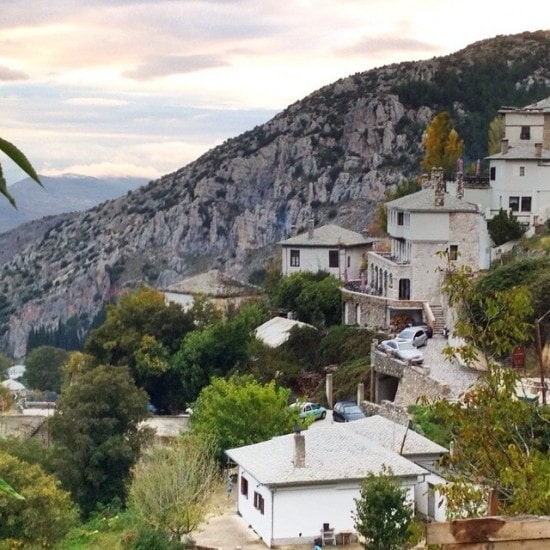 I was supposed to head off for a week in Israel, and was very excited about it, but it was postponed until sometime next year — something to look forward to in 2015.
December
At home! I usually don't do much traveling in December, it's pretty crazy out there, and when a planned cruise of out Dubai didn't quite come together, I enjoyed this month close to home.
On the Horizon in 2015
I have a few destination and dates already on the calendar for next year, including trips to Lloret de Mar, Spain, and Bangkok, Thailand (both for TBEX events). I also have a trip to New York City planned for January.
Beyond that, I have lots of destinations and ideas just waiting to be booked on definite dates. I'm hoping the Israel trip will come back together and , that a cruise idea will materialize.
I have some additional ideas that I'm working to bring together, although they are still in the planning stages:  spending next New Year's Eve celebrating in Europe, checking out the Christmas markets, visting a couple of states that I haven't been to yet, and seeing some additional places in Southeast Asia.
I'm looking forward to seeing you in the new year and to taking you along on my travels in 2015. Cheers!