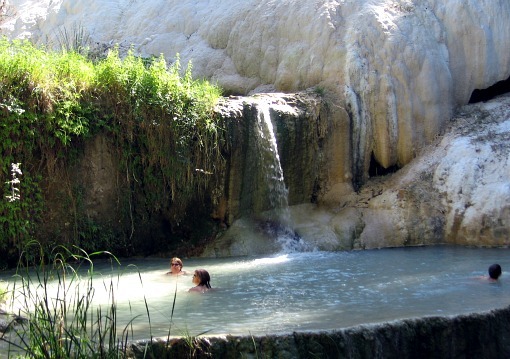 It's been a while since we've traveled to Italy, and it's time to start making plans for a return visit. Our travel preference is to travel with friends and rent a home in Italy to use as a home base. Having a home base lets us set up a combination of days at leisure to relax and soak up the Italian way of life along with busy days of day trips to see the countryside.
There are many things that we love about Italy, especially the hill towns in Tuscany. Here are a few of our favorite Tuscan towns that are perfect as a home base, day trip, or weekend getaway.
Castiglione d'Orcia
Where it is: In the Siena province in Tuscany. Population around 3,000.
What to do: Visit the Castle of Tentennano and the Santi Stefano and Degna to see art. Relax in the baths.
Why we love it: The baths, of course. A day at these mineral hot springs is a welcome break in a week of sightseeing. Several pools of warm thermal waters boast claims to nourish and rejuvenate both the body and soul. Some pools are fine for simply soaking, but my favorite was one that serves as a mud bath. Reach into the warm, pull up some warm gooey clay-like mud, and slather it all over your body. When it tried, stand under one of the warm waterfalls and rinse off. My skin was soft, shiny, and healthy feeling after a day here. This is a rural site, so there is no poolside service; you'll need to pack in your own food and beverages if you want to stay for the day.
Cortona
Where it is: In the Arezzo province in Tuscany. Population around 25,000.
What to do: Wander the streets that seem to go up and up (but never down), and enjoy the Italian cafe culture. Grab coffee or lunch when you're ready for a break and enjoy people-watching along with delicious food. Visit the Basilica of Santa Margherita, then continue walking up to the hill to the Fortezza di Girifalco. The views from the Fort are spectacular, a chance to see all those sunflowers that cover the land. The views are so vast that the Fort is used as a lookout point for forest fires. Shops stock beautiful and reasonably priced leather goods; you can actually smell the leather as you're walking by the shops.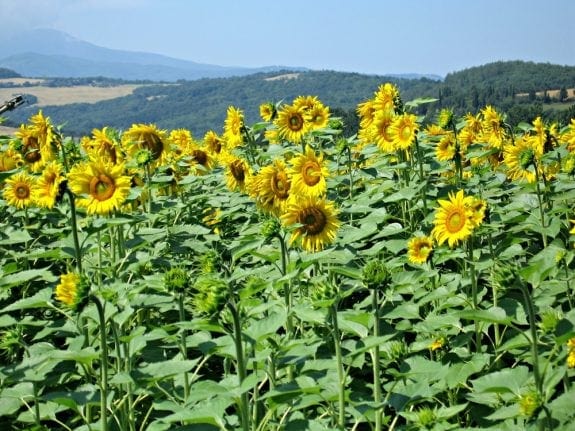 Why we love it: You may have heard of Cortona if you read the book or saw the movie, Under the Tuscan Sun (or its sequels, Bella Tuscany, and Every Day in Tuscany), and it really is that charming. The town is at the top of a hill, and you'll need to park in the lower parking lot, then take an escalator to the main part of the town. It seems so odd to have an escalator in this medieval Etruscan town, but that's just part of its charm. This is one of the steepest hill towns that we've visited, so it's a good workout before enjoying some bruschetta and a glass of wine.
Pienza
Where it is: In the Siena province in Tuscany. Population around 2,500.
What to do: The historic center of the walled city of Pienza is a UNESCO World Heritage Site, so start there with your exploration. The Cathedral and other buildings situated just off the piazza date back to Pope Pius II. There's also a small museum, and just off the piazza by the cathedral is one of our favorite gelato shops. You can buy pecorino cheese, olive oil, cured meat products, and wine throughout the town.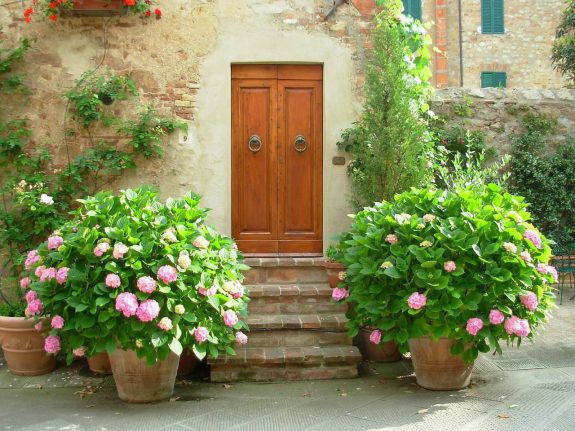 Why we love it: We come here to eat and drink – some of our favorite restaurants and cafes are here. Our favorites include Latte di Luna (try the bruschetta and the pici pasta with cinghiale sauce), La Buca di Enea (try the mushroom pasta), and Bar Il Casello (try a glass of Brunello, sit outside, and enjoy the view of the surrounding valley). These restaurants are all small, and reservations are recommended. Don't forget that dining Italian-style means later seatings than in the U.S., a slower-paced service – no rush to turn the tables, and leisurely meals that can stretch for hours.
Pitigliano
Where it is: In the Grosseto province in Tuscany. Population around 5,000.
What to do: Visit the medieval and renaissance sites here, including the church of Santa Maria, the Palazzo Orsini, and the former Cathedral of Santi Pietro e Paolo (St. Peter and Paul). Marvel at the town's walls and gates, along with the remains of a 14th-century aqueduct. There is a Jewish synagogue that dates back to the late 1500s, a time when there was a flourishing Jewish community, and some of the caves were used for services when the community felt they could no longer worship publicly.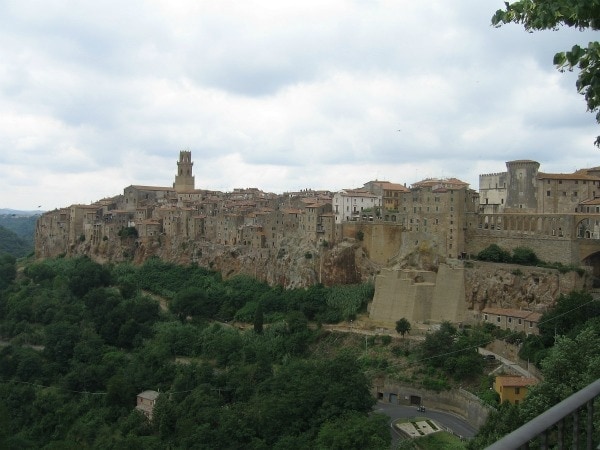 Why we love it: On our first visit to Pitigliano, we were blown away at the way this medieval hill town rises out of seemingly nowhere. We weren't exactly sure where we were going and were starting to get a little disappointed about the day trip. Then, we rounded a corner and saw the town perched on a volcanic ridge like it was part of the rock. It was a dramatic first impression. We love the mix of Catholic and Jewish history found here, recognizing an abhorrent part of the country's conformance with racial purity. In most of the rest of the country, it's an easy thing that the entire country is Catholic, but not here.
San Gimignano
Where it is: In the Siena province in Tuscany. Population around 8,000.
What to do: Like many of the other hill towns, life in San Gimignano revolves around the piazza. You'll likely spend plenty of time here, using it as a meeting spot, a resting spot, and a starting point to walk around the wall or to visit the 14 preserved bell towers that the town is famous for. The town's historic center is a UNESCO World Heritage site. You'll find great food and wine here, especially the locally produced white wine, Vernaccia di San Gimignano. And the gelato.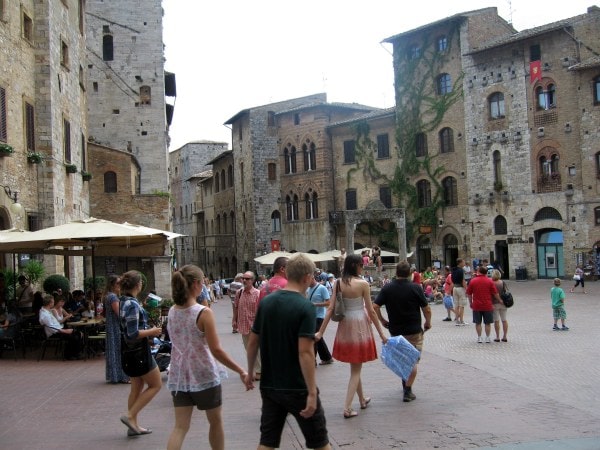 Why we love it: Sure, we enjoy the history of San Gimignano, but we LOVE the gelato. We recommend stopping off at Gelateria Dondoli, located in the central piazza, for some of the most delicious gelato that we've ever had. This family-owned business has become famous for its many wins in the World Championship of Gelato. Yes, there is such a thing. My favorite is the Champelmo (a refreshing combination of white wine and pink grapefruit), and Tony's favorite – as always – is the lemon. The fig is pretty darned good as well.
Pin this to your favorite Pinterest board – you know you're going to want to travel to Italy.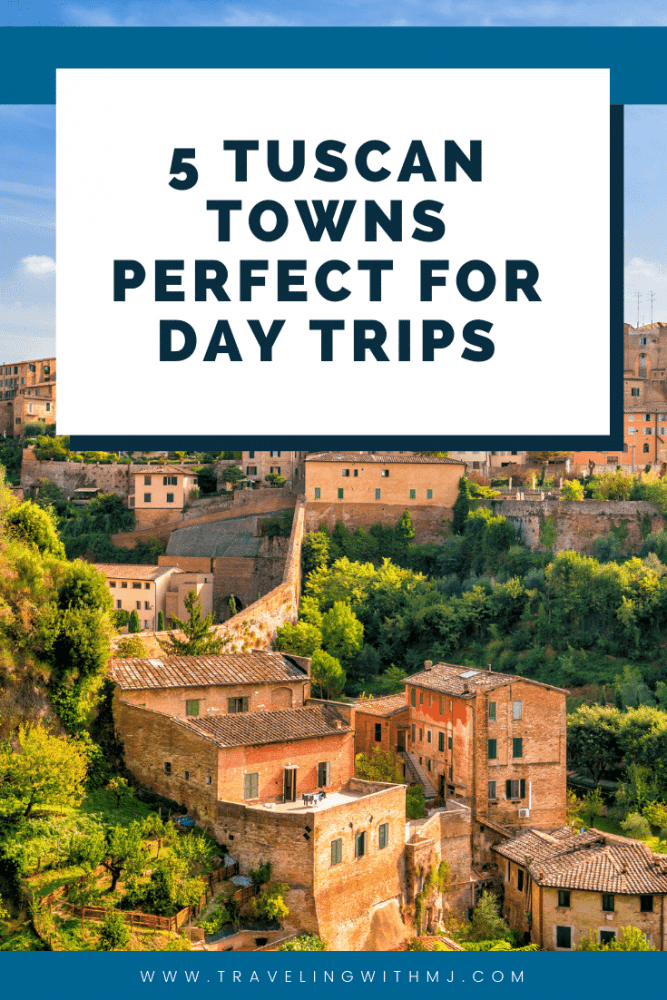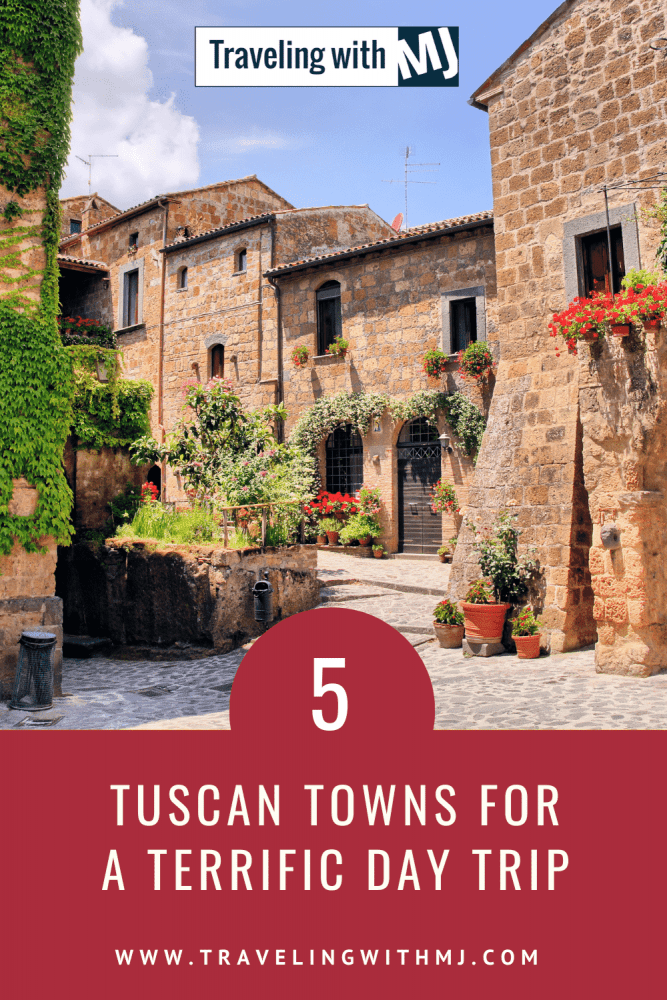 Disclosure: This post contains affiliate links.