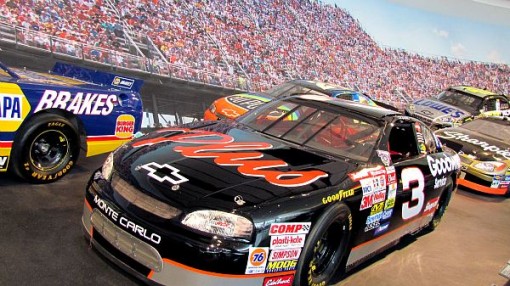 The southern United States may be known for seceding from the Union and its checkered civil rights history, but with those issues long in the past (hopefully), the South is now carving out a name for itself with signature cuisine, tourism, and don't forget those charming accents.
Part of the culture of the South has always been its love of sports and all things sports related. It's not surprising then, that sports museums have cropped up around the area, drawing visitors from across the country and around the world. Here are a few that you might not be familiar with:
PGA Museum of Golf – Recently renamed (it was formerly known as the PGA Historical Center), this museum showcases the history of the PGA, with interactive exhibits, and a variety exhibits of golf artifacts and memorabilia.
The PGA Museum of Golf is located at 8565 Commerce Center Pkwy., in Port St. Lucie, Florida. Hours are Friday, Saturday, and Sunday, 10 am-4 pm. Admission is free.
International Game Fish Association Fishing Hall of Fame & Museum – This non profit organization focuses on the conservation of game fish and the promotion of responsible, ethical angling practices, and its 4,700 square foot Hall of Fame is sure to appeal to fishermen. The museum has seven galleries where visitors can see life-size replicas of word record catches, virtual fishing, indoor and outdoor demonstrations, and a chance to go alligator spotting on a boardwalk through four acres of wetlands.
The International Game Fish Association Fishing Hall of Fame & Museum if located at 300 Gulf Stream Way, Dania Beach, Florida. Hours are Monday-Saturday, 10 am-6 pm and Sunday noon-6 pm. Admission is $8 for adults, $5 for seniors (62+) and children (ages 3-16).
NASCAR Hall of Fame – This celebration of the history and heritage of stock car racing opened last year and has been a big hit, educating and entertaining visitors with interactive exhibits, racing artifacts, theater, broadcast studio, and restaurant. A visitor favorite is Glory Road, a banked ramp that simulates and highlights 40 current and historic racetracks. It simulates banking up to 33 degrees so you'll have a chance to get a feel for what's it's like to walk on a banked track.
The NASCAR Hall of Fame (in top photo) is located at 400 East Martin Luther King Blvd., in Charlotte, North Carolina. Hours are 10 am-6 pm daily. Admission is $19.95 for adults, $17.95 for seniors (60+) and military, and $12.95 for children (ages5-12).
International Motorsports Hall of Fame and Museum – This three building complex is located adjacent to the Talladega Superspeedway and showcases the history of motorsports. Popular exhibits include the Budweiser Rocket car, the first car to break the speed of sound on land (it can accelerate from 0 to 140 mph in one second!) and Richard Petty's famous STP Dodge Charger, in which he had 31 wins. This is also the setting for the Hall of Fame Inductions each year.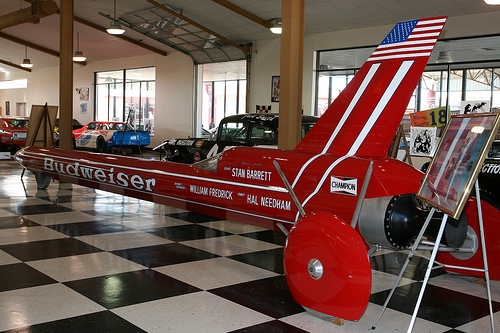 The International Motorsports Hall of Fame and Museum is located at on Speedway Boulevard, next to Talladega Superspeedway, in Talladega, Alabama. Hours are 9 am-5 pm daily during racing season; check for hours during other times of the year. Admission is $12 for adults, $5 students (ages 5-12). Combine with a speedway tour for a combo admission tickets of $16 adults and $8 students. Discounts for seniors (55+), AAA, AARP, military, police, and firefighters.
Women's Basketball Hall of Fame – Opened in 1999, this venue celebrat3es the past, present, and future of women's basketball, from the struggles of sports in the schools to the triumphs of the WNBA.
You can spot the Hall of Fame by the world's largest basketball, weighing in at 10 tons, that sits on top of a glass basketball net. Inside you'll find multimedia presentations, artifacts and memorabilia, and a locker room exhibit with recordings of pre-game and halftime chalk talks. Then show off your skills on the indoor court.
The Women's Basketball Hall of Fame is located at 700 Hall of Fame Drive, in Knoxville, Tennessee. Hours are Tuesday-Friday, 11 am-5 pm, Saturday 10 am-5 pm, and closed on Sunday and Monday during fall and winter hours. Extended spring and summer hours are Monday-Saturday 10 am-5 pm. Admission is $7.95 for adults, $5.95 for seniors (62+) and children (ages 6-15).
Kentucky Derby Museum – On the grounds of Churchill Downs, this 2-floor thoroughbred racing museum has exhibits ranging from the birth of champions, derby fashion, horse owners, jockeys, and the famous winner's circle. Visitors can try for their own Derby win with a race simulator and soak up the ambiance of the Sport of Kings. Admission also includes a walking tour of Churchill Downs and a high-definition movie.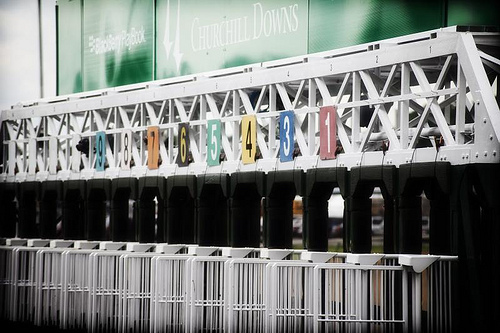 The Kentucky Derby Museum is located at 704 Central Avenue in Louisville, Kentucky. Hours are Monday-Saturday, 8 am-5 pm; Sunday 11 am-5 pm through November 30th. Then, Monday-Saturday 9 am-5 pm; Sunday 11 am-5 pm through March 14th. Admission is $13 for adults; $12 for Seniors (55+); $11 young adults (ages 13-18); $5 kids (ages 5-12). Discounts for military families, AAA, and CAA.
Photo credits: Tabitha Kaylee Hawk (Churchill Downs); Tennessee Wanderer (Motorsports Hall of Fame); David Berkowitz (NASCAR)
Pin this to your favorite Pinterest boards.