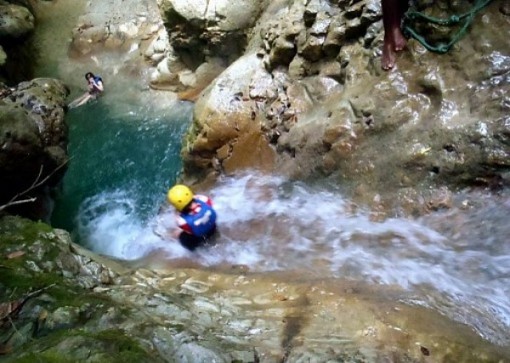 Waterfall cascading is an adventure activity that involves climbing up waterfalls and then jumping or sliding your way back down. While some consider it more "freestyle" than canyoneering (which is navigating a river canyon) if you find a good tour company, this can be a safe and enjoyable activity. While a good tour outfitter will take care of the safety aspect by providing helmets, life jackets, and guides, there are some other tips that one might want to consider before going on an adventure like this!
Do not wear your sneakers unless you don't mind getting them soaked. For our waterfall trip, we hiked along trails, through a stream, and finally arrived in a water pool. I wore my Vibram Fivefingers and they worked great and dried out quickly. The rubber on the bottom helped grip the rock when I was climbing up, too! Water shoes would probably be another good choice, if you feel comfortable hiking around in them.
Bring an underwater camera. You will definitely want to document this adventure, and the best way is with a waterproof/underwater camera. Just be sure that you have a strap so you can securely fasten it to your life vest or wrist while you are doing the physical part of the activity.
Be prepared to climb. While the guides will help boost you up the waterfalls, it helps if you are able to pull yourself up a bit. We had ropes, but with the water rushing in your face, it can be more difficult than one would expect.
Be ready to get water in your face. The waterfalls we went up were small, but there is rushing water, so if you wear contacts and are able to see without them, you might want to leave them at home.
Get ready to jump! There might be opportunities to jump off of 12-20 foot cliffs into the water pool below. While it's not absolutely necessary, it is exhilarating! Be sure to keep your legs straight and together, and your arms either at your sides or folded tightly across your chest.
Keep your elbows tucked! We also had the opportunity to go down a natural rock slide, which was much less scary than the jumping we had done minutes before! The biggest tip for this activity is to keep your arms crossed in front of your chest and keep your elbows tucked. Even though the rocks are smooth, they are still rocks and you can get really scraped up.
Look around. Even though you are going to be focused on the adventure at hand, be sure to look around. Waterfalls are in some of the most beautiful places in the world – give yourself a minute to take it all in!
Be practical. If you are a person who travels often, you may want to consider annual travel insurance, or single trip insurance if you travel less frequently.
The most important tip – HAVE FUN! My waterfall cascading experience was one that I will never forget. Plan properly and enjoy it!
Photo credit: Abby Mood
NOTE: This post is sponsored by Travel Insurance Co.; the opinions expressed herein are solely those of guest blogger Abby Mood.