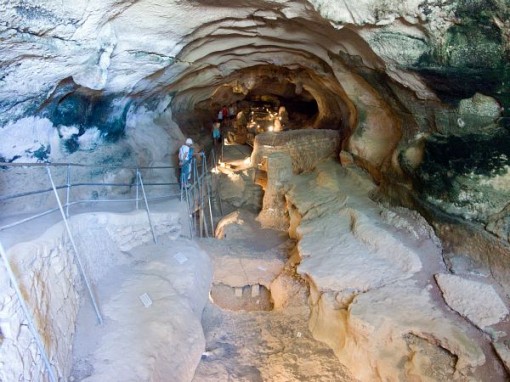 Travelers with an interest in history will have their hands full exploring the cities of Malta. This small Mediterranean island has an incredible number of cathedrals, palaces, and museums that are all worth your time. Yet off the beaten path, there are several other attractions that will reveal a different side of Malta's history.
The island also offers fascinating prehistoric sites. If you can tear yourself away from the golden beaches and oceanfront cafes, there are ancient caves and temples to explore too.
Here are three of my favorite unusual historic attractions in Malta.
Ghar Dalam Caves
Translated from Maltese as "cave of darkness" this site is where several discoveries were made about the island of Malta dating back to the ice age. In these caves, the remains of dwarf elephant and hippopotamus bones were discovered. Some of the earliest signals of human settlement were also found here, dating back over 7,000 years.
Visiting Ghar Dalam caves (in photo above), you not only get to explore some of the cave, but there is also a small museum. Anyone with an interest in natural history will want to check out this UNESCO World Heritage site.
Tarxien Temples
Located in Tarxien, this archeological complex and UNESCO World Heritage Site dates back to approximately 2800 BC. Here visitors can roam around three separate temples and admire intricate decorations that have stood the test of time. Keep your eye out for carvings in the stonework of domestic animals and beautiful spiral patterns.
This Megalithic temple wasn't discovered until 1914 when local farmers were plowing a field. Over time it has been studied and much has been learned about how ancient Maltese people lived, including one part of the temple that seems to have been used for animal sacrifice. Helpful signs throughout the site illuminate different details about the temples to maximize your learning.
Blue Grotto
The best known of these three attractions is the Blue Grotto. Here visitors can explore a number of sea caverns that reveal phosphorescent underwater plants. Contrasted with the deep shade of blue of the water, this is a striking sight. This attraction doesn't have the same historical significance as the others, but you will want to visit for its sheer natural beauty.
Outside of the caves, the village of Zurrieq offers gorgeous views as well. Cliffs rise out of the Mediterranean, providing a great backdrop for photographs. One thing to be cautious of is that during choppy weather the boats can't explore the sea caverns, so be sure to plan your visit on a day when the water is calm and storm-free.
All three of these sites will lead you out of the main cities and to less-visited places in Malta. The small island is so easy to navigate that no drive is challenging or too far, and besides learning about the island's history, you will also be immersing yourself in a different part of Malta's culture.  Accommodations in Malta are easy to find and offer a variety of choices.
Photo credit: Jean-Christophe Benoist via wikipedia
NOTE:  This post was sponsored by My Destination Info; the opinions expressed are the of the guest blogger, Jessica Colley, who fell in love with the island on her last visit.