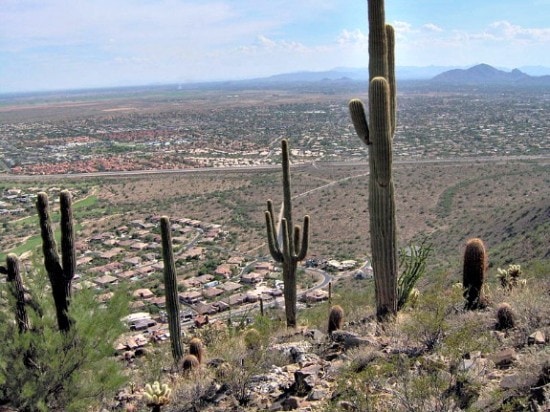 After a couple weeks in Spain for TBEX Europe followed by a week in Tokyo, it was good to be home in Seattle for awhile. Now, it's time to hit the road again, this time to Scottsdale, Arizona.
I haven't been to Arizona for quite some time, and while I hope to squeeze in a few hours of personal time, the primary purpose of the visit is to speak at PhoCus Wright. PhoCusWright is an executive level conference of travel industry leaders who meet to discover, confront, and capitalize on the latest trends and opportunities in travel. This is a group of people who are shaping the face of travel for consumers.
So what am I doing there?
I'll be on a panel titled "The New Rules of Social Engagement," one of the hot trends in the travel industry right now. My time as Conference Director for TBEX, as well as over six years of travel blogging, I hope will give a meaningful perspective to add to this discussion.  Also on the panel are fellow travel bloggers Anne Taylor Hartzell (from Hip Travel Mama) and Spencer Spellman (from Traveling Philospher). The panel will be moderated by Joe Megibow, Vice President and General Manager of Expedia.
Social engagement is one of those terms that often seems like a budget of mumbo-jumbo, but when it's broken down to its core components, what we're really talking about is something very simple – it's how travel destinations and brands use social media to engage and interact with their customers, and it's how us travel bloggers use it to connect with, build trust, and form relationships with our readers. When we're talking about social media, we're talking about tools like Twitter, Facebook, Pinterest, Instagram, Google+ and more. Our panel will be talking about how the travel industry can partner with travel bloggers to create deeper social engagement with their customers. We'll be discussing some best practices, sharing some case studies, and talking about what meaningful interaction looks like.
Here's the official program description:
Want to build buzz? Connect with bloggers? Drive trial and awareness? Traditional marketing has reached its own "Pivot Point" where the key to driving traffic and hitting milestones is about building and engaging in meaningful conversations with your followers, influencers and the travel blogger community. Join this executive-level discussion on how you should be thinking about your social media investments and PR strategy and help your team efficiently navigate the pitfalls and opportunities in social media to build measurable campaigns that grow your business.
The session is Wednesday, November 14th, at 11:45 a.m. If you're attending PhoCus Wright, please consider this your personal invitation to attend our session. In fact, be sure to get in touch so we can make a time to meet in person. If you're not attending, but are kind of interested in what this whole thing is all about, you can watch the 3-day program live streamed for FREE.
Photo credit:  Public domain via wikimedia commons