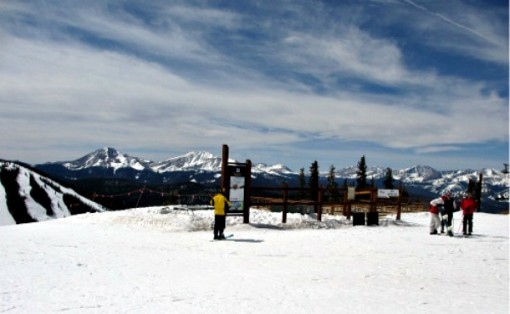 I've been busy with a few travel-related projects, and I'm excited to fill you in on one of them.  I've been named the Conference Director for TBEX.
I'm going to take this minute to brag on this opportunity a bit, and to fill in many of you unfamiliar with TBEX, and so will just publish the press release announcement.  I'm VERY excited about this opportunity, and hope that some of you will consider attending the awesome event at Keystone Resort in Colorado (in photo above).  It will be a great opportunity to learn about travel blogging from some of the best in the business, as well a chance to network with travel industry representatives.
SAN DIEGO, April 11, 2012 /PRNewswire/ — Recently acquired by BlogWorld, TBEX '12, the world's largest gathering of travel bloggers is taking place at the Keystone Resort & Convention Center in Keystone, Colorado, June 15-17, is excited to announce the addition of a new conference director, Mary Jo Manzanares. The appointment of Manzanares, one of the most experienced and connected travel bloggers and publishers in the industry, is one of several operational changes BlogWorld has made to empower and energize TBEX and the travel blogging community to grow in size, content quality and its ability to monetize.

"We are thrilled to have Mary Jo joining our team," said Rick Calvert, CEO and co-founder of BlogWorld & New Media Expo. "With her experience and passion for the community, we think she is the perfect conference director for TBEX and will help continue its amazing growth."

As conference director Manzanares is responsible for developing the TBEX '12 conference program and schedule, selecting session topics and speakers and bringing diversity into the program by recruiting new speakers, exploring new travel blogging niches and topics and maintaining TBEX's commitment to providing quality educational sessions.

"The 2012 conference in Keystone is a turning point for TBEX, and we're sending a message that travel bloggers are ready to step up and be taken seriously as an undeniable part of this trillion dollar travel industry," said Mary Jo Manzanares, conference director for TBEX '12. "TBEX will be THE event for travel bloggers and the travel industry to learn, connect, and have fun and I'm energized to be a part of this significant moment in TBEX's event history."

Manzanares is the founder and the editor-in-chief of The Traveler's Way, an online travel magazine providing informational and inspirational travel recommendations for curious Baby Boomer travelers. She also publishes the MJ Travel Network, a network of niche travel blog sites, and a founding member of Value Luxury Travel. Manzanares speaks at various industry events on topics ranging from travel blogging as a second career to copyright issues to how the travel industry can best work with travel bloggers. She is also a past Travel track leader for BlogWorld & New Media Expo.

The fourth annual TBEX conference takes place June 15-17, 2012 at Keystone Resort & Convention Center in the beautiful town of Keystone in the Colorado Rocky Mountains. TBEX registration is close to selling out, but limited passes are still available online by visiting, http://tbex12.com/register.html.

About TBEX (Travel Blog Exchange) Events

The TBEX conference has grown into the most popular annual gathering of bloggers, writers and new media content creators in the travel and lifestyle sphere today. TBEX also attracts some of the world's best-known brands, as well as various tourism bureaus as sponsors who are eager to connect with bloggers and web writers. American Express, TripAdvisor, Vail Resorts, Expedia, Hyatt and HomeAway support the conferences alongside tourism offices such as those of Canada, Australia, Croatia,Dominican Republic, Denver, Virginia, British Columbia, and worldwide resorts and hospitality companies.

TBEX's goal is to mobilize and assist bloggers with promoting, monetizing, improving their work and influence, as well as helping PR and Industry professionals to connect with the right content creators to benefit their brands and destinations.

TBEX '12 will take place June 15-17 at Keystone Resort & Convention Center in the beautiful town of Keystone in the Colorado Rocky Mountains. To register for TBEX '12 please visit, http://tbex12.com/register.html and follow @TBEXEvents on Twitter for updates.

About BlogWorld & New Media Expo

BlogWorld & New Media Expo is the first and only industry-wide tradeshow, conference and media event dedicated to promoting the dynamic industry of new media.  Thousands of attendees learn about Content Creation, Distribution, Monetization and Social Media Marketing strategies, including step-by-step techniques and leading-edge tools from the most successful and influential Bloggers, Podcasters, Vloggers, Web TV & Radio Broadcasters, Social Influencers, New Media Pros and Online Journalists.

BlogWorld & New Media Expo's eastern U.S. event will take place at the Jacob Javits Convention Center in New York City, June 5-7, 2012.

For upcoming event info and announcements, subscribe to e-news at http://www.blogworldexpo.com and get the latest new media industry news at http://www.blogworld.com.
Photo credit:  personal collection