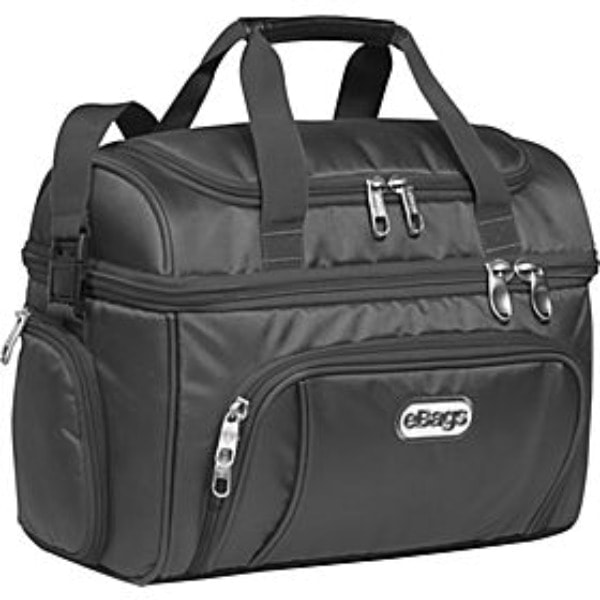 The eBags Crew Cooler is a very popular bag with Flight Attendants, pilots, and others who spend much of their life on the road.  For a long time it was one of those secrets whispered about on the jump seat as we'd watch – with great envy – as a co-worker would pull out the crew cooler, perfectly packed with delicious food for their trip.
Word passed from one crew member to another and we all started ordering a bag for ourselves.  As airlines started eliminating food, and duty days got longer, more and more of us starting filling up the crew cooler with nutritional meal choices and snacks.  I've seen coolers packed so efficiently that I swear could feed a family for a week!
Then the crew cooler disappeared!  As the bags wore out  or were damaged, we couldn't get them replaced.  Those who had thought ahead and purchased a couple could gift them to friends and quickly cement their BFF status.  And we continued to grouse and complain among ourselves about what happened to the crew cooler.
Now it's back!
And it's still the Best Bag Ever!  Oh sure, a few improvements have been made, and they are bright pretty colors for those people not bound by the necessarily of a uniform black, but our dear bag has returned and we can once again pack up all our food.
So what makes this bag the best?  Here are a few of the specs from the eBag site:
Designed specifically for the unique needs of Flight Attendants and Pilots
Top "dry" compartment has two zipper pulls for easy access and is perfect items that do not need to be kept cold
Zippered mesh pocket in the lid keeps napkins and other small items in place
Bottom "cold" compartment is insulated on all six sides and has a welded BOPET liner that is replaceable
Front tip-out pocket has two zipper pullers for easy access and side pleats to prevent contents from spilling out
An elasticized mesh pocket against the body is great for packets of mayo, mustard, etc. plus there is zippered mesh pocket against the front – a perfect place for silverware
Unzip the special pouch pockets on either end to reveal mesh drop-bottom water bottle carriers
There are three ways to carry the Crew Cooler:  with its padded web handles, with the removable shoulder strap, and with the pass-through pocket to stack on your roll aboard.
You can chill the cold compartment with an ice pack, plastic bags filled with the ice, or do as a lot of us do, and fill one of those first aid ice bags.  Ice can always be replenished on board the plane or at your hotel.
The bag is also great for road trips, picnics, or packing a lunch wherever you might be going.
Sale priced at $29.99 through January 31st, 2011, and available in black, slate blue, grey and red.  Buy one for yourself, and pick one up for your favorite traveler, too!  This is the BEST BAG EVER!
Photo credit:  eBags