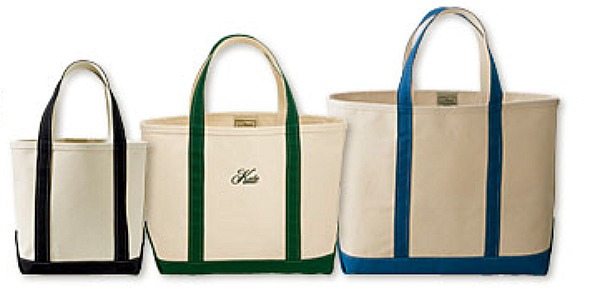 Can you have too many tote bags?  While I a big fan of specialty bags – there's nothing like the right tool for the job – a well-crafted, all-purpose tote is the workhorse in any bag collection.  My recommendation?  The classic Boat & Tote from L.L. Bean.
The Boat & Tote is made from heavy-duty cotton canvas, with a double layer base and handles.  The reinforced flat canvas bottom and double-stitched overlapped seams give it durability.  The bag has been made for over 64 years, and although originally designed to tote ice, today is more likely to be seen filled with beach gear, groceries, suntan lotion and pool accessories, a change of clothes, gardening supplies, or reading material.  Don't worry about over-stuffing, it's been tested to hold over 500 pounds.  And I guess you won't be packing that much stuff around!
Although imminently practical, the Boat & Tote is stylish enough to sport around town, use as a carry on for your next flight, or use the next time you head out shopping.  The tote is a natural color, with a pop of color from its contrasting color handles, which can be standard length or over-the-shoulder.  Handle color choices include:  Aegean Blue, Bittersweet, Black, Blue, Cool Green, Dark Fern, Dark Green, Pink Berry, Red, Regatta Blue, and Sunrise.
The bag comes is four sizes: small, medium, large, extra large, with affordable prices ranging from $24.95-37.95.  Optional monogramming is also available.  At this price point, buy a few different sizes, r pick some up for gifts.  Stuffed with some delicious goodies, flowers, or toys, it makes a great hostess gift for your travels.
Find the bag at L.L. Bean online, or at a local retailer.
Photo credit: LL Bean