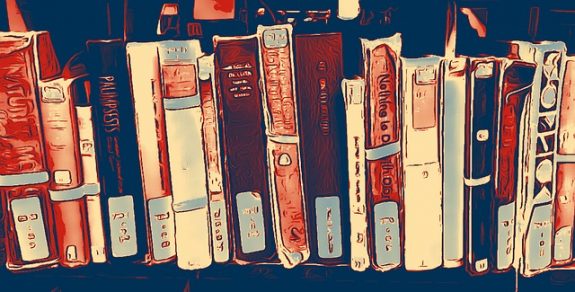 In honor of World Book Day, I'm updating my progress in the 2017 Pop Sugar Reading Challenge – and in doing so, giving you a list of great books to read on your next flight (train trip, cruise, or wherever you enjoy immersing yourself in a book).
As a refresher, the challenge is not a list of books to read. Instead, it's a list of book themes and you pick something within your reading preferences while still stretching your reading repertoire my getting you to look at books that you may not have considered. The list is 40 books for the basic challenge, plus an additional 12 for the advanced challenge, the latter equating to one book per week for the year. If you don't read all 40 – or 52 books, it doesn't matter. The purpose of the challenge is to find new books, authors, and ideas. You can find my previous update, which includes four books, here.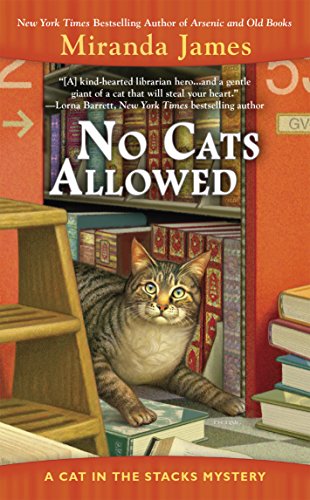 No Cats Allowed
Author:  Miranda James (buy it here)
Synopsis:  In the latest mystery in the New York Times bestselling Cat in the Stacks series, librarian Charlie Harris and his Maine Coon cat Diesel must clear a friend when the evidence is stacked against her. Charlie is convinced that his friend is no murderer, especially when he catches sight of a menacing stranger lurking around the library. Now he and Diesel will have to read between the lines before Melba is shelved under "G" for guilty.
My thoughts: I'm a cat lover, so finding a cat-theme book was a piece of cake. This is a "cozy mystery," a subgenre where the crime and resolution take place in a small community, and sex and violence are downplayed. The murders in this book took place in a small town and were related to a college campus and library. It was a light and breezy read, typical of cozies but not of most crime mysteries, and the resolution was happy. If you love digging into a true crime or psychological thriller, this won't be for you. But if you're looking for an antidote to the violence on the screen and pages, this is a good antidote. And what's not to like with about a main character that has a huge main coon cat who walks on a leash.
Category:  A book with a cat on its cover.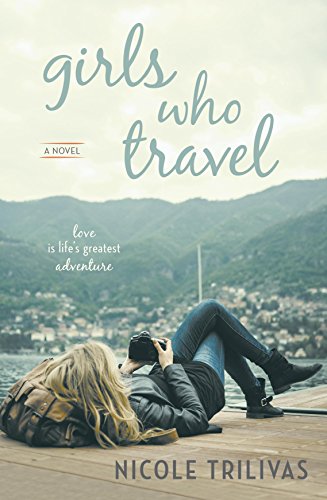 Girls Who Travel
Author:  Nicole Trilivas (buy it here)
Synopsis:  A hilarious, deftly written debut novel about a woman whose wanderlust is about to show her that sometimes you don't have to travel very far to become the person you want to be. There are many reasons women shouldn't travel alone. But as foul-mouthed, sweet-toothed Kika Shores knows, there are many more reasons why they should. After all, most women want a lot more out of life than just having fun. Kika, for one, wants to experience the world.
My thoughts:  I selected this book because its plot line concerned a young woman who had set off for a year of backpacking around the world, then had problems adjusting to the routine of life once she returned home. I thought it was a true story when I first started reading, but about halfway through realized it was basically a romance novel with the setting and characters themed around travel. The main character was immature and unsympathetic most of the time, and the ending was predictable. Fortunately it was a quick read.
Category:  A book involving travel.
Second Chance:  Since this selection was a bit of a bust, I looked for another novel that had travel as a theme. This second chance choice was Siracusa by Delia Ephron about two couples (one with a child) who decide to vacation in Sicily. Well written, brought back memories of my time in Sicily and was a New York Times bestseller. I'd recommend reading this one instead.
The Velveteen Rabbit
Author: Margery Williams (buy it here)
Synopsis:  At first a brand-new toy, now a threadbare and discarded nursery relic, the velveteen rabbit is saved from peril by a magic fairy who whisks him away to the idyllic world of Rabbitland. There, he becomes "Real," a cherished childhood companion who will be loved for eternity. Treasured for generations, here is a timeless tale about the magic of boundless love.
My thoughts:  This is a classic and one that I read every Eastertime. It's got all the makings needed for the kind of happy ending that brings big smiles and big tears. I still cry every time I read it. It's a short read, so if you've missed it, you need to remedy that today. If you have kids, read it to them or read it together.
Category:  A book you've read before that never fails to make you smile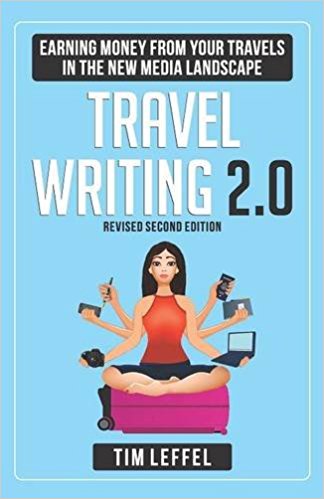 Travel Writing 2.0:  

Earning Money from your Travels in the New Media Landscape
Author:  Tim Leffel (buy it here)
Synopsis:  Completely revised edition of the ground-breaking travel writing book that provides a roadmap to success in the digital age. It dives headlong into the entrepreneurial world of blogging and digital books, while still acknowledging the real money to be made in declining print forms. Drawing on interviews and survey responses from more than 100 successful travel writers and bloggers, this is the definitive guide to creating success instead of waiting for permission.
My Thoughts:  I've known Tim for about five years now (I write hotel reviews for one of his websites) and have the utmost respect for his business savvy. Although I've been travel blogging for over 11 years now, I bought this book as part of my efforts to fine tune some career choices. The book is full of practical advice for various stages of your writing career. Whether you're new to travel writing, need to re-focus your energies, or simply want guidance in growing your business, you'll find it here. Tim also runs a mastermind course (available live or for self study) that would make a great extension to your professional development.
Category:  A book with career advice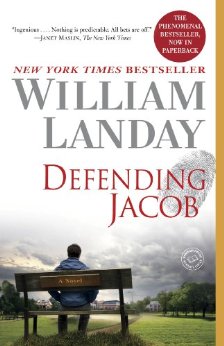 Defending Jacob
Author:  William Landay (buy it here)
Synopsis:  Andy Barber has been an assistant district attorney for two decades. He is respected. Admired in the courtroom. Happy at home with the loves of his life: his wife, Laurie, and their teenage son, Jacob. Then Andy's quiet suburb is stunned by a shocking crime: a young boy stabbed to death in a leafy park. And an even greater shock: The accused is Andy's own son—shy, awkward, mysterious Jacob.
Andy believes in Jacob's innocence. Any parent would. But the pressure mounts. Damning evidence. Doubt. A faltering marriage. The neighbors' contempt. A murder trial that threatens to obliterate Andy's family. It is the ultimate test for any parent: How far would you go to protect your child? It is a test of devotion. A test of how well a parent can know a child. For Andy Barber, a man with an iron will and a dark secret, it is a test of guilt and innocence in the deepest sense. How far would you go?
My thoughts:  I love a good legal thriller and this one didn't disappoint. The crime, investigation and subsequent trial were well developed, believable, and full of twists and turns (as every good thriller should have). The emotional layering of parents having to think about whether or not their son is a killer makes for all sorts of complications and an ending that surprised me. A very satisfying read.
Category: A book with a title that's a character's name
Cross the Line
Author:  James Patterson (buy it here)
Synopsis:  After shots pierce the tranquil nighttime calm of Rock Creek Park, a man is dead: what looks at first like road rage might be something much more sinister. But Alex has only just begun asking questions when he's called across town to investigate a new murder, one that hits close to home: Washington's own chief of detectives. And Alex's former boss, beloved mentor of Alex's wife, Bree.
My thoughts:  I always try to pick up the latest in the Alex Cross series as they rarely disappoint. The crimes are always well developed, intricately plotted with lots of red herrings, yet full of character depth and complication. I think what I like best about this series is that the bring a sense of realism to the crime genre. Yes, there's usually a resolution by the end of the book, but there's also something left unsettled, something that's a compromise in order to get the larger sense of justice. In other words, as is it often is in real life, justice is complicated.
Category:  A book where the main character is a different ethnicity than you (Alex Cross is African American)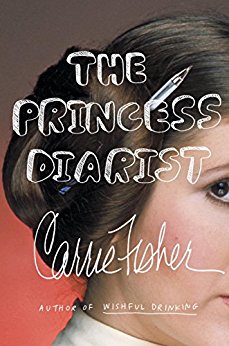 The Princess Diarist
Author:  Carrie Fisher (buy it here)
Synopsis:  When Carrie Fisher recently discovered the journals she kept during the filming of the first Star Wars movie, she was astonished to see what they had preserved—plaintive love poems, unbridled musings with youthful naiveté, and a vulnerability that she barely recognized. Today, her fame as an author, actress, and pop-culture icon is indisputable, but in 1977, Carrie Fisher was just a teenager with an all-consuming crush on her co-star, Harrison Ford.
My Thoughts:  This was on my to-read list well before the death of Carrie Fisher. I'm a Star Wars fan, although not a fangirl, but I've always admired Carrie Fisher's willing to address her mental health issues in a gritty, non-varnished way. Her life was a combination of family stardom (her parents were Eddie Fisher and Debbie Reynolds) mired in scandal, a sudden celebrity of her own after appearing in Star Wars, and a series of ups and downs involving alcohol, drugs, mental health, poor financial planning, and determination. You don't need to be a fan of Star Wars to enjoy this book.
Category:  A book about an interesting woman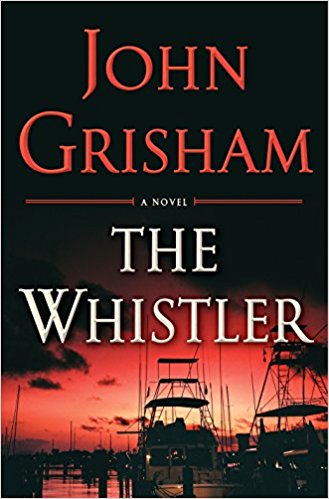 The Whistler
Author:  John Grisham (buy it here)
Synopsis:  We expect our judges to be honest and wise. Their integrity and impartiality are the bedrock of the entire judicial system. We trust them to ensure fair trials, to protect the rights of all litigants, to punish those who do wrong, and to oversee the orderly and efficient flow of justice. But what happens when a judge bends the law or takes a bribe? It's rare, but it happens.
My thoughts:  I never miss a John Grisham book, and while I like his legal thrillers better than his books in other genres, he's an author, lawyer, and person I admire greatly. He came from a blue-collar background, worked manual labor jobs, and lacked focus for much of his teen years before getting serious about college and then law school. In other words, he's a lot like people I know.
He received 28 rejections letters before a publisher bought his first novel, A Time to Kill, but after the runaway success of his second, The Firm, there's been no looking back. He has generously donated to community causes, to his alma mater, serves on the board of the Innocence Project, and frequently testifies and speaks out about civil liberties and causes.
In this book, the whistler refers to a whistleblower, someone on the inside who exposes corruption or wrongdoing. The story involves a complicated labyrinth of deception and corruption involving a judge, tribal members involved with Native American gaming, a quirky and mysterious informant, and a host of investigators who try to piece the whole thing together.
Category:  A book written by someone you admire
One for the Money
Author: Janet Evanovich (buy here)
Synopsis:  The New York Times bestselling blockbuster novel from Janet Evanovich that began the wildly entertaining Stephanie Plum series.  Watch out world, here comes Stephanie Plum, a bounty hunter with attitude. In Stephanie's opinion, toxic waste, rabid drivers, armed schizophrenics, and August heat, humidity, and hydrocarbons are all part of the great adventure of living in Jersey.
My Thoughts:  There are 24 books currently in the Stephanie Plum series, so I'm pretty late to the party. But since I was looking for a series with a strong female protagonist, and this series has been very popular, I decided to give it a go.
Stephanie comes across as irresponsible, bumbling, not terribly bright, and too dependent on others for everything she accomplishes. Here utilities are turned over for non-payment, her meddling mother is a cliche, and she relies on a family connection to get a job she is not qualified for. She completes her job, while solving a crime, with help from a former one-night stand. I was hoping to find a strong, competent, reliable female lead instead of this tired trope.
BUT – the first book was originally written as a stand-alone novel and then grew into a series, so character development may have changed. Also, I'm keeping in mind that it was published in 1999, and a lot of things have changed since then. I'm not willing to say I love it, but also not willing to throw it out either. I'll probably read the next in the series (Two for the Dough) to give it a fair chance, then make up my mind following that one.
Category:  The first book in a series you haven't read before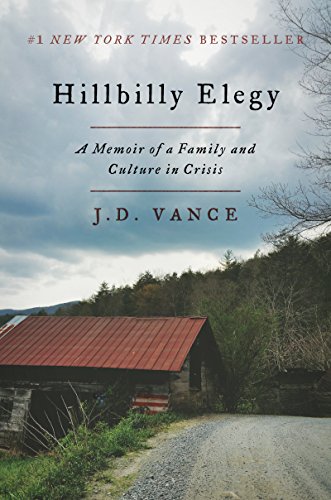 Hillbilly Elegy
Author: J.D. Vance (buy it here)
Synopsis:  Hillbilly Elegy is a passionate and personal analysis of a culture in crisis—that of poor, white Americans. The disintegration of this group, a process that has been slowly occurring now for over forty years, has been reported with growing frequency and alarm but has never before been written about as searingly from the inside. In Hillbilly Elegy, J.D. Vance tells the true story of what a social, regional, and class decline feels like when you were born with it hanging around your neck. It is an urgent and troubling meditation on the loss of the American dream for a large segment of the country.
My thoughts:  In an attempt to understand the current political climate, and the emotions underlying the last election, I picked up this book on the recommendation of a colleague.
I come from a lower-middle-class background and have seemingly fulfilled the American dream of doing better than my parents, there was much in this book that I cannot relate to. My childhood was one of hope, rather than despair. My family put an emphasis on education and hard work as a way to succeed. And law abiding behavior was never in question. My childhood was full of the optimism of Kennedy era, and I suppose I've never really left that liberal Camelot bubble.
It is hard for me to understand how someone can feel so disenfranchised that would wish to spread (or transfer) that disenfranchisement onto someone else. Or, in this case, to disenfranchise multiple segments of society. It makes me angry and sad. But it's the best explanation I've read for the current political climate, and it's going to take some time to wrap my head around it.
Category:  A book about a difficult topic (from the advanced list)
I can check off 14 categories on the list of 52 themes, not bad considering I've read about a dozen other books that don't specifically fit on the list.
A few of the categories have me stymied:  a steampunk novel, a book from a genre/subgenre that you've never heard of, and a book that's more than 800 pages. If you have recommendations for those themes, please leave them in the comments.
Pin this to your favorite reading board on Pinterest: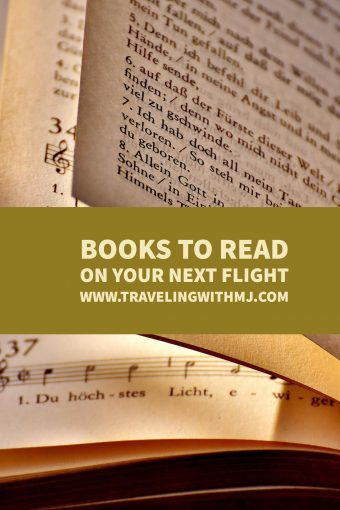 Disclosure:  This post contains affiliate links. Clicking through for additional information or to make a purchase may result in a small commission being paid. By doing so, you help support this site.  Thank you.