In my fairy tale world of travel, I'd be like Samantha on [amazon_textlink asin='B0128P2B38′ text='Bewitched' template='ProductLink' store='travelingwithmj-20′ marketplace='US' link_id='7a067e10-b2e5-11e7-852a-59cc26a3fcb6′], who would wrinkle her nose and transport from one place of another, or like Captain Kirk on [amazon_textlink asin='B01LT80TN4′ text='Star Trek' template='ProductLink' store='travelingwithmj-20′ marketplace='US' link_id='89df588d-b2e5-11e7-b434-cb36bdf04e39′], who had Scotty to beam him up. That's no muss, no fuss travel!
Since I'm a mere mortal living in a time that teleportation is not yet available, I have to pack and tote my stuff all over the world. Over the years I've become an efficient packer, maximizing every inch of my space, but I'm always looking for ways to improve the toting and lugging experience.
My packing preference, when traveling for longer than a weekend, is to pack and check a 22-inch roller bag. I know that I can carry it on, and there are all sorts of good reasons why I should, but the reality is that due to torn rotator cuff injury, carrying and lifting is not something I want to do. Even with a checked bag, however, I need a carry-on for all my electronics, to hold some items that I'll immediately need at my destination, and that can serve as a day bag for extended travel. Sounds simple, huh? Well, not so much (as a closet full of various sized bags can attest).
Tony and I have recently had a chance to check out new backpacks from CabinZero, a British company now expanding into U.S. markets. We received two bags (complimentary) for purposes of this review. Both bags were their Classic 44L Cabin Sized bag, Tony's in Royal Blue and mine in Original Purple.
The details
The Classic 44L is approximately 22.5 x 15.75 x 7.75 inches in size and is made out of a waterproof polyester. It has lockable zippers on the main compartment, thick padded shoulder straps, and side compression straps. It has top and side handles, making it easy to be carried like a pack or luggage, your preference. The interior is fully lined and has one mesh zipped pocket, a larger open pocket, and a sleeve that's perfect for a laptop or tablet. There is one large outside zipped pocket. You have a choice of about 23 colors, making it a really tough decision.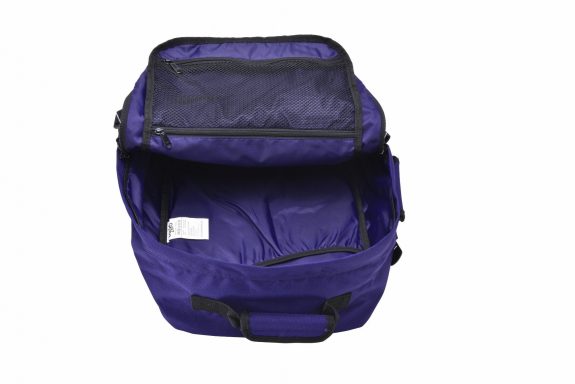 Two additional stand-out features include a global luggage tracker (once you register online you then have a resource if your bag is lost or stolen) and a 10-year warranty, with a complimentary upgrade to a 25-year warranty if you like Cabin Zero on Facebook. Both of these features are ones you hope you never have to use, but if you find yourself in need, are lifesavers.
The Test
We've put the bags through their paces. They've been with us to Universal Studios, crammed full of wet clothes after a day at Volcano Bay. They went to Panama on our UnCruise Adventure. We've packed them for short getaway weekends, a conference, and have thrown them in the car for a day bag around town.
We've spilled on them, scrunched them under our seat, and jammed them in an overhead bin. We even sent it as checked luggage on one flight. And, after a rather unfortunate meeting with a dog, we tossed one of them in the washing machine. NOTE:  This is not a cleaning method recommended by CabinZero, but it washed up perfectly.
We've been using these bags for months, really giving us a chance to decide what we like and what we don't.
What we Liked
These durable bags have a stylish urban feel which meshes with my backpack aesthetics. I don't need a framed backpack for weeks in the wilderness, I want something that can be packed easily and doesn't wear me out carrying it on my back. Extra credit if it looks good. CabinZero is a winner on those accounts.
Some other features we liked:
Colors – I've had enough of dull boring colors, everything I own is black and I was ready for a pop of color. The selection is varied enough satisfy those of us who like purple, hot pink, or galactic orange, while conservative enough to those who favor navy, black or gray.
Deep zippers – You can unzip the bag almost to a flat position, making it easy to pack and get into.
Roomy – You can pack a lot of stuff in this bag, although it took me awhile to get it right. The first few times I rolled and folder and just got stuff in there. It worked, but rather inelegantly. The way to maximize the packing ability of this bag is to use packing cubes. I'm new to using packing cubes, so I'm sure that I'll improve over time, but even as a novice I found that I could neatly get everything I needed into the bag – including electronics – for a getaway weekend.
Lightweight – I can't carry a lot of weight anymore, and I really think about the ergonomics of a heavy bag. The bag alone only weight a little over a pound and a half, so you're not weighted down before you start. Fully packed with clothes and electronics it still wasn't burdensome to carry, either in traditional pack mode or carrying with the side handle. I wasn't constantly shifting how I carried it, a sure sign of discomfort, and even fully packed it was easy to stow in the overhead compartment of a plane.
Ethical standards – I prefer to do business with people and businesses I respect and who engage in labor practices and standards that ensure equal treatment of employees and allow them to make a fair living. And I'm at an age and income level where I choose to do this, even though it may mean paying a little more than doing business with the guy down the street who doesn't understand the concept of a living wage. CabinZero does business with factories who are signatories to an agreement that prevent sweatshop conditions and ensure employee welfare. That's a big win all the way around. CabinZero takes steps to reduce the environmental impact of manufacturing, maintains high ethical standards within their corporation, encourages sustainable tourism and supports charities in the developing world. Another big win all the way around.
Affordable – All of these great features, doing business with a company that respects its employees at every step of the process, and the bag still comes in at $80. That's a real bargain in my book!
What We Didn't
No bag is perfect, and CabinZero's Classic is no exception. While it's crammed full of great features, there are a few annoyances that I'd love to see resolved in an updated version.
The inside mesh pocket needs a zipper. Or a velcro tab. Or something. It's the perfect spot to tuck in a bottle of water, toiletries, or a book, but the weight of anything in the pocket causes it to flip out. I would have used it for a wallet, my passport, and other valuables if I had felt it was more secure while still being accessible.
The sleeve could use a bit more padding. Sure, some travelers may just put paperwork or clothing here, but for me, it was the logical spot for my laptop. It's in an easy spot to slide out during flight, but as it also against the back of the pack, it's prone to vibrations from the floor or overhead. Just a wee bit of padding here would make a huge difference in protecting expensive electronics.
For a stylish and functional backpack, CabinZero offers features and affordability that make it a superb choice. You can purchase directly from the CabinZero website. 
For Pinterest: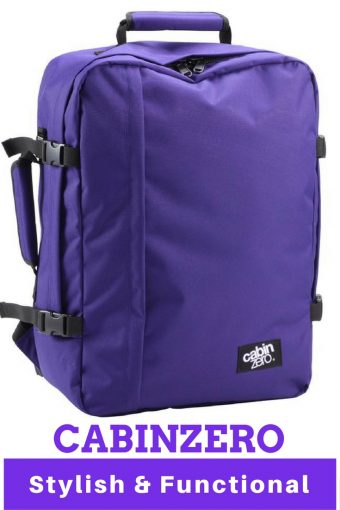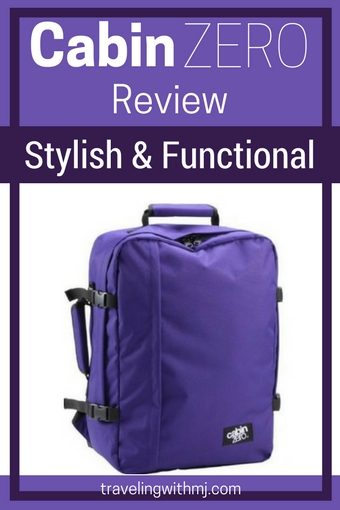 Photo credits:  Courtesy of CabinZero (because no one needs to see how I pack my underwear).
Disclosure: This post contains affiliate links. Clicking through for additional information or to make a purchase may result in a small commission being paid. By doing so, you help support this site and its authors, and we thank you.