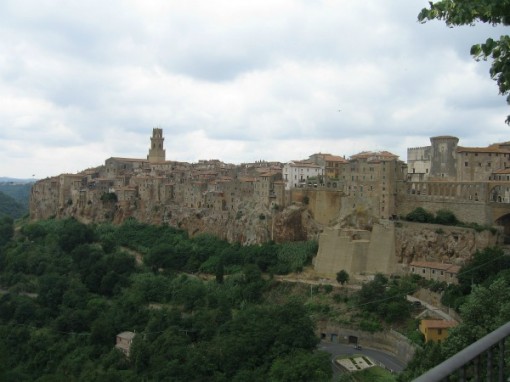 July 4th, 2011.  In the United States it was a holiday celebrating the 235th anniversary of the country's independence.
Back home friends had get-togethers with family and friends.  There were steaks, chicken, and burgers on the grill.  There was time for a game of baseball, badminton, or maybe a little time to be out on the water.  There was probably ice cream, watermelon, beer, and plenty of good natured fun.  When it was finally dark, the fireworks came out – whether they were the safe and sane sparklers, the bigger fire power purchased on the reservation, or the even bigger powered community displays.  The weather looked like it was fairly nice (and that's a real blessing in Seattle right now) and I'm guessing it was a pretty good day all around.
But here in Italy, July 4th, 2011 was simply a Monday, a little cooler, a little cloudier, but just a Monday.
We slept in a little bit, spent some time by the pool, and then headed off to see the town of Pitigliano.
Pitigliano seemed like it was out in the middle of nowhere – but then you round a bend in the road and you see the town seemingly growing out of a rock formation.  It's both on top of the rocks and growing out of the rocks, and is one of the most dramatic sights I've seen here in Italy (and there have been some pretty dramatic ones).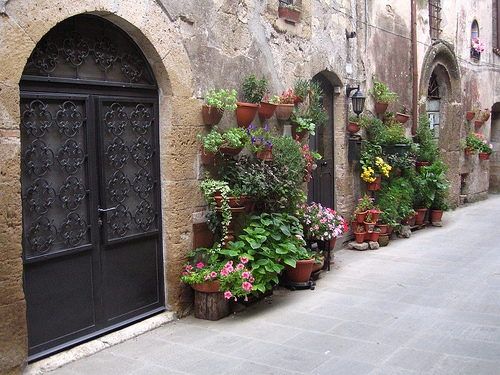 Pitigliano is basically a volcanic ridge that is located at the meeting point of two rivers.  The caves carved into the landscape their date back to Etruscan times, and if you peer into the canyon you can see the waterfalls caused by the rivers.  It's much like other medieval towns in that there are a hodgepodge of cobbled streets and narrow alleyways spurring off in all different directions in a haphazard way.  Follow one or another and you'll see much the same thing – stone buildings, flowers growing everywhere there's a free spot, and people going about daily life.
The main attraction in the town is the Palazzo Orsini, the 16th century residence of the prominent Orsini family.  Other interesting sights include the remains of a 14th century aqueduct (in the middle of the town) and and 18th century cathedral.  Personally, I suggest wandering through the town and stopping for gelato when you need a break, maybe even stopping more than once.
When we got back to the farmhouse where we are staying there was a large group of Italian travelers finishing up their evening meal.  As is so typical here, we were invited to join them.  Wine was being poured (along with grappa), and the conversation was lively even though we knew very little of one another's language.  Oh, and they passed around watermelon, too.
I guess it wasn't all that different from celebrating back at home.
Photo credit:  from the author's personal collection