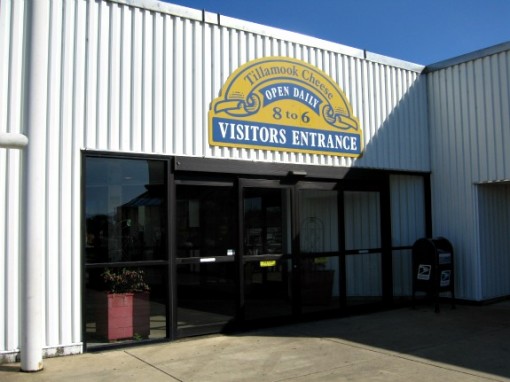 The month of October has been designated American Cheese Month, a celebration of North America's delicious and diverse cheeses, and the farmers, cheese makers, retails, cheesemongers, and chefs who bring them to our tables.  And last month I had a little preview of how to celebrate cheese month with a visit to the Tillamook Cheese Factory on the Oregon Coast.
The climate in Tillamook is well suited for dairy farming, with a history dating back to the mid-1800s.  By the end of that century, cheese maker Peter McIntosh created a cheddar cheese recipe that is still used today.  Over the years, dairy-related production boomed, and in 1909 a farming co-op was established that became Tillamook.  It's still a co-op today, owned by the dairy farmers and families who start the whole process.  Well, there are the cows to credit, too!
It seems that no drive down the Oregon Coast is complete without a stop off at the Tillamook Cheese Factory.  The Cheese Factory features self-guided tours and interactive exhibits that help you learn how cheese is made, starting with the cow and ending with the tasting.  And the shopping.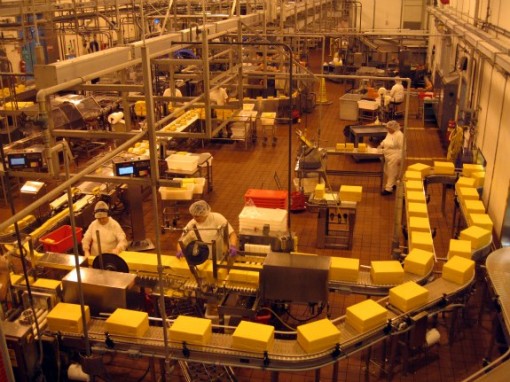 While the exhibits are interesting, and you can learn a lot, the real action is seen through the observation windows.  That's where you get a peek into what's involved in the packing of the 167,000 pounds of cheese turned out every single day.  It reminded me of the childhood game of Mousetrap with its intricate labyrinth of conveyors, processors, and people.  Just try following it all with your eyes, watching the 40 pound blocks of cheese get cut into proper sizes, weighed, adjusted, wrapped, sealed, and shipped off for sale.  It's interesting, amazing, and in a strange way a little mesmerizing.
Of course, the tour wouldn't be complete with some taste testing, and the Cheese Factory doesn't disappoint.  You'll have a chance to sample some cheese curds (I've always called them squeaky cheese), and decide if you like Pepper Jack better than Garlic White Cheddar.  Or decide if you prefer extra sharp over sharp, or Colby Jack over Smoked Medium Cheddar.  Confession – I tasted most of them, and really liked trying some of the ones not available in my markets at home.  The various flavors of white cheddar are my current favorites.  If you find something you love you can buy it in the Tillamook Cheese Shop, which carries every Tillamook product made.  And note, that tasty and fun squeaky cheese is only available here.
But wait – it's not just about tasting the cheese!  There's the fudge counter and the ice cream counter.  Yummmmmm!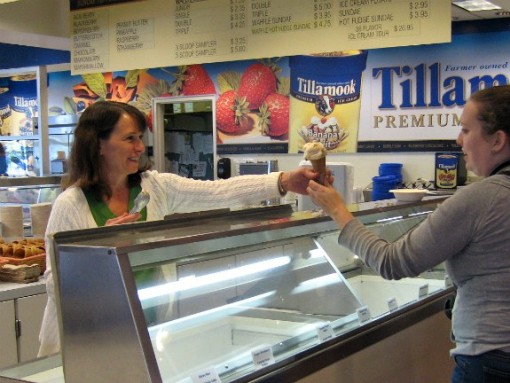 I'm familiar with Tillamook ice cream, it's available at my local market, but here you'll find all 38 flavors.  Let the sampling begin!
Grandma's Cake Batter was a little too sweet for me and I thought Sticky Bun was tasty, but not satisfying.  It was a BIG HIT with the rest of the group, though.  I favored Mountain Huckleberry over Marionberry Pie, although you wouldn't go wrong with either, and  Cookie Dough (one of my all time favorites) over Banana Split.  There were flavors here that I'd never heard of, Oregon Black Cherry and Root Beer Float, as well as some classics like Orange Sherbet and Rocky Road.  And in a head to head tasting of vanilla flavors, Vanilla Bean unanimously won out over Old Fashioned Vanilla and French Vanilla.   I'd bet you'll be hard pressed to find a favorite ice cream at the counter here, but I know you'll have a great time trying!  (NOTE:  There is a modest charge for ice cream.)
To keep up on all sorts of cheesy happenings, you can follow Tillamook on Twitter, become a Tillamook Facebook fan, or check out their blog Loaf Life.
Location:  4175 Highway 101 North, Tillamook, Oregon
Hours:  8 am – 6 pm, with extended hours to 8 pm mid-June through Labor Day
Admission:  FREE.  Samples are available for tasting.  There is a small charge for ice cream.
For your favorite Pinterest boards: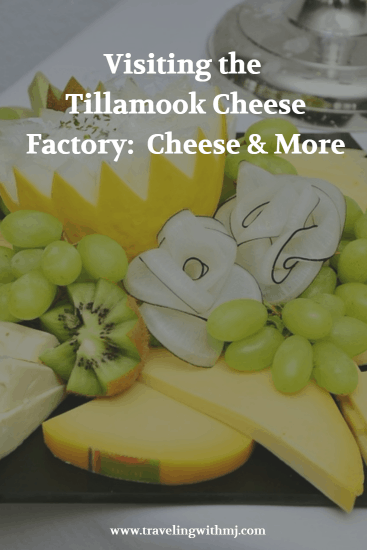 NOTE:  My visit to the Tillamook Cheese Factory was a stop on a trip sponsored by the Central Oregon Visitors Association, Oregon Coast Visitors Association, Travel Oregon, and Evergreen Escapes.  A special thanks to the Tillamook Cheese Factory for their hospitality during the visit.