If you're a sun-loving vacationer, you probably pay attention to weather reports, predictions, and warming trends at the destination where you'll be.   In fact, that information may be critical in deciding whether you'll be going to a particular destination and a particular time.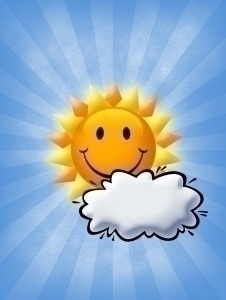 If you idea of a vacation paradise is to spend your time by the pool, on the beach, or picnicking in the warm sunshine, you still need plan for the possibility that it might — gulp — rain.  Or be cloudy, or cold, or worse.  And that means you've got to have plans for some indoor activities.  Even if the weather is outstanding, you're going to have to come out of the sun at some point.
I hear many people say that they don't want to spend much money on their beach hotel because they're never going to be in the room. I don't agree.  In fact, I probably spend more time in my room at a beach hotel than in a city hotel.  No matter how wonderful the weather, you can't spend all your time on the beach.  And if you're traveling with other people, you may not be on the same sun schedule.
A beach hotel is all about location, location, LOCATION.  If you're spending the money to be on the beach that's not all there is too it, however.  There are still other considerations to keep in mind.
When my travel plans call for rest and relaxation, here are the little extras that I look for in a hotel booking for a beach hotel:
A room with a balcony or patio – I can sit outside and enjoy the weather and have some quiet time without being in the sun.  Plus, there's the advantage of sitting there for my morning coffee, having a glass of wine and watching the sunset, both of which save a little money in the food and entertainment budget.
A room with a view – Whether it's the ocean, a lake, or a garden, it's nice to be able to gaze out at paradise.  One of my favorite memories was standing on a balcony in Rome, glass of wine in hand, and looking at the Coliseum.
Free internet access – I don't want to do a lot of work while I'm on vacation, but I do want to keep in touch with the rest of the world.  I'd never rearrange plans to be online, but when I'm taking a break from the sun, it's a good time to check my email, do a little writing, or check the news.  Or check tomorrow's weather forecast.
Nice interior hotel space – Whether it's an open air lobby bar, a corner couch to sit and look out the window, or some other nook and cranny, it's nice to find a comfy place to be.  If your traveling partner is taking a nap in the room, you can find a place to relax that keeps you out of the sun and out of their hair.  And if you're having nice weather, it's great to have a terrace lounge, rooftop bar, or patio where you can hang out.
Microwave or refrigerator – For a quick bite to eat, having something handy in the room means that I don't have to shower and change, and can take a short break before heading back to the beach or sun.
What are your priorities when you book a hotel for a beach or warm weather destination?  What's important to you?
Photo credit:  SXC