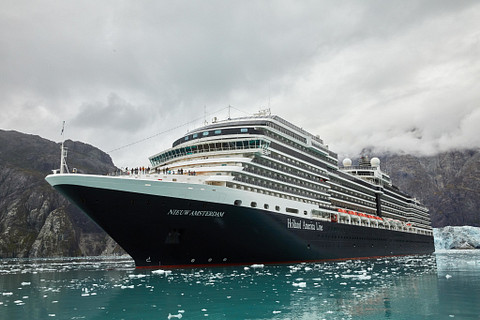 We love cruising and believe that there's a cruise for everyone. While we have our personal preferences, we also make different choices based on what we're looking for. We also feel we have an obligation to broaden perspectives beyond our favorites in order to provide you with sufficient information to make the best choice. We want you to discover a cruise line and itinerary that makes you love it as much as we do, so we make our recommendations very carefully.
Readers who ask me about cruising to Alaska always get this recommendation – a Holland America Alaska cruise. They've earned their chops – they've been sailing to Alaska and the Yukon for nearly 75 years.
---
---
A recent initiative between Holland America, the Alaska Seafood Marketing Institute, and Culinary Council member (and Seattle chef) Ethan Stowell, puts sustainably sourced Alaska seafood front and center on all six ships sailing to Alaska.
What does this mean for you and me as cruisers?
At its most simplistic core, sustainably sourced seafood means that has been obtained by means that leave sufficient species in the water and protect threatened species. The partnership creates a win-win-win connection that allows fishermen to maintain their livelihood, the cruise line to provide a quality product, and the consumer the deliciousness of all that Alaska seafood. And it does so in a way that protects the planet ensuring it all is available for future generations.
While there has long been Alaska seafood featured onboard Holland America ships, this partnership is a continuing commitment to serving wild seafood and partnering with Alaska businesses. And, it's a way to help customers learn more about and appreciate the bounty from the waters of the 49th state.
Three new dishes from Chef Stowell will be on the menu in the Dining Room:
Fried Alaska cod sandwich with malt vinegar aioli and savoy cabbage slaw
Alaskan salmon chop with cucumber, tomato, avocado, bacon, and green beans
Roasted fennel-crusted Alaska halibut with artichokes and Taggiasca olives
More than 5,000 pounds of wild Alaska seafood is locally sourced for each cruise itinerary. That's a lot of seafood! How does that break down among the many delicious choices onboard:
More than 2,000 pounds of Alaska salmon
More than 1,000 pounds of Alaska cod
More than 800 pounds of Alaska halibut (Tony's favorite)
More than 500 pounds of Alaska rockfish
More than 400 pounds of Alaska flounder
More than 200 pounds of Alaska black cod
More than 400 pounds of Alaska pollock
That's enough to make me want to jump on an Alaska cruise again right quick! (Insider secret: I'm actually looking at a couple of options right now.)
Photos courtesy of Holland America. Sampling some delicious Alaska seafood while visiting the Nieuw Amsterdam while docked in Juneau, all my pleasure.