Alaska. The last frontier. The 49th state.
Cruising to Alaska for a look at the glaciers and mountain ranges ranks high on a lot of bucket lists. It's often the last state visited (for people collecting all 50). Its remoteness help cement that rugged individualism often associated with state, and helps make Alaska a fascinating cruise destination.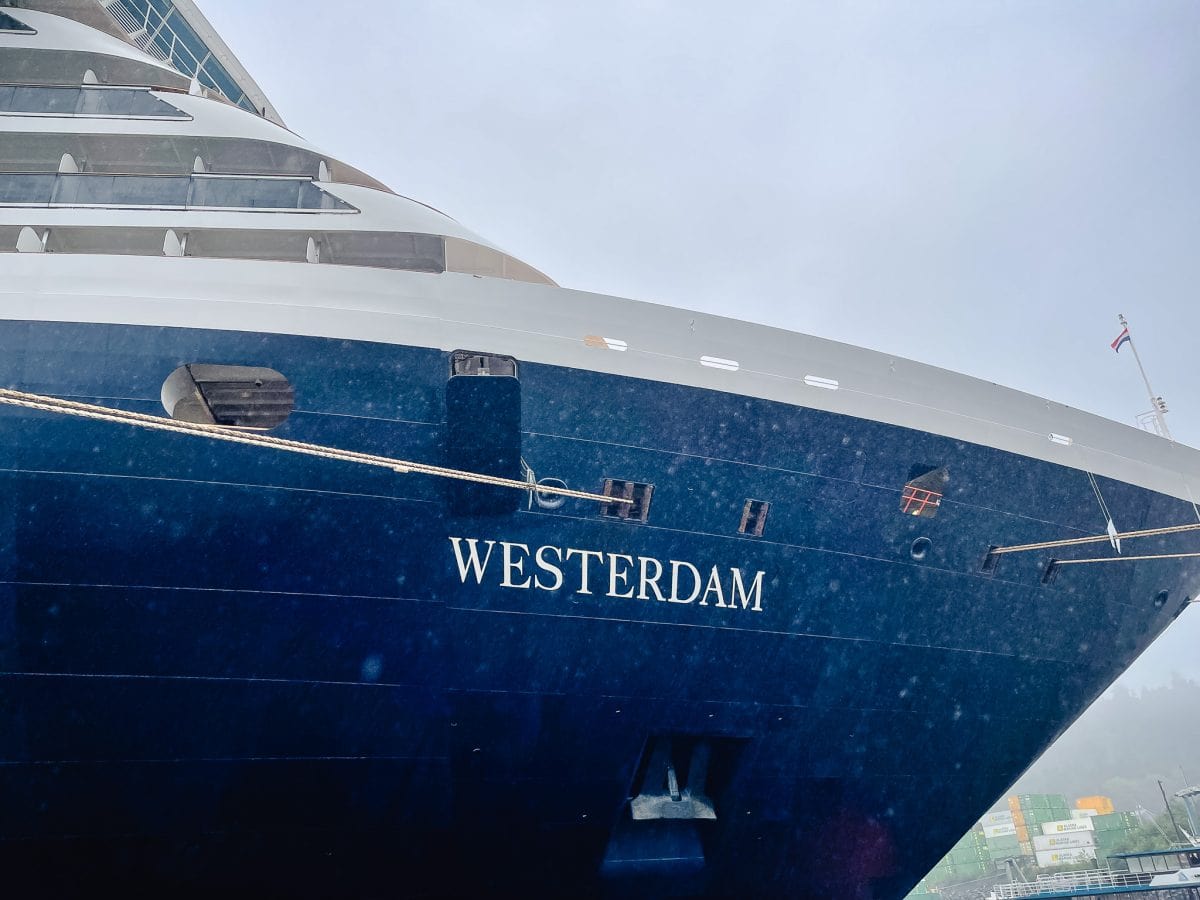 I had visited Alaska hundreds of times, but never from the water. I was excited about taking a water route and seeing the state from the sea. And both of us loved the itinerary which included opportunities to see whales, sail past jaw-dropping landscapes, see glaciers that are, unfortunately, becoming compromised by climate change, and enjoy authentic Alaskan heritage.
In early spring 2022, we sailed on a Holland America cruise, a 7-day Inside Passage Alaska cruise on the Koningsdam.
We had such a wonderful experience on the cruise that upon returning home we immediately started talking about a return visit with family members. We were amazed at the experience we had – the glaciers, the wildlife, the whales – not to mention the convenience and enjoyment of being on the ship.
We decide to book a return sailing, this time taking an older teen from our extended family. Nineteen is a tough age for a vacation, but we thought he'd enjoyed the outdoor activities of the shore excursions and would be free to do much on his own while on the ship. While we weren't sure about the choice while we were on the ship, he's raved about it since we've been home. Our review of the experience takes his opinion into consideration and has been labeled as such when relevant.
So let's talk about the Alaska Explorer itinerary on Holland America's MS Westerdam.
The Ship
The MS Westerdam is a Vista Class ship that was was launched in 2003 and refurbished in 2017. The maximum passenger capacity is 1,964 and 802 crew members, putting it in the medium-sized range. The ship measures approximately 936 ft. x 105.8 ft and weighs 82,500 tons, which believe it or not, for a cruise ship is on the smaller side.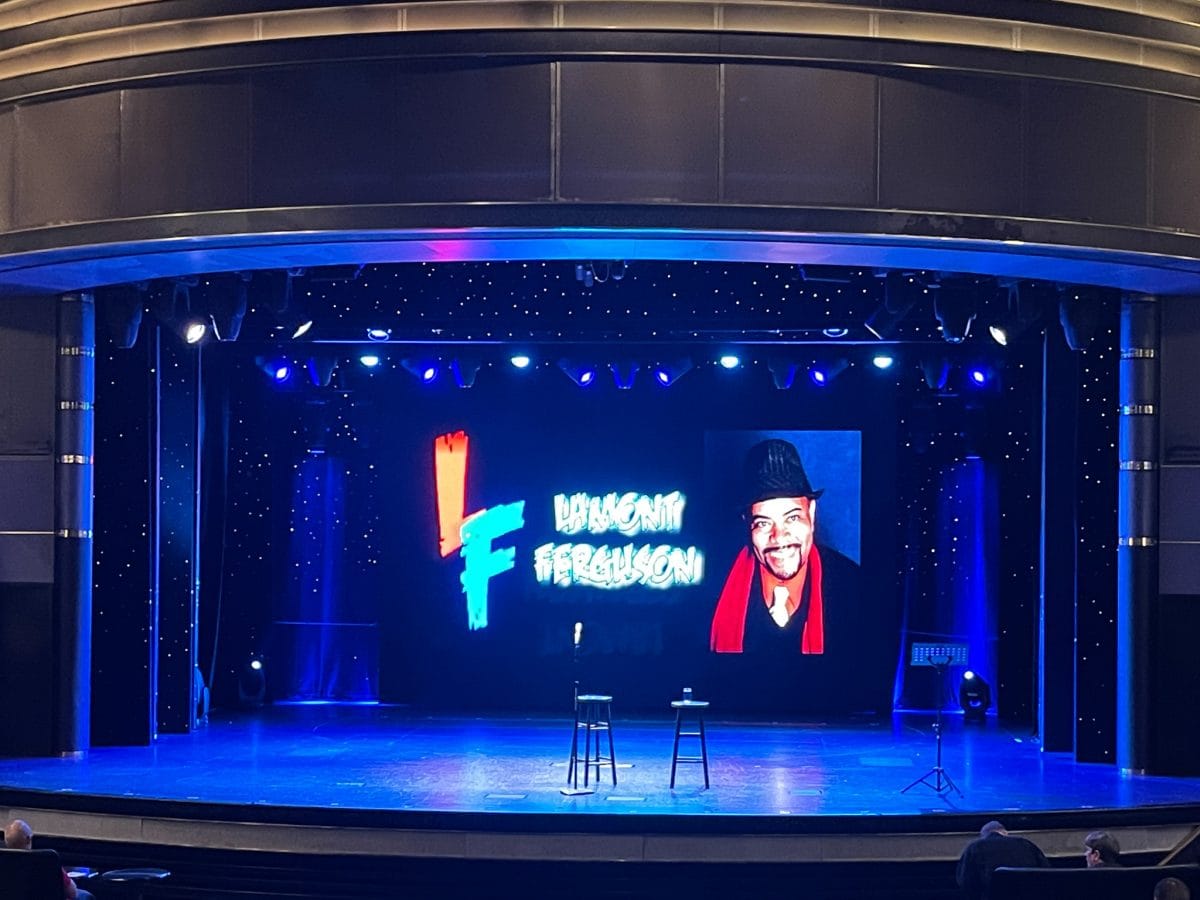 While smaller than the Koningsdam that we sailed on earlier, there are still plenty of luxurious touches – gold-plated railings and elevator doors to plush carpets and ambient lighting – without becoming fussy. Many of the touches from the larger ships can still be found on the Westerdam, including the vibrant entertainment venues, pool, casino, spa and salon, and lounge areas.
The ship is a great match for a cruise North to Alaska.
The Staterooms on Westerdam
Cabin selection is always a balance of budget and personal preferences. We strongly recommend choosing the best cabin your budget allows. That's what we did on the Alaska Explorer itinerary, choosing a Neptune Suite. Best decision we made!
It's easy to dismiss cabin selection saying that you'll never be in it, so it doesn't matter. This oversimplifies the choice. A more spacious cabin may make you want to be in it more, whether that's enjoying breakfast in your room, a nightcap on the verandah, or warming up inside when viewing Alaska scenery is too cold from one of the decks. Plus, an upgrade cabin often comes with value-added amenities. Of course, ANY cabin may be better than NO cabin; we just encourage you give consideration to your cabin selection.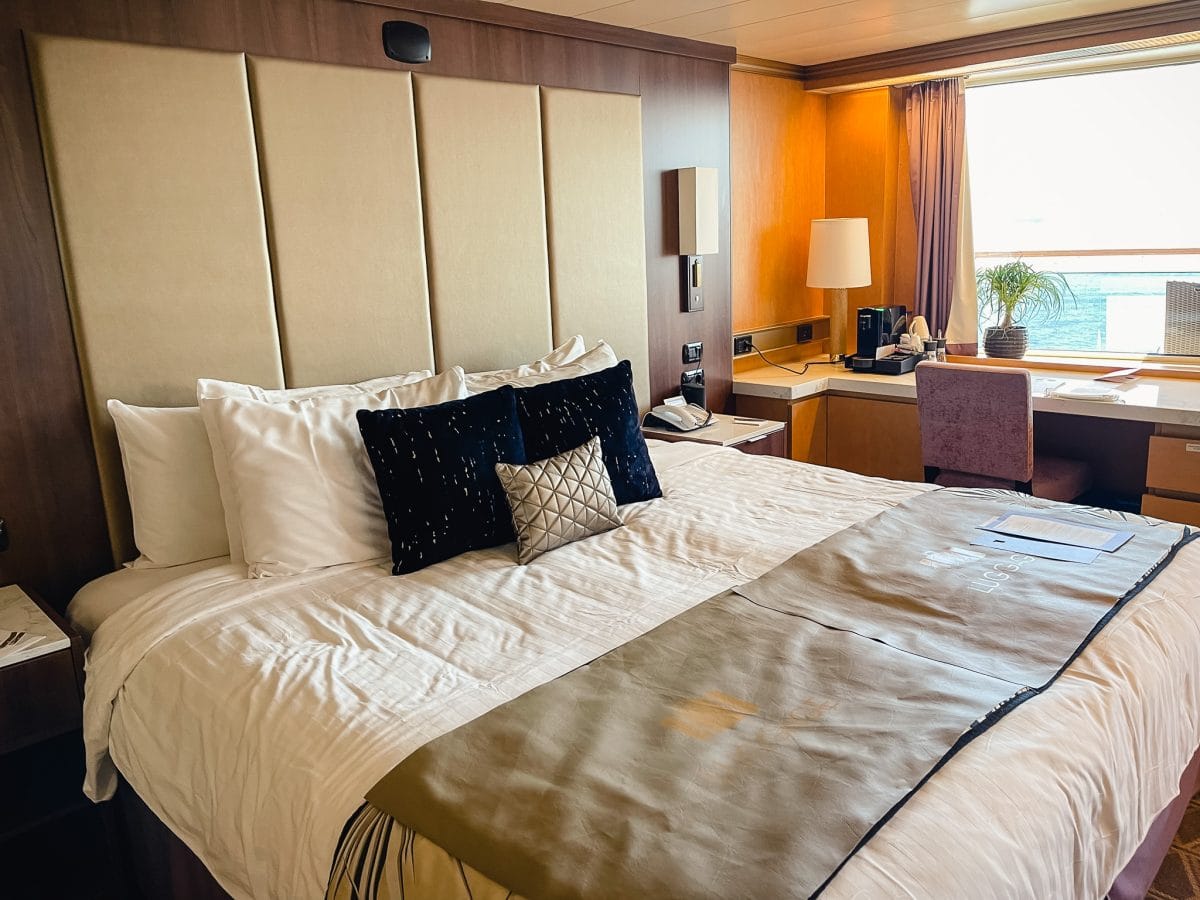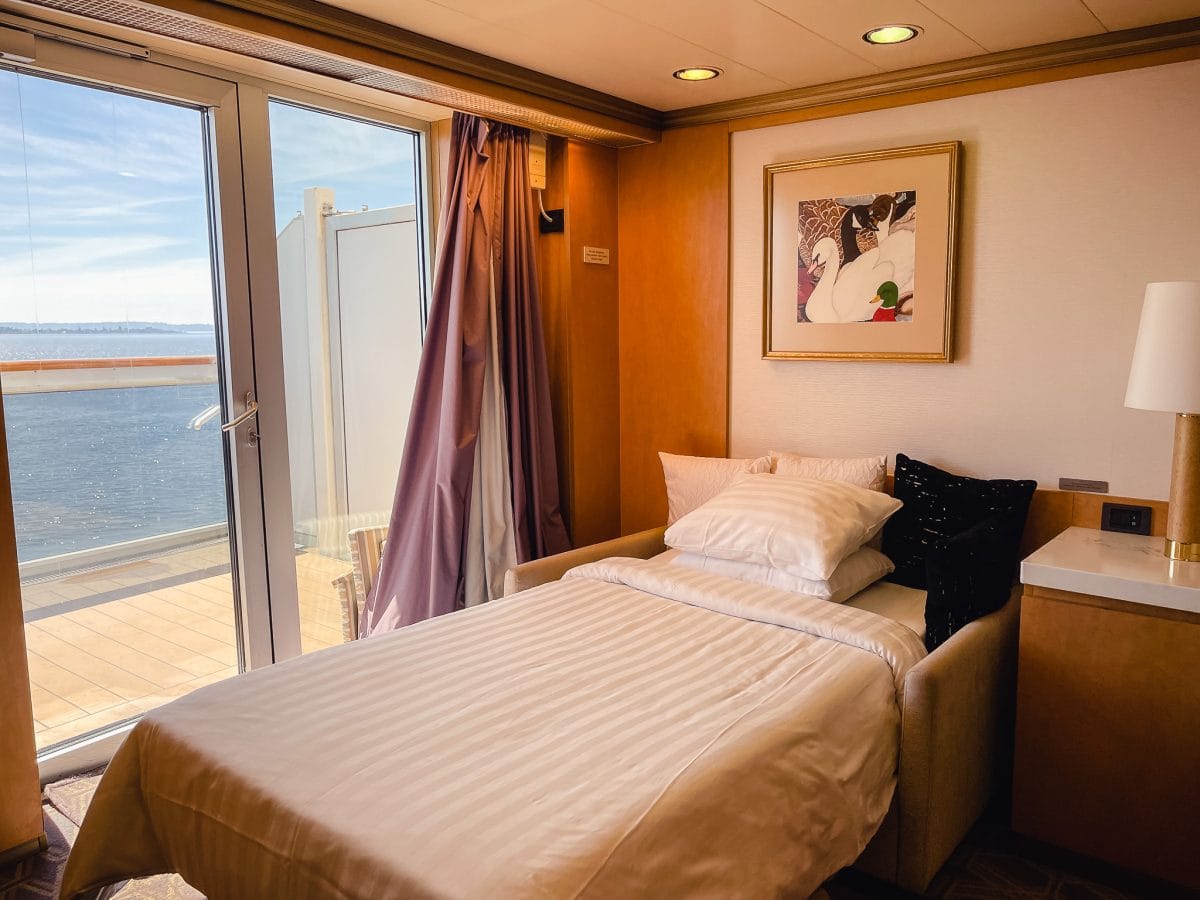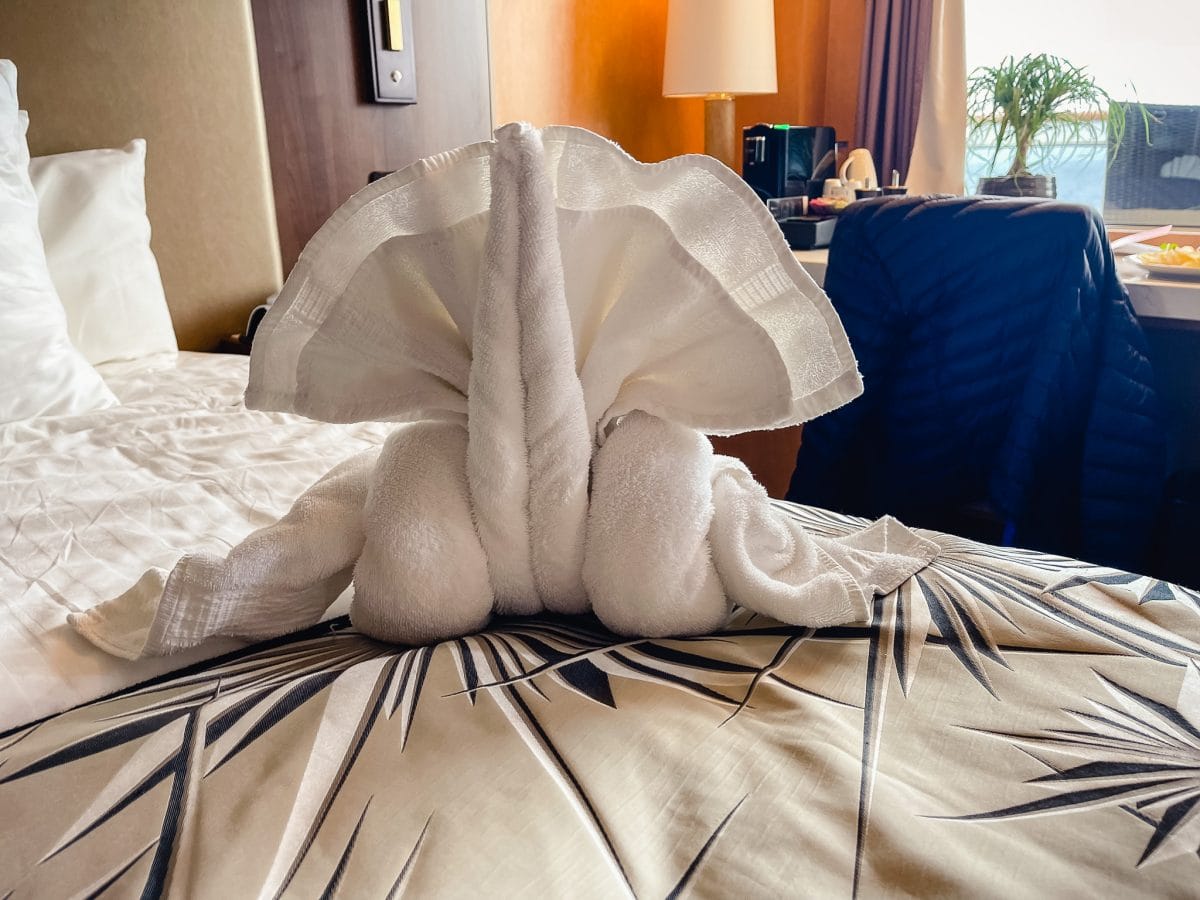 The Neptune Suite is one of the largest and most luxurious suites on the ship. It measures around 500 x 712 square feet, has a separate living area to the bedroom, and a private verandah.
The room is equipped to accommodate four guests, which we needed for three adults (we're counting the teen as an adult when it comes to space and food needs).We had a king beds, with a sofa bed that made into a queen-size bed. If not used as a bed, the sofa anchors the sitting area. A dressing room area was separated from the living space with a heavy curtain, with a door providing access to the bathroom with separate tub and roll in shower.. There was plenty of room for us to all be in the room at the same time without tripping over one another.
We kept the sofa in bed position the entire time, perfect for napping. This did block the slider access to the deck a bit (we had to walk around the bed), but it was a small inconvenience compared to stowing the bed every morning, and having it made up every evening.
We were in cabin 6175 (a wheelchair accessible suite), located on Deck 6 (Upper Verandah Deck) at the aft of ship, starboard (right) side. This was the first time we've sailed in an aft-facing cabin, and we recommend it. Our verandah was huge – with two loungers, a table with two chairs, and still room to move about. We'd sit out there when the sun was out. I'd often have morning coffee there, and it great for a sunset glass of wine.
The verandah really came through, though, when cruising the fjords and viewing the glaciers. From our previous Alaska sailing, we knew that it would be cold out on deck. Even though it was late August, when the ships passes through the inlets into a bay surrounded by glaciers, it gets chilly. We were prepared with heavy coats, caps, and gloves, but it was so more enjoyable to watch the scenery through the floor-to-ceiling windows in the cabin, or to pop back and forth between the verandah and the room.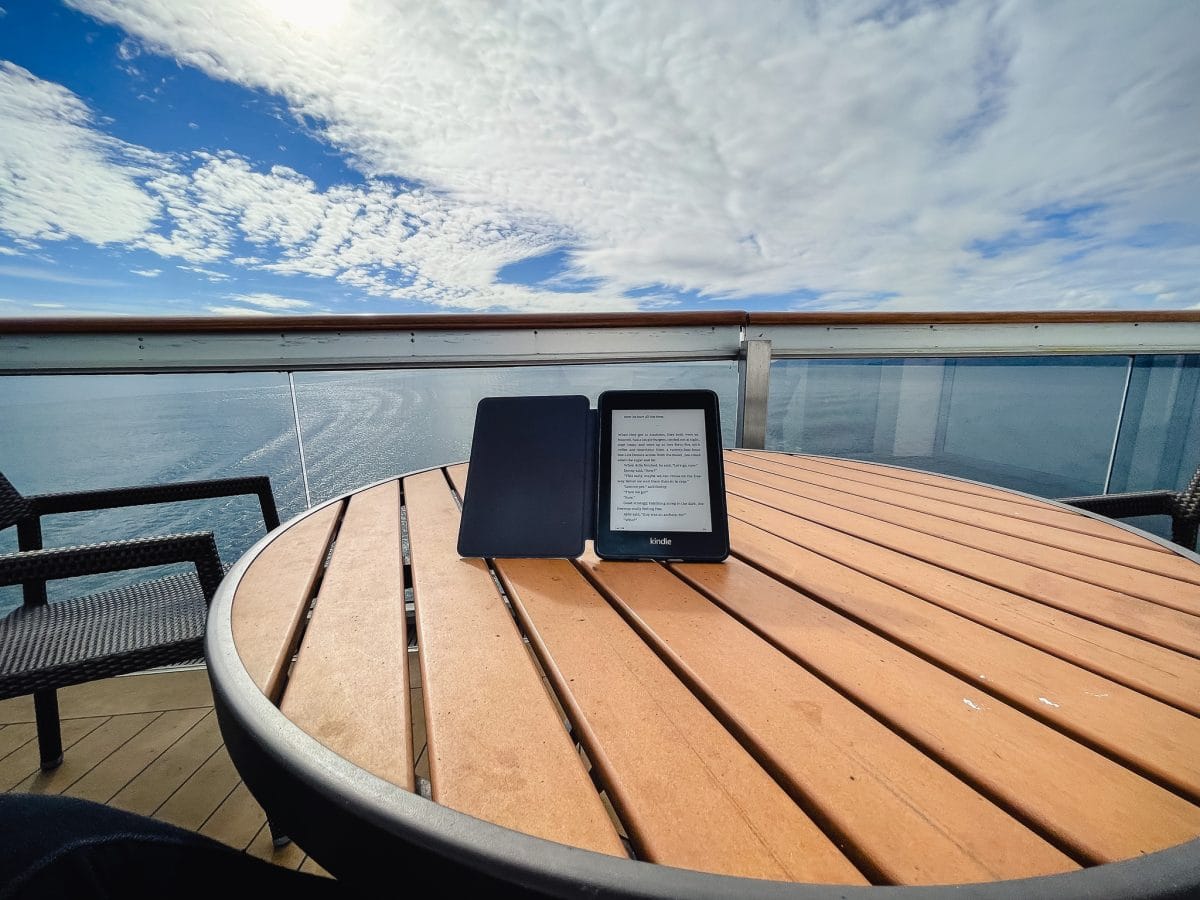 Neptune Suites also have value-added amenities, including use of the exclusive Neptune Lounge. The lounge is available to passengers in Neptune and Pinnacle suites. The Lounge featured a variety of snacks and beverages, and also offered private concierge service.
We used the lounge every day, whether for the champagne reception, grabbing a cookie before bed, getting information to book a shore excursion, or having a light afternoon snack. The Lounge was always well staffed, with food replenished regularly, two or three concierges available to help with anything we needed. The teen was a regular and the staff knew him by name.
Other value-added services that we used include: in-cabin coffee maker, mimosas at breakfast, and pressing service (our packing was not quite as neat and tidy as it could have been), and skip the line options for dining.
Neptune Suites also include access to Holland America's Club Orange program (a private dining room, skip the line options, and special shipboard events). Passengers who are not booked in suites can purchase Club Orange as an add-on.
The Westerdam did not have a special dining room for Club Orange members. As an alternative, breakfast was offered in the Pinnacle Grill. We ate there most days, enjoying the complimentary mimosas to start the day, and had room service the other days. We also took advantage of the skip the line option when having dinner in the main dining room.
We'd highly recommend booking an aft facing Neptune suite.
The Alaska Explorer Itinerary
The cruise started from Pier 91 in Seattle, just about an hour away from our home. Seattle has two cruise piers, so make sure you're going to the right place.
If you're flying in for the cruise, many hotels offer cruise packages that include transportation to the pier. If you're a local, you may want to consider a hotel offering a drive/sail option, keeping your car at the hotel and using shuttle transportation to the pier.
Since our sailing came together rather last minute we opted to drive and park at a nearby lot specializing in cruise parking. You're going to need reservations, so don't wait until the last minute. We used this parking lot that shuttled us to and from the pier. It's a family owned and operated business, reliable, and pricing on par with everything else out there.
DAY ONE – EMBARKATION IN SEATTLE
We planned to get to the ship early, as our cabin allowed for early boarding. We wanted to give the teen time to explore the ship, have lunch, and relax a little bit before we got underway.
The convenience of leaving from a local port can't be underestimated, but if you're flying in from elsewhere, we have a few recommendations to keep in mind.
If you're traveling any distance, you'll want to arrive in Seattle at least a day early. Putting your full trust in a flight schedule going according to plan is risky these days, even riskier if you have to make a connection or there aren't multiple daily flights between your home airport and Seattle.
Since the Seattle area is home for us, it's easy to take it for granted. But when friends come in early (or stay late) in conjunction with a cruise, I'm reminded about just how special this place is.
Shameless plug: Pick up a copy of my book, Secret Seattle: A Guide to the Weird, Wonderful, and Obscure.
The formal founding of the city of Seattle dates back to the 1850s when American pioneers known as the Denny Party decided to settle in the city. Native Americans had already been living in the area for far longer than these new settlers. The city was named after the chief, Sealth, who was the leader of the Puget Sound tribes including Duwamish and Suquamish. The city has a checkered and complicated history, far beyond what can be included in a cruise review.
Day 2 – AT SEA
I love sea days! For me, it's a chance to check out the ship a little more, enjoy some reading time, maybe hit the spa (additional cost), or relax and enjoy the water view from our cabin or elsewhere on the ship.
We don't often join in shipboard activities like trivia (unless I'm traveling with my friend, Chris), dance or art classes. We'll sign up for wine tastings or listen to some music, but we generally just enjoy the downtime in our otherwise busy life. We are never bored when on a ship!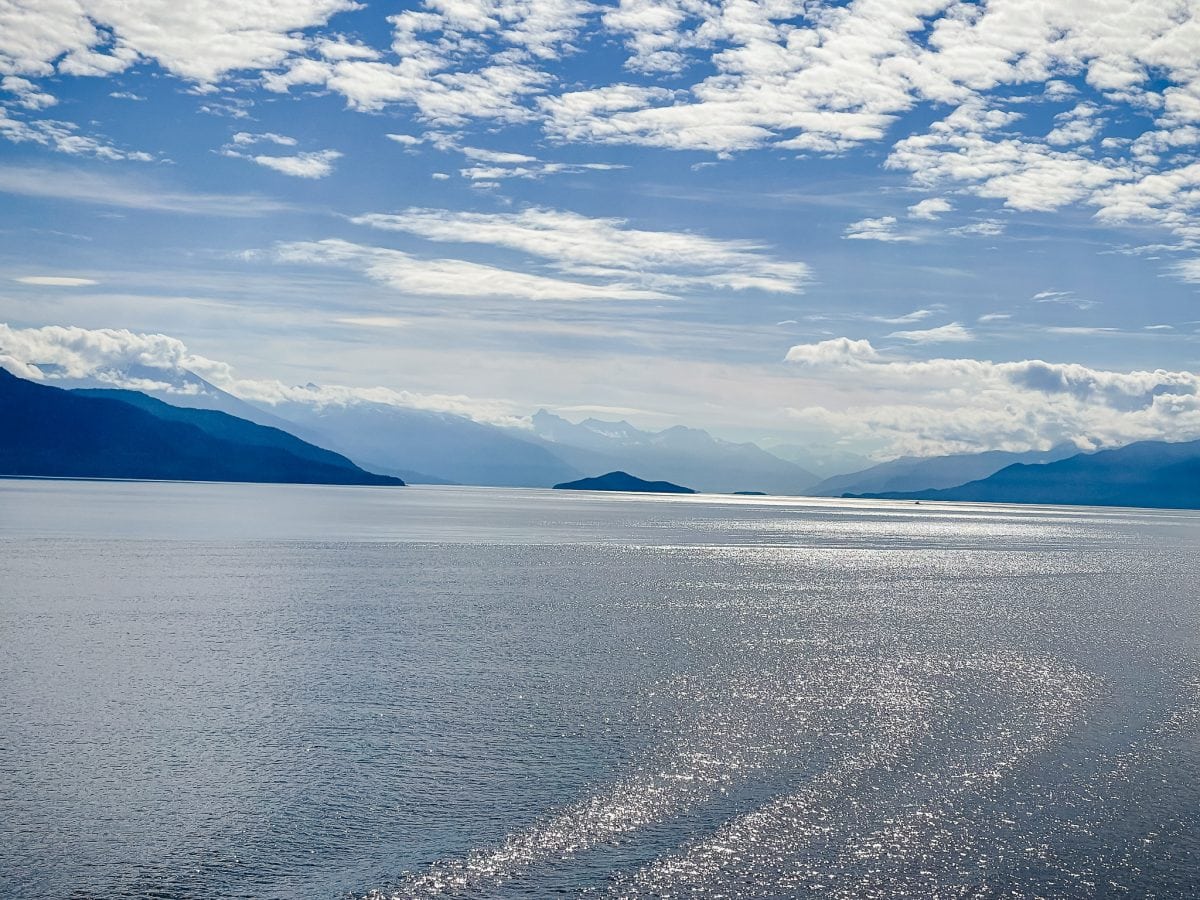 We weren't certain, however, how the teen would adapt to a day at sea. Turns out, he needed downtime every bit as much as we did. He had finished up finals at college just two days earlier, and he appreciated the unstructured time as well. If you're traveling with younger kids, you may want to investigate Club HAL (located on Deck 10). It's divided into age groups and may be a good fit for your family's needs.
Day 3 – JUNEAU, ALASKA
Juneau is the United States' most remote capital city. With no roads leading into the city, the only way to reach it is by plane or boat. It's surrounded by water, dense forests, and mountain ranges. With only 32,000 year-round residents, the city booms when the cruise ships arrive. And after a long couple of years, locals seemed glad to have us back.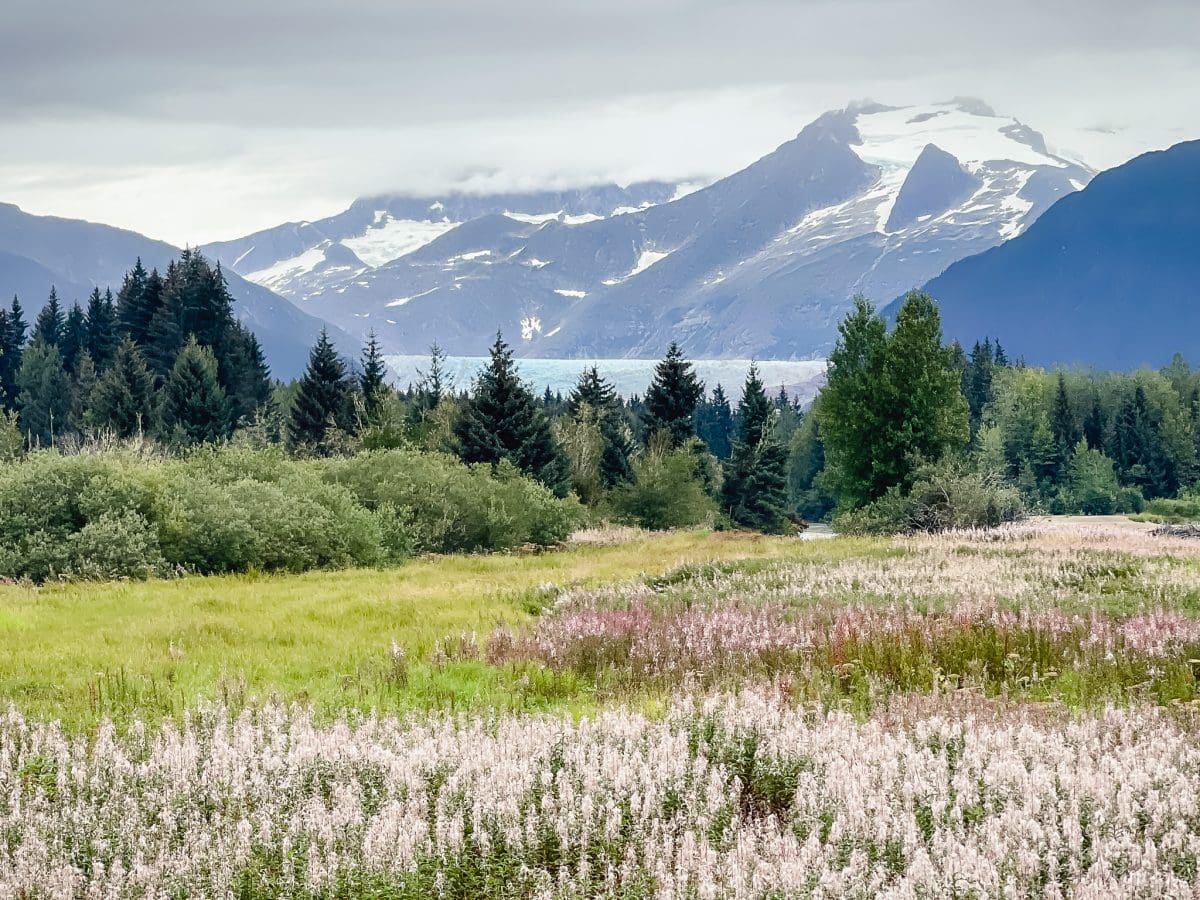 Popular shore excursions here include visiting Mendenhall Glacier or, as we chose, heading out for some whale watching. Juneau is a popular spot with humpback whales, returning to Alaska waters now after being in warmer climates during the winter. There are lots of excursions offering whale watching and vary in departure times, size of the boat, number of people, etc. Just pick one that works, they basically all cover the same territory and have the same information.
Since we had been to Juneau earlier in the year, we left the excursion choice to the teen. Not surprisingly, he choose a whale watching tour, similar to the one we booked before.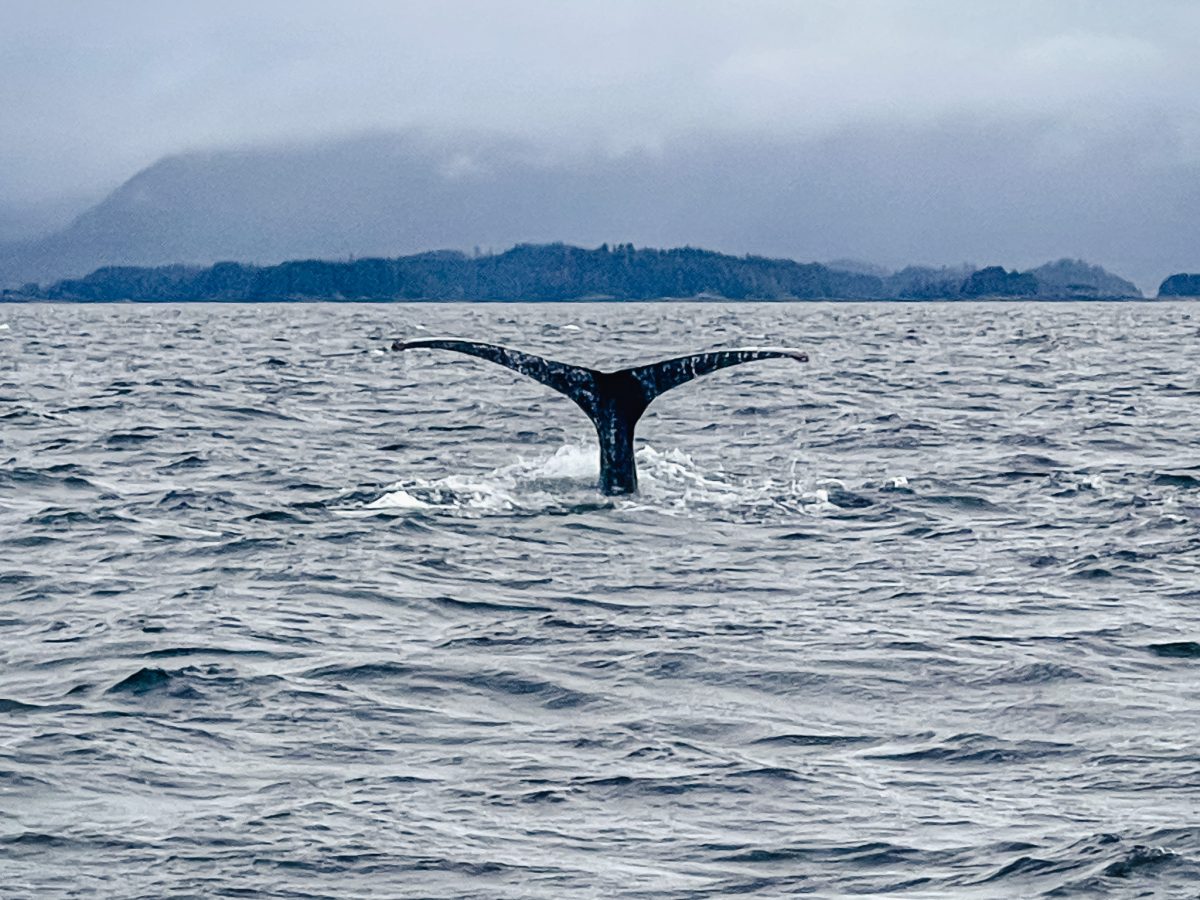 The weather was a little nicer this trip, and we saw lots of humpback whales and a few orcas. It seemed like every way we turned we had a blowhole sighting, then patiently waited for the whale to surface. This was a big it for all of us and we thought it would be the highlight of the trip. Turned out it wasn't.
Day 4 – HUBBARD BAY GLACIER
Located in Wrangell-St. Elias National Park and Preserve, glacier viewing is often the primary reason for taking a cruise to Alaska. We sailed Glacier Bay National Park before and were awe of Mother Nature's prowess. Hubbard didn't disappoint either.
While we sailed during the prime summer season, it's till darned cold when it comes to viewing the glaciers. It's typical to see small chunks of ice floating in the water, the result of glacier calving, and often marine or wildlife. Even during the summer, temperatures range in the 35-60 degree range, so you'll want to be sure to pack warm clothing for day of scenic cruising.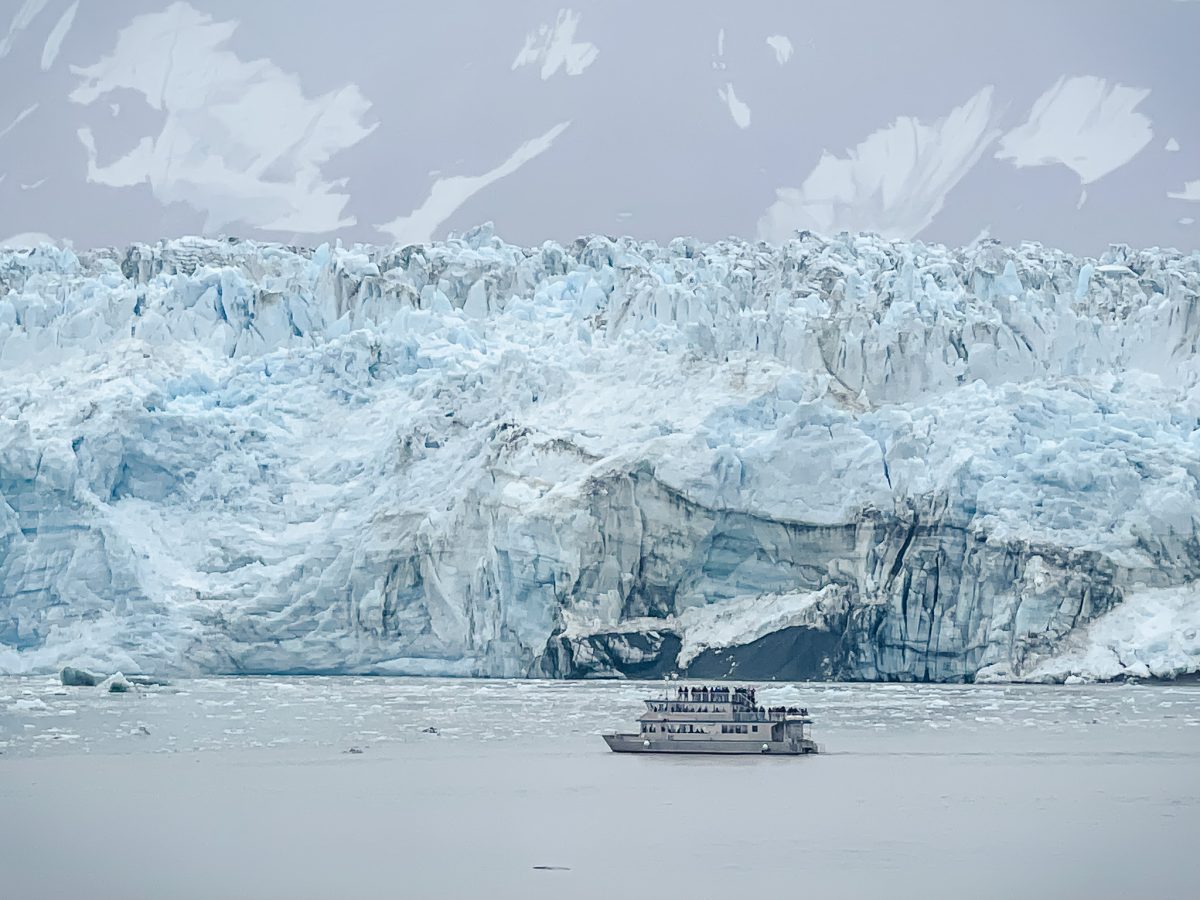 A few glacier viewing tips:
The ship moves slowly, and turns in a circle, so you'll have plenty of time to get a great view (and take those jaw dropping photos) no matter which side of the ship you are on.
The bow of the ship opens up for viewing. It's worth heading out for that first impression. It made us feel very, very small.
It's cold out on deck. Despite nursing some hot chocolate, we soon retreated to our cabin.
After that initial first impression, viewing glaciers from your cabin (if you have a balcony) is a great choice. It's warmer and you can pop inside and out easily, while still getting great photos.
Our aft-facing Neptune was an ideal location for glacier watching. There was room for al three of us to be out on deck in comfort. We had the same view as being out on an aft deck, but with all the comforts which fought off the cold.
Day 5 – SITKA
Sitka is located on Baranof Island, and was originally founded by the Tlingit people. It's history includes time as a fur trading hub, the capital of the Alaska Territory, a war zone, and a Russian settlement.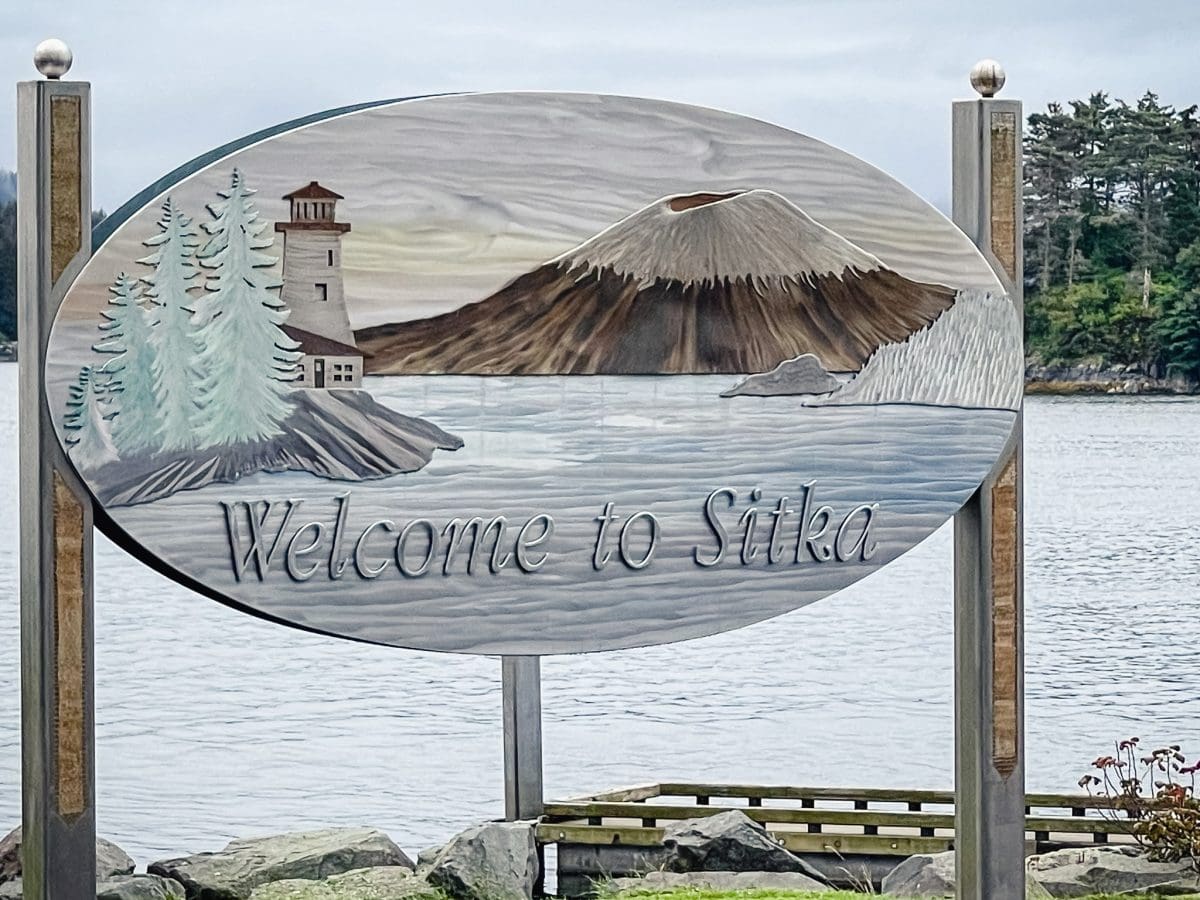 We opted for a wildlife tour that combined some time on the water for marine wildlife spotting, followed by a visit to Fortress of the Bear, a non-profit bear refuge and education center. It was one of those days that we won't soon forget, and the teen proclaimed in the highlight of the trip and still talks about it months later.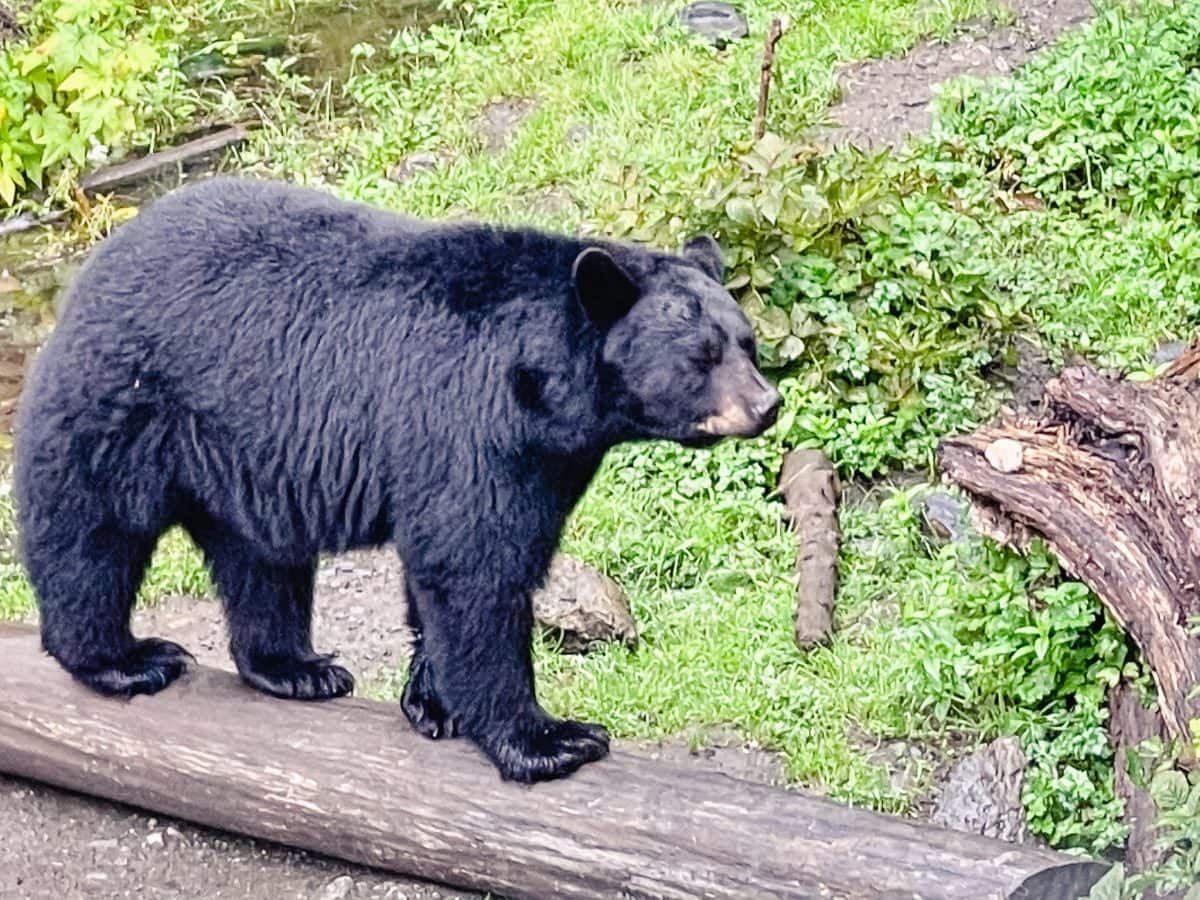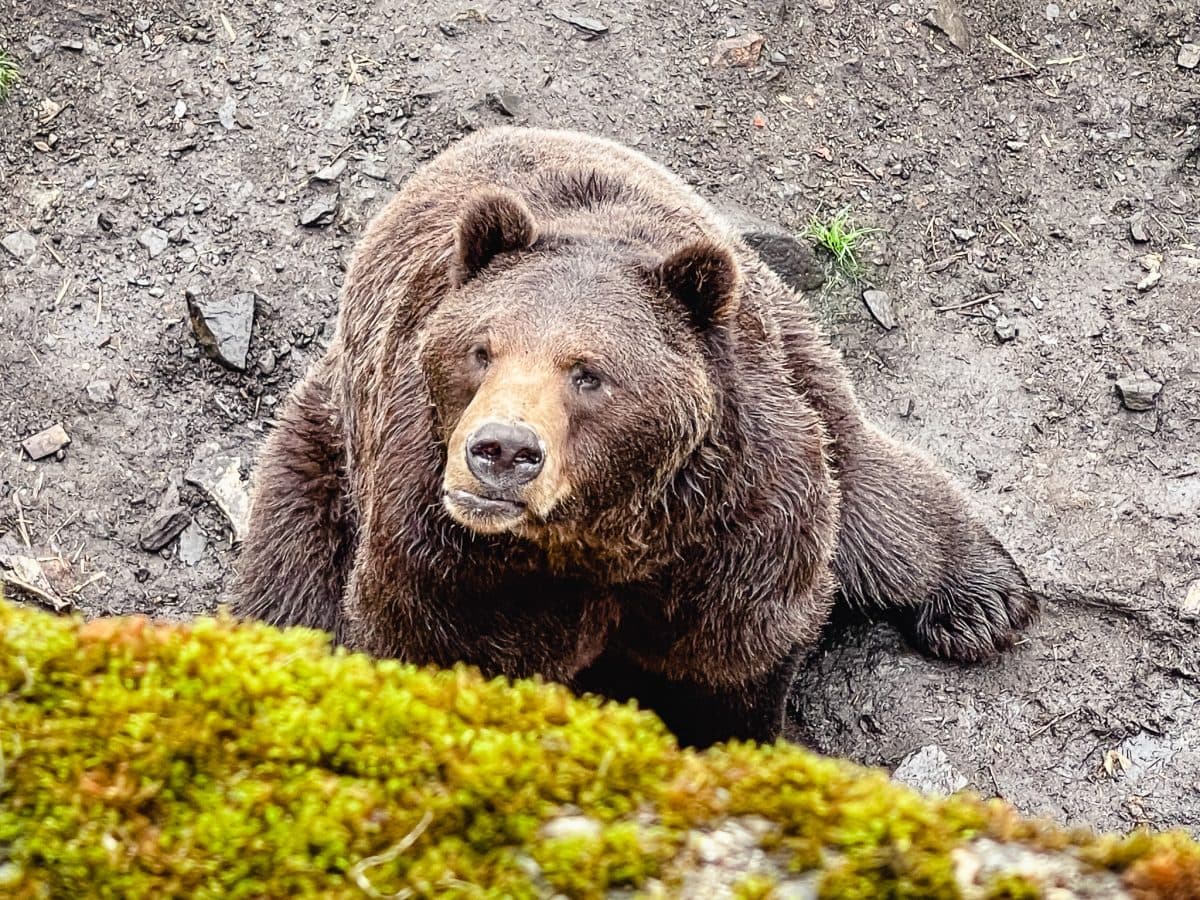 We recommend this port excursion.
Day 6: KETCHIKAN
Ketchikan is well known for its long tradition of salmon fishing and its well-preserved native Alaskan heritage. If you want to learn about the cultural heritage of the native Alaskan people, such as the Tlingit, Haida, and Tsimshian, you'll be able to get insight here.
We were ready for some foot-time, so we passed on excursions and walked around the town, wandering down historic Creek Street, a boardwalk built over the Ketchikan Creek.
Wandering along the water, we saw fish jumping, fishermen, and enjoyed some fresh air. The unstructured personal exploration was a perfect balance to the busyness of excursions on other days.
Day 7: VICTORIA, BRITISH COLUMBIA
On this itinerary, Victoria, located on the southernmost tip of Vancouver Island, was our last port of call, and we were only there for an evening (after dinner until the wee hours).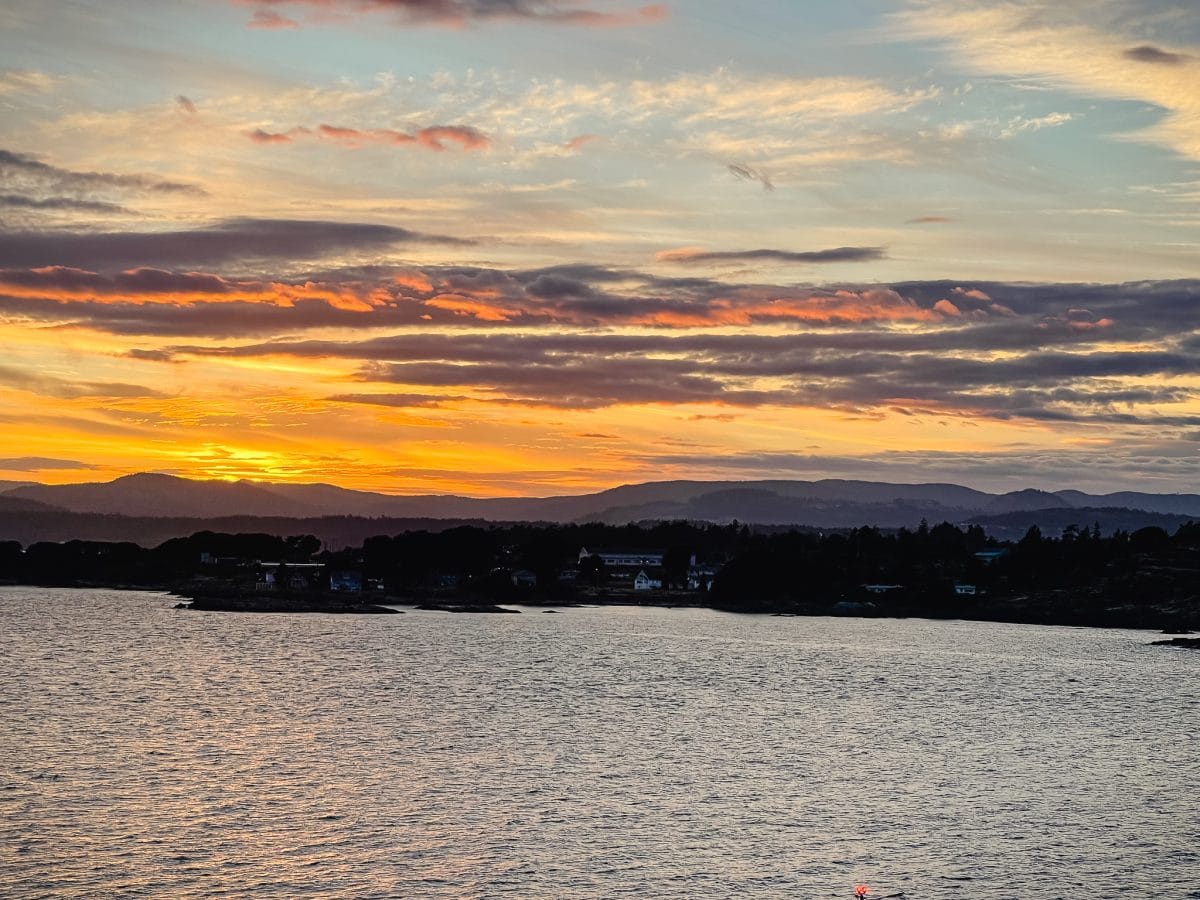 After a full week of activities, I was content to remain on the ship and catch up on a few things that I had missed. Tony and the teen, however, chose to go on a pub crawl after dinner. Now, this could be because the legal drinking age in Victoria is 18, or it could be because the city's history and old world charm was the big draw. I'll let you draw your own conclusions.
The two of them came home and said it was a fabulous evening. The relaxed nature of the evening meant they had time to talk with the other "crawlers" and the teen could experience the camaraderie of responsible pub drinking.
Day 8: SEATTLE
Back home.
Since we are locals, it was nice not to have to stress over a flight or a schedule. We packed up our stuff, had breakfast, and then claimed our bags and headed to the car. The ease of being a local was a relaxed ending to the trip.
Dining on Westerdam
Before getting into specifics and recommendations for dining options, a few general thoughts. I like to try new dishes when I'm cruising, something I haven't tried or that I don't make at home. Sometimes I discover wonderful new flavors, sometimes not so much. That's not a reflection on the food that's prepared, but on my personal tastes. Not surprisingly, opinions will be all over the place. I've tried to provide specific responses to our dining selection as well as give some recommendations to help you decide what choice is right for you.
Holland America has also announced a new sustainable seafood partnership on all its ships sailing in Alaska.
We are wine drinkers. We have wine at dinner nearly every night at home, and a cruise isn't going to be any different. We build it into the budget. Holland America has a fabulous wine program, with an extensive selection of both bottles and by the glass at all price points. We're always eager to engage with a wine steward to help make a selection, learning more each time we try something new or pair it differently.
The wine menu gives excellent information to help make a selection, but don't be afraid to ask questions about what would go well with your particular dish. Bottle purchases gave slightly better value and if you don't finish, will be held for another night.
The Dining Room
There are two options for main dining room seating. We opted for freestyle, which is a self-select option to choose your own mealtime when you want it. This fits our personalities, our preference to not have all our cruise time structured, and gave us maximum flexibility. We also tend to prefer later dining, rarely earlier than 7:30 pm.
We ate in the Dining Room for a couple meals. While the menu is varied, and has good selections, we love the specialty dining selection on Holland America line cruises. They have a fabulous culinary program (Chef Ethan Stowell represents Seattle well), and we take advantage of these choices when we can.
We had open seating for dining, which fit us well. Since we were sailing in a Neptune Suite, we also had separate access to the dining room which allowed us to avoid lines.
If you prefer not to select specialty dining, rest assured that the you can eat well onboard the Westerdam.
Lido Market
We came here for breakfast when we wanted something quick and easy. You'll find the usual fare with some surprising twists – cooked to order eggs as well as cooked to order crepes, sweet and savory options, cereals and breads, salads, and roasted meats.
The teen often chose to grab coffee and a breakfast pastry in the Neptume Lounge instead. It was nice to let everyone make their own breakfast choices, knowing there were plenty of options.
Pinnacle Grill
This was the favorite dinner spot for all three of us, and we ate here twice (actually, a third time as it served as the venue for a pop-up – details below).
Steaks were delicious and well-prepared. Sides were tasty and complemented the protein. and I'll say it again, the lobster bisque was so delicious I would have licked the bowl if it weren't grossly inappropriate.
Pinnacle is open for lunch and dinner.
Specialty dining. Surcharge and gratuity applies.
NOTE: Pinnacle Grill was used as the location for breakfast for Club Orange members. On sea days, when we had more time to relax and enjoy breakfast and a mimosa, we came here for dinner. There is no surcharge for breakfast, but it is open for Club Orange members only.
Rudi's Sel de Mer
This was our favorite restaurant when we sailed on the Koningsdam, and we were initially disappointed that the venue wasn't on the Westerdam.
Never fear, though – Rudi's menu was staged as a pop-up in the Pinnacle Grill and we hopped on those reservations just as quickly as we could.
Master Chef Rudi Sodamin has created a delicious seafood menu that combines classic French preparations with contemporary flair, serving it up in an elegant, yet not pretentious setting.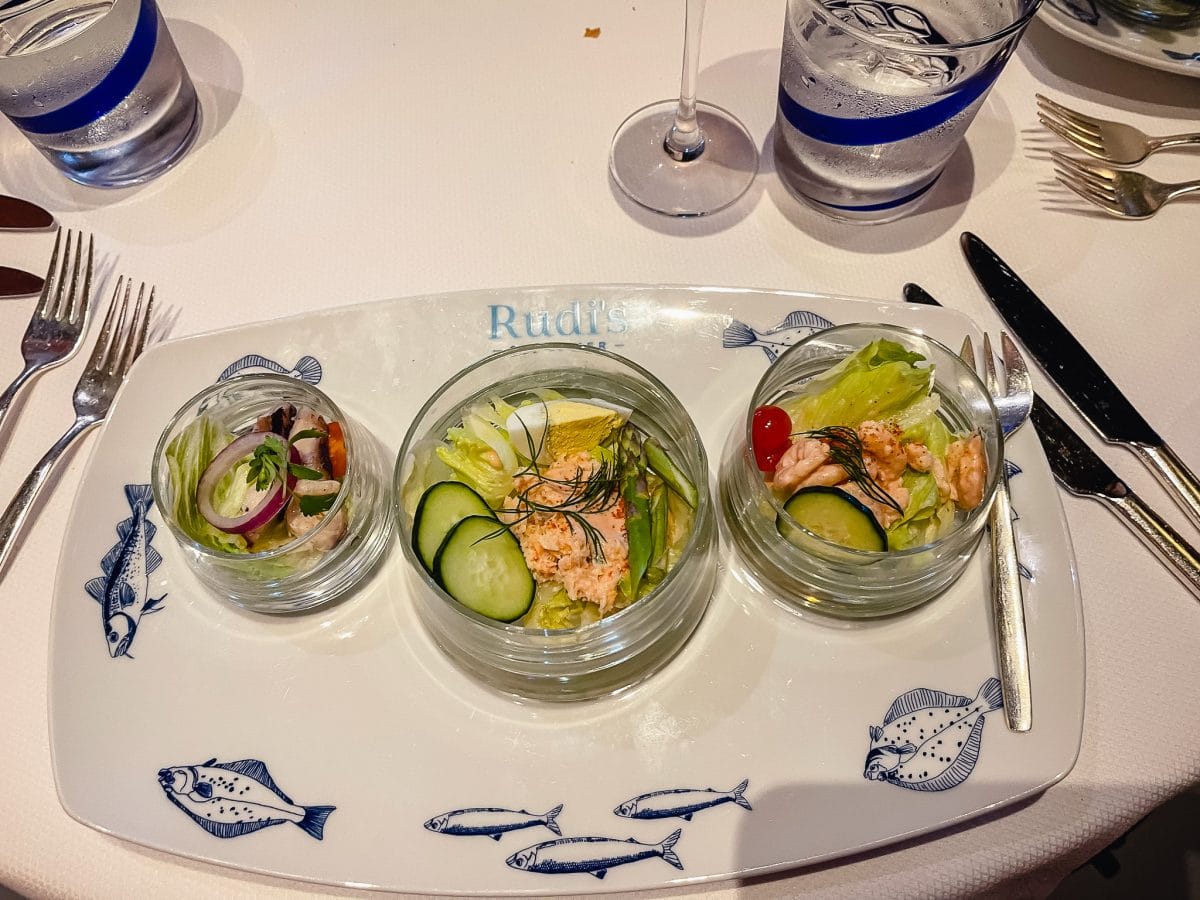 The dining experience starts off with a complimentary aperitif and an amuse-bouche. That's followed by the bread presentation, a warm cloth-wrapped loaf accompanied by numerous spreads and bites. Then on to the entree and dessert.
The food is superb, presentation lovely, and had there been a pop-up on another night, we would have been there.
The charger plates at Rudi's are a creative design of food art. They were available to purchase at Pinnacle Grill as well, and I bought Pirate of the Galley (an octopus) to take home. It's now displayed in our wine cellar. The full collection is found in a beautiful art book.
Room Service
The teen made frequent use of room service, most often for end of the day snacking. Late night quesadillas and ice cream seemed to hit the spot for him.
The Price
Cruise pricing is always all over the board. One week there's a special fare and the next week another. There's a lot of bundling going on, fares that include specialty dining. gratuities, and shore excursions, right along with cruise-only fares.
Do your research and evaluate what's important to you. Read the fine print, and consider what's included and what's not. We know the type of things we enjoy when we cruise – food and wine rate high with us (and Holland America has a GREAT wine program) – but it may be different for you. You may find that a a travel agent with good cruise experience and knowledge is helpful for you.
Checking pricing for the 7-Day Alaskan Explorer itinerary on the Westerdam, cruise only fares start at $449 for an inside cabin, $699 for a verandah, and $1899 for a Neptune Suite. Fares are per person, based on double occupancy. A third person (a fourth, f the cabin is large enough, pays a reduced fare). Additional taxes and fees are approximately $325 per person. Have it all pricing (which includes some specialty dining, beverage package, wifi, and a shore excursion is slightly higher.
We always recommend travel insurance. We have an annual policy since we are frequent travelers.
A note about tipping. A crew appreciation charge is added to your shipboard account if you have a cruise only fare (you can arrange to pre-pay).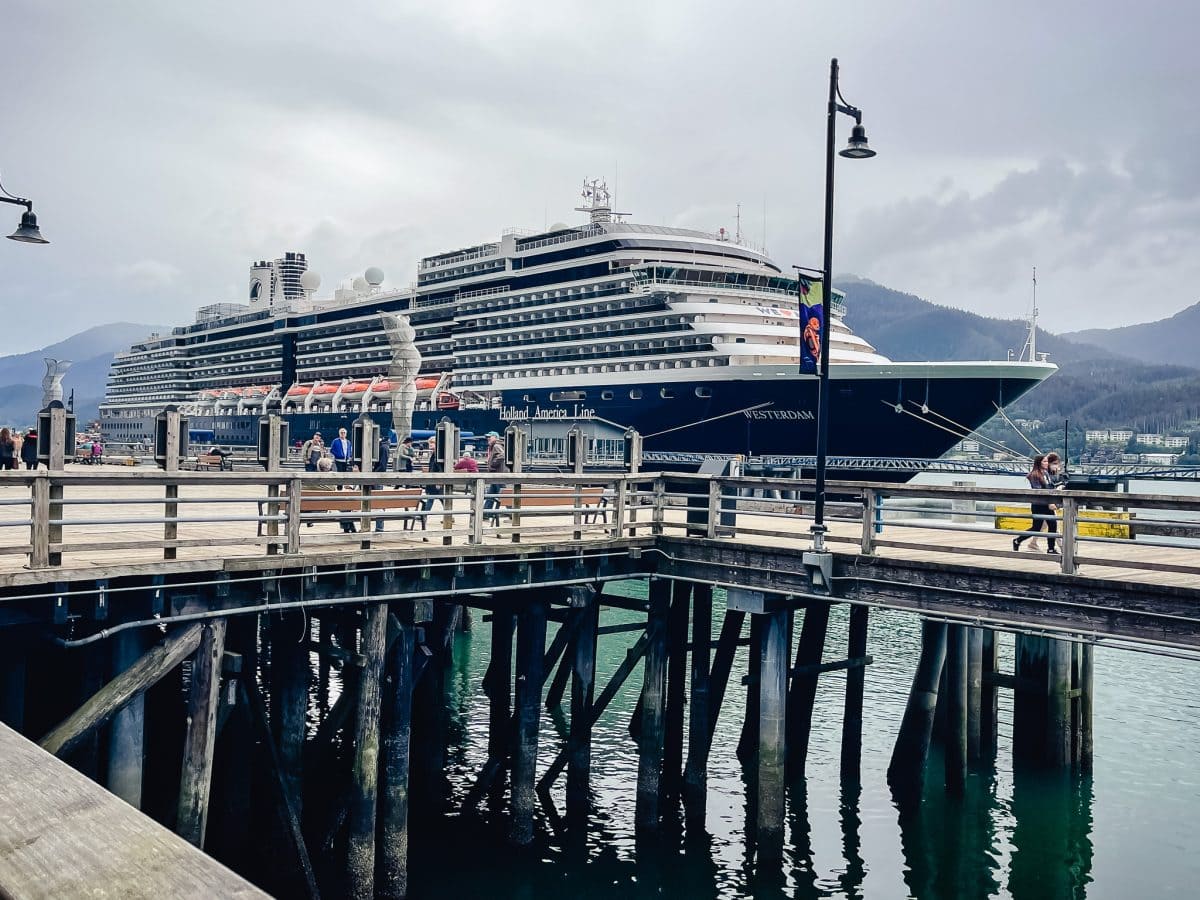 While not required, we personally believe in going beyond the included gratuities. Your hotel and dining staff work hard for you every single day. You've enjoyed a freshened stateroom and attentive service from your room steward. The wait staff is not only busy filling water and wine glasses, but busboys are clearing and cleaning, and servers delivering meals as quickly as possible. All this, while accommodating special requests and helping you have a great time. They deserve as generous of a tip as you can manage.
The staff in the Neptune lounge was helpful and gracious in helping answer questions and in answering questions. They made the teen feel special and treated him as a VIP. Throughout the entire cruise they called him by name and made him feel welcomed in the lounge. That's the kind of treatment that builds a fan from a young age. Well done.
Is a Holland America Cruise Right for You (and your family)?
Holland America is a great choice for an Alaska Cruise. Not surprising since they've been sailing to Alaska for over 75 years.
The Westerdam is smaller than the Koningsdam, but both are right-sized for an Alaska itinerary – small enough to get into bays for that up close and personal look at the glaciers, large enough for a wide selection of amenities.
If you're looking for roller coasters and ziplining on your cruise ship, this isn't the cruise line for you.
Holland America offers a superb variety live music and entertainment, from the main stage to more intimate venues, and we found that we were in one of them most every night. The teen enjoyed the comedy shows and Billboard Onboard, and it was safe for him to enjoy the venues on his own when we were in the mood for something else. Of course, that will depend on the age and maturity of your family members, but having independent options lets everyone enjoy their personal space and pursue individual interests.
During 2023, the Westerdam and Eurodam with be sailing this itinerary out of Seattle.
This was second cruise to Alaska as the enthusiasm for wildlife and glaciers hasn't dimmed. I expect we'll be sailing back soon.
For Pinterest
Pin to your favorite cruise or vacation boards and use our tips and recommendations to plan your cruise to Alaska.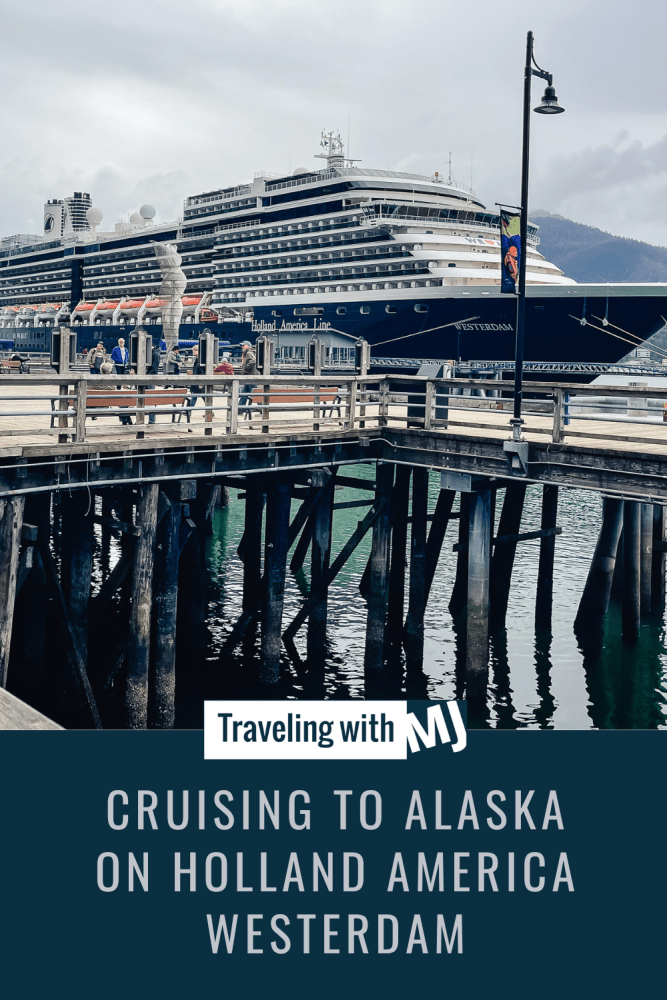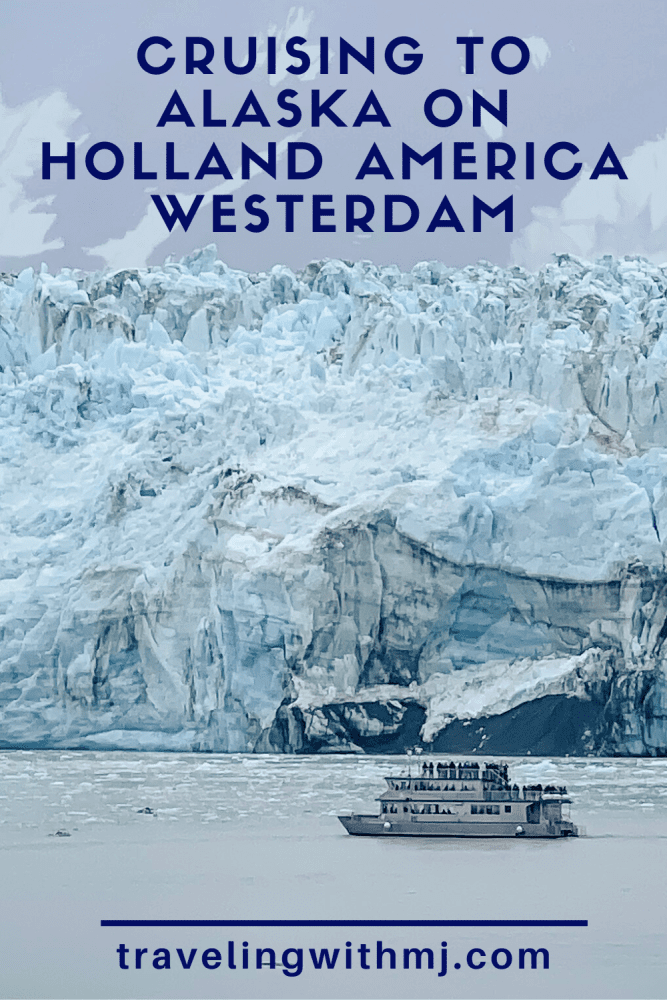 Love to cruise? Looking for more? You'll find more of our recommendations and information here.