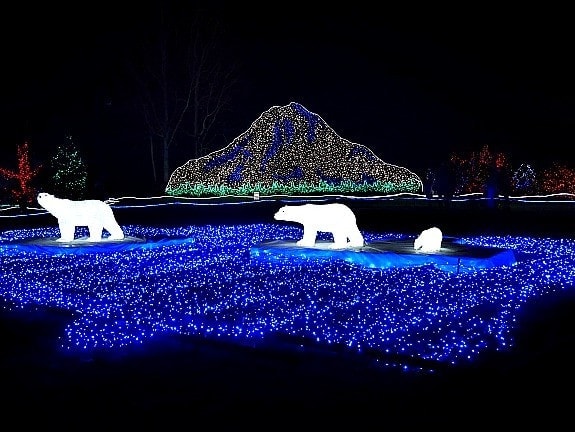 Zoolights has been going on for over 25 years at Tacoma's Point Defiance Zoo and Aquarium, and up until this weekend, I've haven't ventured out to see it. It was a real treat, despite the cold, and listening to guest talk about this year's display, comparing to previous years, it's clear that this is an annual tradition for many.
Over a half a million lights went into this year's Zoolights displays, creating a magic world of animals, local landmarks, and festive bits of nature.
My favorite was the family of polar bears with Mt. Rainier in the background, although it's hard not to like the 22-foot giant crab with moving pincers and the replica of the twin span Narrows Bridge. Note the detail in the bridge display, right down to the white lights representing oncoming traffic and the red lights representing the tail lights of traffic going the other way.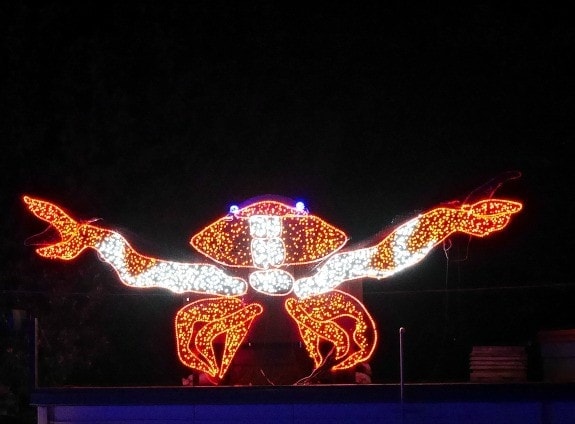 The path through the lights is well marked, and out of bounds areas are blocked off. Everyone seems to have a separate theory on the best way to experience the lights, and I just wandered without any plan at all. Choose your plan of attack to fit your interests or the weather.
There are a few strategically located spots throughout the ground where you can step inside for a bit of a warm up. The South Pacific Aquarium was a great respite from the cold. It's market with a light display of the sea on the exterior. Inside, jellyfish light up the displays, causing nearly as much oohing and aahing as the lights. Five species of sharks, stingrays, and a variety of other sea creatures can also be seen during your time warming up.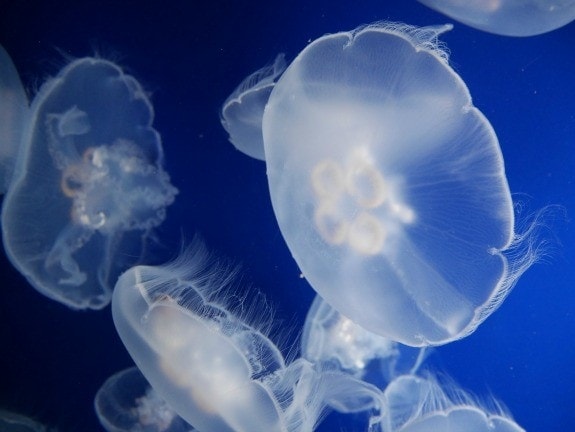 Another good break stop is the antique carousel. The line wasn't too long, it's a good opportunity to take a brief sit, and it's just as suitable for adults as kids. Rides are $1.50.
A common sense reminder:  Wear warm comfy clothes and shoes. It's winter, and Washington nights are cold, so bundle up. Don't forget hats and gloves. There aren't many places to sit down and rest, so plan for at least an hour or two on your feet.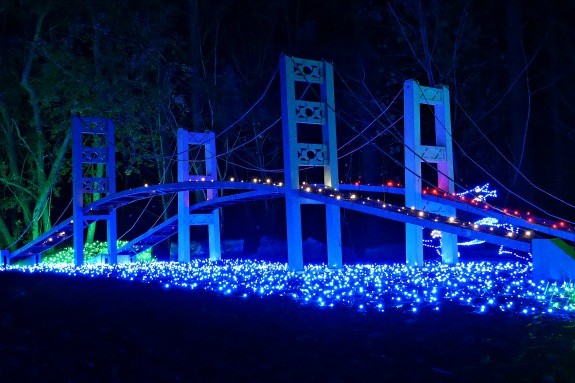 Location:  Point Defiance Zoo & Aquarium, Tacoma, Washington
Tickets:  Tickets are available online, but do require that you print out a hard copy, and at local Fred Meyer stores at the discounted price of $8.50/person. At the gate, tickets are $10. Children under two years of age are free. (Note:  It would be nice if online tickets didn't require a print out. It's a green choice, it's consistent with our mobile lifestyle, and sometimes we're just not somewhere we can print something. Mention if to zoo officials.)
Parking:  Free, but limited. If you're going with friends, share a ride and park extra cars outside the park.
Hours:  5 pm-9 pm, November 27, 2015 through January 3, 2016. Zoolights is closed on Christmas Eve, Christmas Day, and New Year's Day. The busiest time is generally 5-6 pm, and the lightest time is generally 7:30-8 pm.
NOTE:  Zoolights are offered at zoos, aquariums, and parks around the U.S., so you can enjoy these creative holiday lights displays where you live. Locations include:  Washington, Denver, Los Angeles, Phoenix, Memphis, Salt Lake City, Houston, Chicago, and lots more. Check your local holiday event calendar, or your local zoo's webpage, for specifics for your destination.
Want to pin this holiday idea to your favorite Pinterest board? You can use the "pin" below.