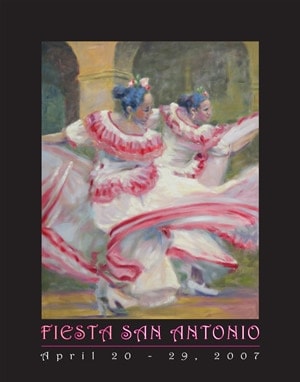 This weekend kicks off Fiesta San Antonio, a 10 day city-wide, fun-filled, multi-cultural, family-oriented celebration. It's a huge party — with an estimated three and a half million people attending — a real fiesta, lasting for days and days, with over 100 different events.
The annual Fiesta honors the memory of heroes of the Alamo and the Battle of San Jacinto, with the origins tracing back to 1891 when a group of women decorated horse-drawn carriages and paraded in front of the Alamo, throwing flowers at one another. That event became a parade known as the Battle of Flowers Parade, and it has become the largest parade in Fiesta. Interestingly, it is the second largest floral parade (the Tournament of Roses Parade in Pasadena is the largest), and is the only parade in the country to be planned and completely directed by solely be women.
Early Fiesta events included street dancing, a separate children's festival, and additional parades. Today, Fiesta events have expanded, and now include a carnival, a court of Festival Royalty, parades, and a hierarchy of courts, organizations, and balls similar to the krewes of Mardi Gras.
While you can find the full schedule of the over 100 events on the Fiesta website, here are some of the highlights:
Pilgrimage to the Alamo: A solemn, silent, wreath-bearing procession to the Alamo, while the names of the Alamo defenders are announced. The procession concludes with a memorial service and tribute to the Alamo heroes.
Texas Cavaliers River Parade: The floats really float — down the San Antonio River.
Fiesta Flambeau Parade: The floats aren't really on fire, just lighted.
A Night in Old San Antonio: A giant street fair in La Villita (little village), celebrating the diverse ethnic heritage of the city.
Ticket information for Fiesta events can be found here, with many tickets available through a centralized ticket sales office at (210) 223-1951. Tickets may also be available thought the sponsoring Fiesta organization, or available at the gate. Fiesta is affordable, too — 60 of the 103 events have FREE admission!
Photo credit: The Official Fiesta 2007 Poster by local artist Steven DaLuz
__________________________________________________________________________
Tags: b5media, festivals, flight attendants, flowers, Flyaway Cafe, travel, vacation, San Antonio, Texas, fiesta, Alamo