The San Antonio de Valero Mission was relocated three times, but after becoming the fortress known as The Alamo had only one location.  It can be seen today in that same location, a short distance from San Antonio's River Walk.
The mission turned fortress was the scene of several battles during the Texas Revolution including the 1836 Battle of the Alamo for which it is named.  The Battle pitted Mexico, under the leadership of General Santa Anna, against the Texas Republic.  Despite a valiant stand, all of the Texas soldiers, including Davy Crockett and Jim Bowie, were killed.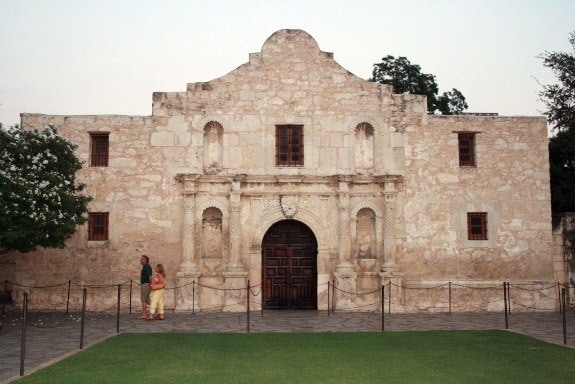 Following the battle, the building remained in ruins until it was eventually returned to its prior owner, the Catholic Church.
When Texas was annexed to the United States, a claim was made that the Alamo was governmental property.  This set off another battle, this one to determine ownership, that lasted into the 1900's.
The Alamo is now owned by the State of Texas, and is under the care of the Daughters of the Republic of Texas.  It consists of three buildings, the Shrine, the Long Barrack Museum, and a Gift Museum, and along with the surrounding Alamo Gardens occupies a little over four acres.  There is also statuary that honors the heroes of the battle.  The site became a National Historic Landmark in 1960.
Historians might debate the importance of the Battle of the Alamo, but for San Antonio visitors it's one of the must-see stops, welcoming over two and a half million visitors each year.  It is a sacred site, and men are asked to remove hats upon entering, visitors are asked to speak in low voices, and no interior photography is allowed.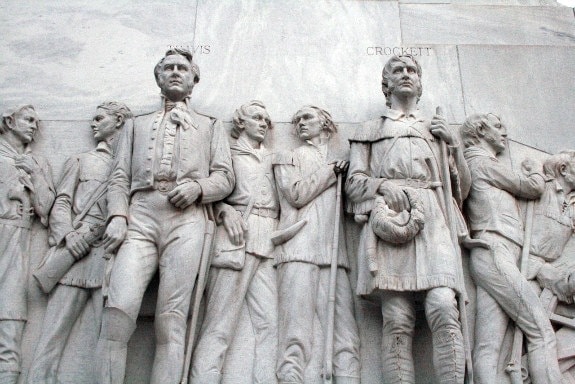 In my mind, The Alamo was a huge structure.  In reality, however, the building itself is quite small, and it is only the legend that looms larger than life.
An hour or so should let you see the basics of The Alamo, but allow an another hour if you're particularly interested in this era.  There are plenty of artifacts to take a look at, knowledgeable docents to talk with, and you'll want to check out every nook and cranny.
Location:  300 Alamo Plaza (map), near the river in downtown San Antonio, Texas.
Hours:The Alamo is open daily, with the exception of Christmas Eve and Christmas Day. Hours are Monday – Saturday, 9 am – 5:30 pm, and Sunday 10 am – 5:30 pm. During the summer months, the Alamo remains open until 7 pm on Friday and Saturday.
Admission:  Admission to the Alamo is free, although donations are accepted. The Daughters of the Republic of Texas receives no governmental funds to maintain the Alamo, and rely on sales from the gift museum and donations for all operating expenses and educational programming.
Parking:  Pay lots in the neighborhood.