There's gold in them thar hills, and in 1848 one of those hills was located in Coloma, California on the bank of the American River.  It was at this spot, while building a saw mill, that John Sutter and James Marshall found nuggets of gold.  This discovery launched the California Gold Rush, and the great western expansion, turning the hills of California into a bustling community of prospectors seeking their fortune.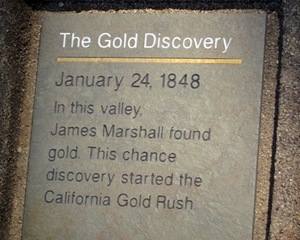 In the early days of discovery, nuggets of gold could be picked up along the river bed.  Picking up nuggets is pretty easy work, and those early visitors to the area made a good deal of easy money.  After the nuggets were gone came the much harder and more dangerous work of mining for gold.
Today, Marshall Gold Discovery State Historic Park surrounds the location of the old Sutter's Mill.  You'll find a full-sized working replica of the mill, carefully built from Marshall's original drawings, with the aid of an early photograph.  About 150 yards downstream you'll find a monument of river rock, marking the spot of the original mill.  A little further away is the gold discovery site in the tailrace of the original mill.
If you've ever had a hankering to pan for gold, you can do it here, for a fee of course.  I picked up pan, nothing like the banged up ones from Gold Rush days, but suitable for my use, dug deep into the trough of sand, rock, and water, and started to slosh everything around.  At first I was tentative, afraid that I'd slosh some of that precious gold out of my pan.  After a little demonstration and instruction from pretend-prospector Rusty, I realized that only the rocks, gravel and sand will slosh out of the pan.  Gold is heavy.  Heavier than all that water sloshing about, so you don't need to worry about the water sloshing it out of the pan  When everything else is gone, flecks of gold will be left.  And sure enough, there were flecks of gold left – Eureka!  Tiny flecks, minuscule really, were left, but it was real gold.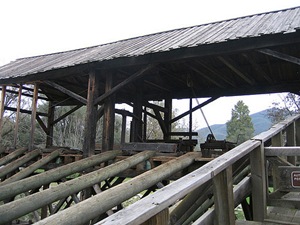 This staged gold panning experience cannot begin to compare to the grueling hard work, often in cold, wet weather, that the real prospectors went through.  It was, however, fun, and my excitement and enthusiasm at finding gold flecks in the bottom of my pan must have approximated what they felt.   I put my gold flecks in a vial for safekeeping, and have been showing it off to everyone.  "I panned for this gold!"
Across the street for the mill and gold panning area is the Gold Discovery Museum and Visitor Center.  The center contains interpretive exhibits and programs that tell the story of the gold discovery.  It's a popular spot for school field trips, and on the day I was there a group of 4th graders were learning how the discovery is a part of their state's history.  A docent, one of the many volunteers who work at the Visitor Center, gathered everyone around a replica stagecoach and he told a story.  This guy was great!  He wove historical facts about how a stagecoach was used, about the transporting of gold, about how a woman had to disguise herself as a man in order to drive a stagecoach (a great lesson about equality went along with that part of the story), about what life was like in the late 1800's, about the outlaw Black Bart, and about western justice.  He held the kids spellbound, as they hung on his every word, and most of the adults were just as rapt.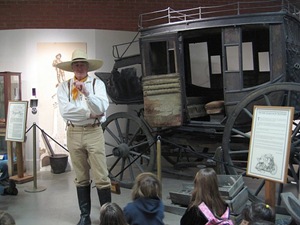 Getting to Coloma is a bit of a drive, but is well worth the trip.  Learning about history here is a pure gold of an opportunity, and it's no wonder that our fascination with the precious metal continues.
Location:  Highway 49 between Placerville and Auburn, Coloma, California
Hours:  Winter hours (November 1st – May 28th) are Tuesday – Saturday, 8 am – 4 pm.  Summer hours are Thursday – Monday, 8 am – 6 pm.  The Museum is open 10 am – 3 pm, depending on staff availability.  Due to budget constraints, hours of service have been reduced, so I'd recommend placing a phone call prior to make the drive.  (530) 622-3470.
Admission:  Park day fees are $5 for cars (1-9 passengers); $50 for a bus (10-24 passengers) and $100 for a bus with over 25 passengers.
Photo credit:  Mary Jo Manzanares