If you're looking for a short respite from intense Arizona weather, duck into the air-conditioned Hall of Flame Fire Museum and the National Firefighting Hall of Heroes for a glimpse of heat of a different kind.
The museum covers about an acre, and has an impressive display of fire history exhibits. A catalog accompanies the exhibits, allowing you more detailed information.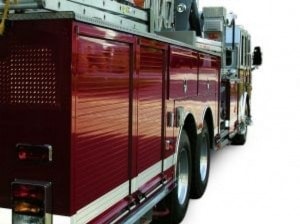 There are impressive displays of over 100 fire trucks and their apparatus, covering a period from 1725 – 1969, all of which have been beautifully and painstakingly restored.  The collection also boasts over 10,000 smaller objects related to the history of fire fighting.  In addition, the library has over 6,000 publications (books, journals, magazines, catalogs, etc.) and over 50,000 graphics (mostly photographs but also some paintings and other artwork).
While young children may be bored with many of the exhibits, they'll love the fire trucks.  One engine is available for visitors to board, and it's a prime location for photographs of both kids and adults alike.   There is also a good-sized fire safety exhibit that has hands on activities for children.
The Hall of Flame sponsors the National Firefighting Hall of Heroes, which is sponsored by the National Historical Fire Foundation.  It honors fire fighters who have died in the line of duty or who have been decorated for heroism.  There is also a reflective exhibit for those fire fighters who perished on 9/11.
Location:  6101 East Van Buren Street (in Papago Park), across from the Phoenix Zoo and adjacent to Phoenix Municipal Stadium (map).
Hours:  Open Monday through Saturday, 9 am – 5 pm, and Sunday, noon – 4 pm. The facility is also available as a rental for special events.
Admission:  $6 for adults, $5 for seniors (62+), $4 for student (ages 6-17), $1.50 for children (ages 3-5), and free for children under 3.  Group rates are available.   Parking is free and plentiful.
Photo credit:  SXC