Ah, Gouda – a delicious cheese that we're all familiar with! Eat it as it is, on a cheese board, or slice it up and pop it on a sandwich – you simply can't go wrong.
Gouda is named after a city found in the South Holland province of the Netherlands. And the city has a lot going for it, not just the cheese.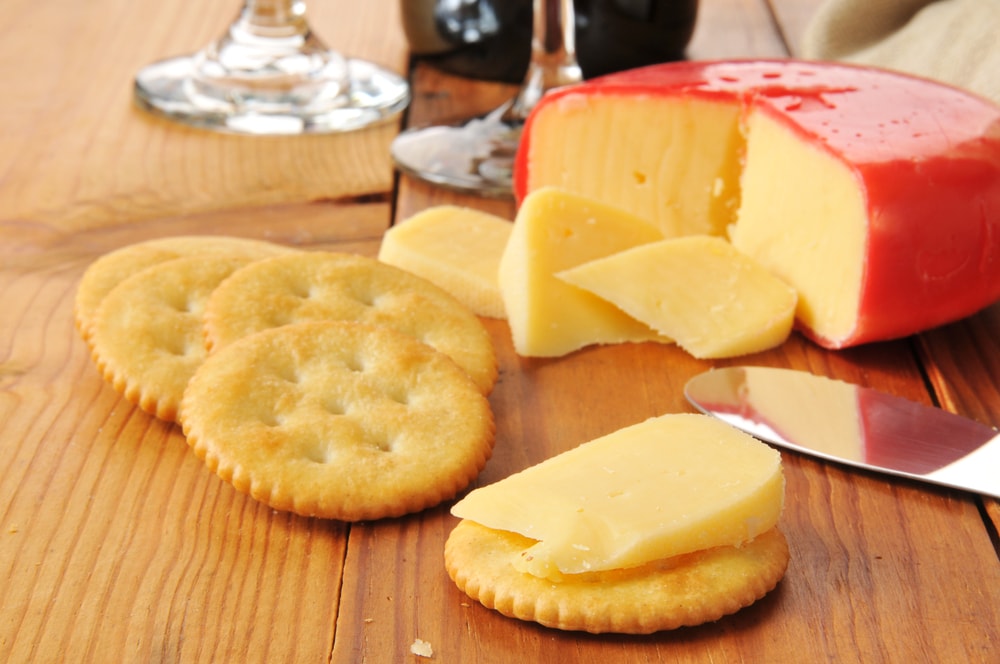 This post will serve as a primer on what you need to know about Gouda – the cheese name and the Dutch city. So, stick with us as we cover the basics of the city of Gouda, the origins of the cheese, how to pronounce it, and most importantly, how to eat it. With this info in mind, you'll be primed to dig in to learn – and eat – more Gouda.
How to Pronounce Gouda
I hate to break it to you, but you likely have been pronouncing it wrong your whole life.
Gouda is actually pronounced ghow-duh, not goo-duh. as we seem to constantly see on television and in videos. If you think about it, it makes sense – it's spelled phonetically – and it is Dutch, after all!
Now that you know how to pronounce it, let's delve a little deeper into the Dutch city of Gouda.
Gouda: A City in the West of the Netherlands
Gouda is actually a fairly large city in the Netherlands. Located in the South Holland region province of the country, between Rotterdam and Utrecht, Gouda has a population of just over 70,000 people. While the cheese is named after the Dutch city, originally it was called Gouda because that was the city where it was predominantly sold, not because it was made there.
During the 13th century, the city of Gouda was connected to the Old Rhine (or "De Oude Rijne" in Dutch) by means of a traditional canal. The mouth at the Hollandse Ijssel was transformed into a harbor, and later on, what is now known as the Gouda Castle was built to protect the harbor. This was used as a major shipping route for many years.
The history of the city of Gouda is shrouded in action, both positive and negative. Most notable, however, are the Great Fires of the mid-14th and 15th centuries that occurred as a result of political strife. The city was later rebuilt, and many of Gouda's most prominent landmarks were constructed during this time.
The city of Gouda isn't all about cheese, but it would be a shame to visit and not learn all about the cheese. The Kaasweg is situated right opposite the town hall, and it used to be the city's official weighing station for cheese makers. Today, it's a museum, and visitors can visit to learn all about the history of cheese in the city.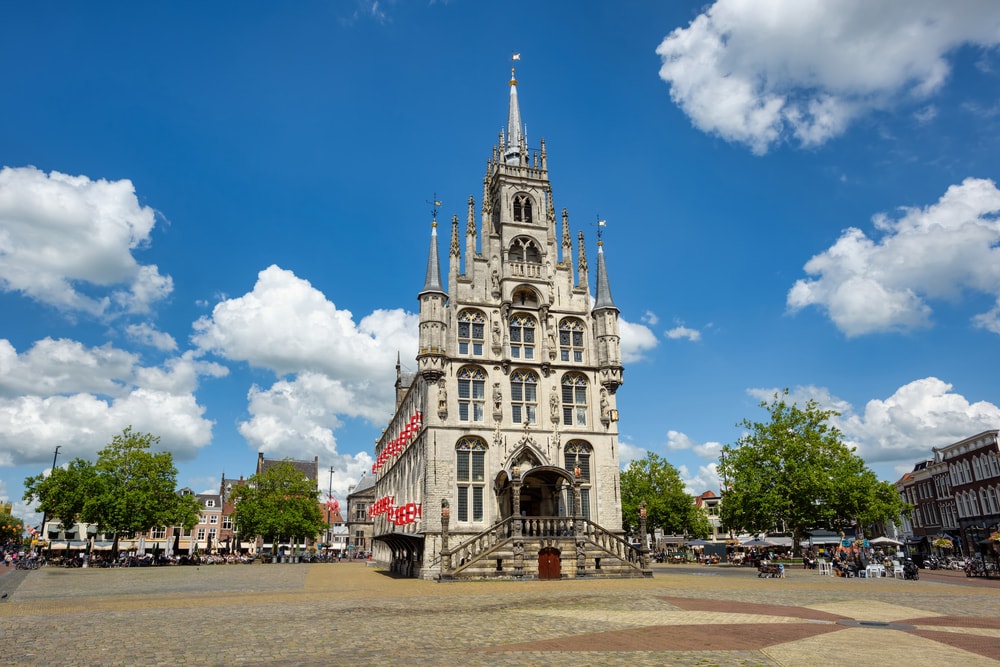 During the summer months, the city has a Traditional Gouda Cheese Market every Thursday. Something that makes visiting the market so special, in addition to the festive atmosphere, is the setting – the square is right outside the town hall, and the building boasts beautiful 15th-century architecture. The vendors are dressed in traditional clothing, and they carry on their trading and sales while visitors wander around. You'll even be able to taste the different cheeses if you strike up a conversation with a friendly salesperson.
When it comes to visiting Gouda, there's plenty to do in addition to eating and buying Dutch cheese. The city is littered with fun little bars and restaurants, and it's particularly well-known for its quaint architecture. It was one of the shore excursions on a recent Scenic river cruise on the Rhine.
It's also a great spot for shopping. Besides cheese, Gouda is known for its candles, linen, beer, and stroopwafels.
Let's Talk About Gouda Cheese
Did you know that Gouda is actually one of the oldest European cheeses? We're talking about dating back to the 12th century. Made from pasteurized, skimmed whole cow milk, Gouda is one of the oldest and one of the best cheeses coming out of Europe, and it has remained popular for decades.
Boasting a caramel-like flavor, Gouda cheese is generally known for its fairly intense aroma. Intense but delicious, of course. Gouda has a creamy texture, with hints of a slightly sweet and nutty flavor.
The finish, however, can be quite different depending on the specific cheese. Aged gouda can be quite sharp, while younger cheese may be more on the smooth side with buttery flavors.
How to Enjoy Gouda
One of the best things about Gouda cheese, in our opinion, is that it's super versatile. You can eat it with either sweet or savory sides, and it's delicious either way!
Here are a few suggestions we've enjoyed both traveling in the Netherlands and when we buy Gouda at home.
Pop a chunk of it on a cheese board alongside some crusty bread, crackers, and sweet preserves.
Serve with fruit. I think apples and pears are a nice complement to Gouda.
Put it on a charcuterie board with some pickles and grainy mustard.
Use it for a toasted cheese sandwich.
Cut into serving-size pieces and tuck into a lunch box (for kids or adults).
Use it on top of a burger.
Pair with beer or fortified wine or port.
Some Gouda Cheese Tips
DO:
Wrap it in plastic and store it in the fridge.
Gouda can also be wrapped and stored in the freezer.
Eat the cheese and throw away the rind.
Serve it in large slices if it's going on a cheese board or charcuterie plate.
DON'T:
Wash the cheese; just clean it gently if necessary.
Store in the freezer for more than two months.
Forget to try different kinds of Gouda.

Save to your favorite Pinterest boards