I've tried camping, more than just a few times, and no matter how committed I've been to the process, it's just not my cup of tea.
I've tried tent camping. Hiking and carrying all the gear on my back is a whole lot of work, only to be followed by a whole lot more work to pitch a tent. Sleeping in a wet, rainy tent, on cold rocky ground, is just not my idea of a great weekend. I hate being cold, and here in the Pacific Northwest, I've shivered around a campfire to stay warm (I'm talking about you Baker Lake, and in August). Hot dogs are not my idea of a great dinner, and there are only so many s'mores that a girl can eat. Granted, some good red wine will help the cause, but it's not going to ease all the pain. And do I even need to mention mosquitos – who apparently think I have "buffet" written all over me?!
Can you relate?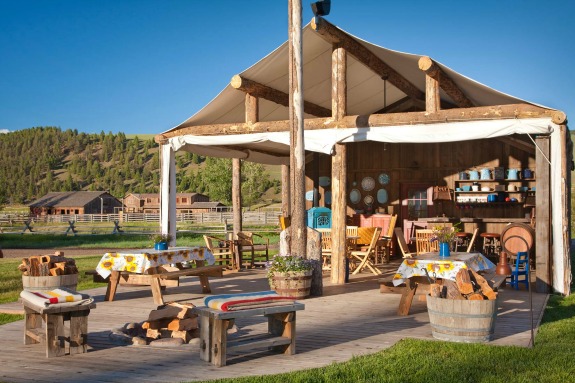 I've tried camping in RVs, primitive cabins without heat or running water, and even on the deck in my own back yard. I've given it a fair shake. It's just not my thing.
I do enjoy nature. The idea of sleeping on a beach next to lapping waves is enticing. A weekend getaway with a chance to enjoy the beauty of nature is appealing. So I've asked myself, should I give glamping a try? After all, other friends say that getting out in nature is great.
Glamping is generally defined as a form of camping involving accommodation and facilities more luxurious than those associated with traditional camping. The word is a hybrid of the words "glamorous" and "camping". While glamorous and camping are not two words ever used to describe my travel style, combined together, it may just have possibilities.
Let's take a look at how the two travel styles compare:
You don't need to do all the work with glamping. If it involves a tent, someone has pitched that tent for you. It will have soft, cushy bedding, perfect for keeping you warm and cozy. Walking into your tent will be like walking into a hotel room, everything will be ready and waiting for you.
Glamping doesn't mean roughing it. Some glamping locations have even been awarded 5-stars by Forbes. We're creeping a little closer to luxury in my book.
You can glamp in all sorts of locations and in all sorts of shelters. From yurts overlooking the ocean to cabins in the woods, from tree houses in the jungle to bedouin tents in the desert, to hiring a camper and setting off on your own – you can find a location and shelter that speaks to you.
With glamping, rustic settings don't have to mean rustic conditions. At Rock Creek Ranch in Montana, for example, you can even arrange for a massage.
You can glamp alone or with friends.
With glamping, you're not stuck eating hotdogs and s'mores (not that there's anything wrong with s'mores). There's often gourmet meals, fine wine and spirits, and you don't have to cook it yourself. Kate Bosworth's wedding was at a glamping resort, and if it's good enough for Kate, it's good enough for me.
There are glamping options that center around a theme: nature, safari, wine, meditation, romance, and girlfriend getaways. A little research will find you the perfect glamping vacation.
Glamping is about a real vacation, not one where I have to do all the work. With someone else to do the setup, cooking, and cleaning, glamping provides a much-needed break from the day-to-day routine.
What do you think – glamping? Camping? Neither?
Sound off in the comments, especially those of you who know me well (or, perhaps, with whom I've gone camping).