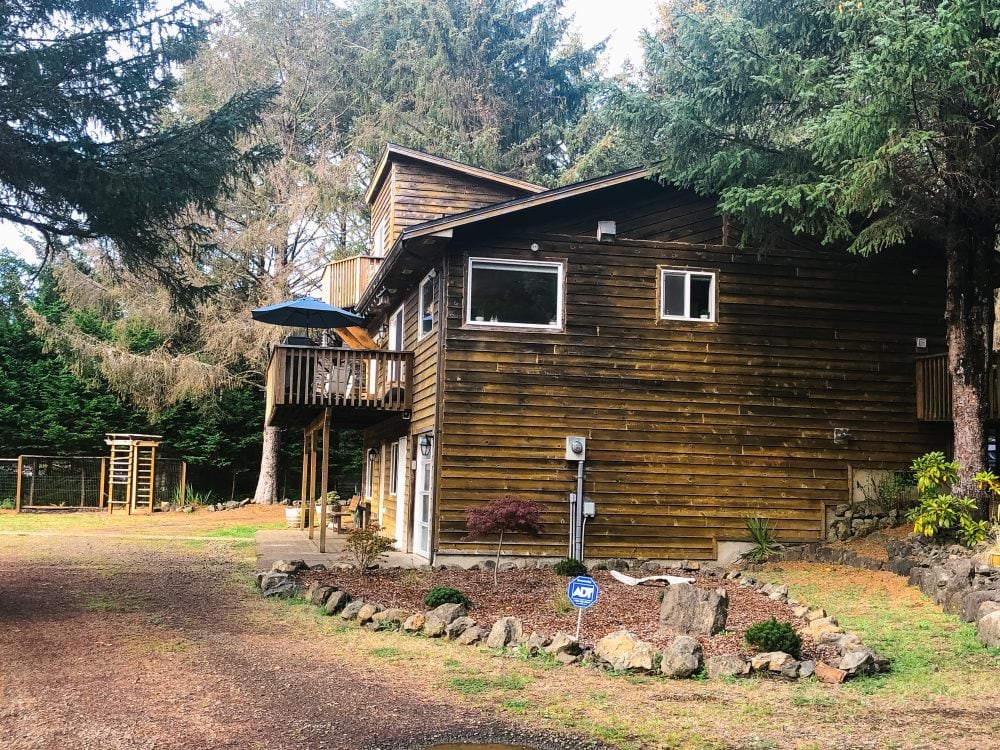 When you think about camping, your mind probably conjures up images of roughing it in the wild, having no running water or electricity, putting up with all kinds of beastly creatures, and living with just the basic essentials. Yeah, that doesn't sound like a good time to me!
It does not have to be that way, though. That's why glamping has taken off in popularity in recent years and has massively changed the camping industry; now it is possible to have the full camping experience while still living in a high level of luxury. And I should point out that glamping turns camping into more than huddling in a tent – it's now about offbeat accommodations with a full range of amenities.
Continue reading for our experience using Glamping Hub for a stay on the Long Beach Peninsula.
What Is Glamping?
Glamping is short for "glamorous camping" – you like it already, right? It offers far more luxurious accommodations than what you would traditionally associate with camping vacations – anything from staying in a tent with a double bed, carpets, and heat to wooden cabins, tree houses, and state-of-the-art villas.
Glamping gives travelers the best of both worlds: the chance to enjoy nature while also having the comforts and luxuries you have at home. Sometimes the amenities are even nicer than those you have at home.
What is Glamping Hub?
Founded in 2013, Glamping Hub has quickly become the leading website for booking unique outdoor accommodation. Since they went live online in 2014, they have curated the largest collection of distinctive and individual nature-based accommodation on the internet. Travelers can stay in five-star quality properties with everything they would expect from a standard hotel, while still enjoying all the advantages of being close to nature at the same time.
The website showcases their properties, lists the amenities available, and has good mapping orientation. There is a private messaging system to communicate with property owners (important if you have questions you're not sure about) and the booking process is fairly seamless. Our homeowner was gracious in his email greeting to us, answered some local questions that we had, and checked on after we arrived on site.
Why Should I Use Glamping Hub?
First, Glamping Hub has around 35,000 different accommodation options listed on their website. These properties are located all over the world, giving travelers a wide choice of places and accommodation types to choose from. Most properties are privately owned, and many offer room for larger families or groups of guests traveling together. Since most hotel rooms can only accommodate two to five guests, larger groups can often save money in finding one larger property that can hold them all.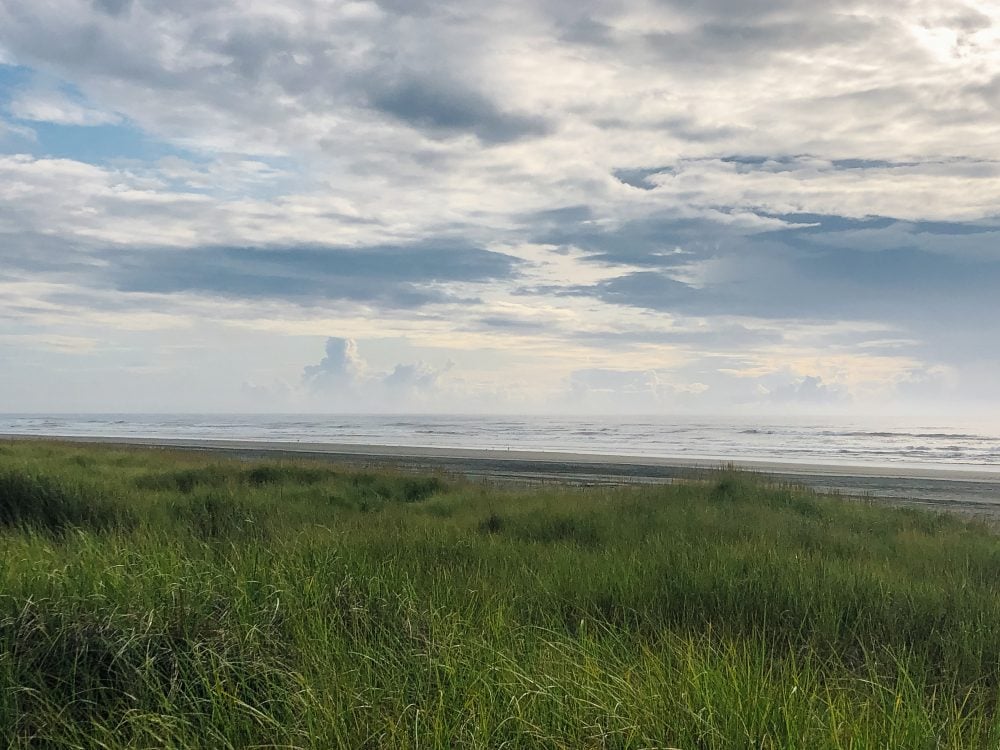 But Glamping Hub is not just about finding a place to sleep. The staff at Glamping Hub are dedicated to finding and listing accommodation that allows guests to make meaningful connections both with their chosen destination and the people they are traveling with. Glamping Hub properties are hand-picked, ensuring you of quality accommodations in special locations. Whether it's a special occasion or just a family or friends getaway, shouldn't your trip be about something more than where you store your bags and lay your head?
What Does Glamping Hub Offer?
If you are thinking that Glamping Hub just offers glorified tents, then you would be wrong. There are all kinds of glamping accommodation available on the website, from the traditional such as wooden chalets and safari tents to the more unusual, including yurts, tipis, bubbles, and caves.
It's not just the accommodation options that are varied; the landscapes where they are situated are just as diverse, including coastal, forest, and farmland. While the vast majority of properties are found in the USA and Canada, there are also accommodation options in Australia, New Zealand, and Spain. Glamping Hub is planning on expanding its European and Asia destinations in the near future.
Where Did We Go?
When Glamping Hub reached out to ask if we'd like to try one of their properties, we started scouring their site to find something that looked fun and was relatively close to home.
There was a wide variety of places in the Seattle area, but we wanted to go somewhere that we don't go to often. Someplace that would be like visiting for the first time, a chance to look at a destination in a fresh way, and someplace that was comfortable enough for lounging about without feeling like we constantly needed to be doing something. There was lots to choose from and making a decision was tough. We eventually matched up our availability with accommodation availability and chose to head to the ocean on the Long Beach Peninsula.
Family-Friendly Getaway on the Long Beach Peninsula, Washington
This family-friendly property on the Long Beach Peninsula caught our eye. It was much bigger than we needed – there were two of us and it has a guest capacity of six. What caught our eye was its location, walking distance to the beach, and its gourmet kitchen. It looked like a perfect fit for a family or group of friends who wanted to get away for a few days. Note, it's also pet-friendly if you're traveling with your furry family members.
It's hard to think of this as a cabin, a three-story home hardly seems to fit that definition, so I'm using the term in the very broadest definition. It's impressive!
Main Floor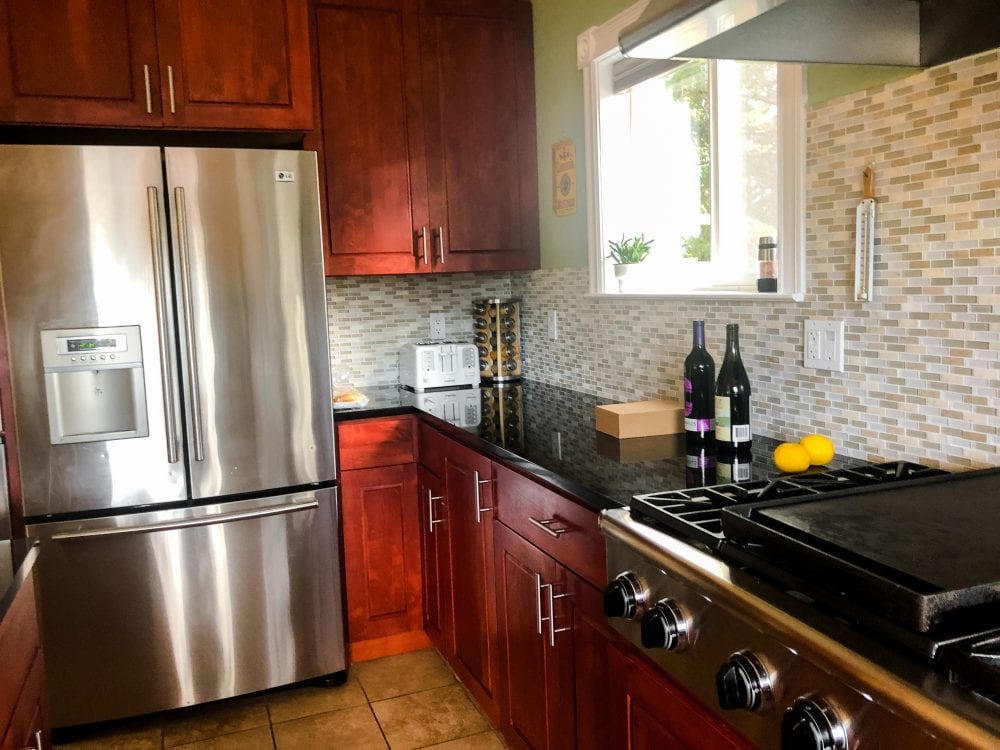 The main floor has a beautiful gourmet kitchen, equipped with every small appliance, gadget, or utensil that you could possibly want to use. Food process? Yes. Waffle maker? Yes. Panini maker? That, too. Along with multiple types of beer glasses, and a dozen or so items that I have never heard of before. There were spices and seasonings, a Keurig coffee maker, everything you need. The entire kitchen was labeled, so you knew where everything went. It was immediately apparent that we would want to eat in and enjoy the evenings in our temporary home, rather than finding a local restaurant.
We spent mornings on the deck drinking coffee and evenings watching the sunset with a glass of wine. It was peaceful and relaxing, just what we were looking for in a getaway.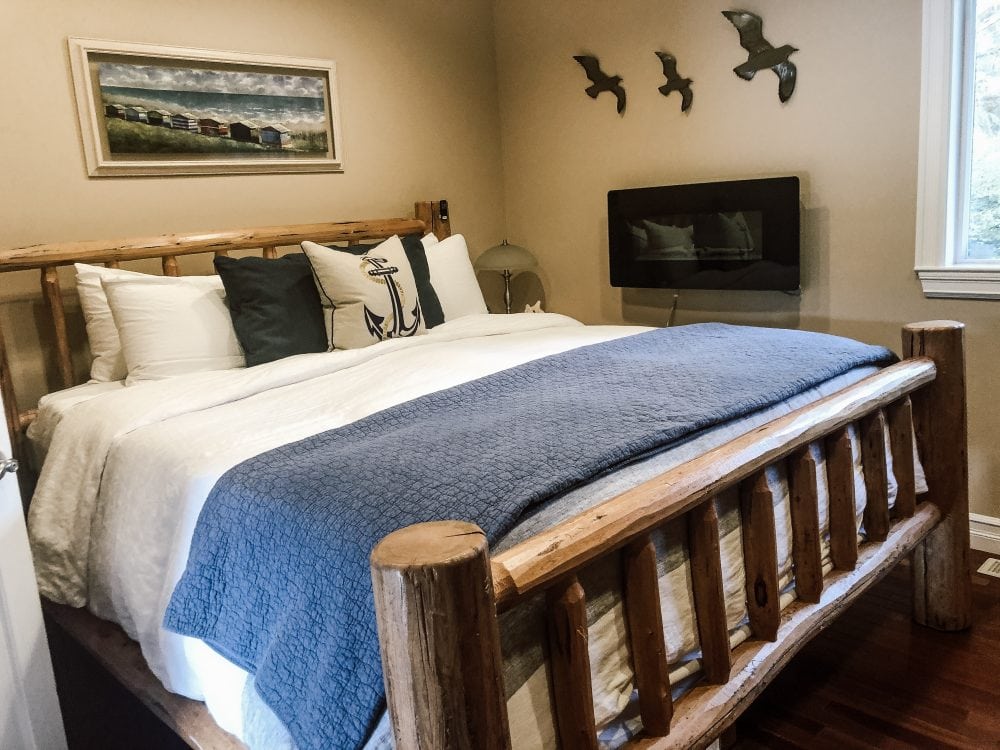 Also on the main floor is an open dining room with a large table, a deck for outside relaxation, an eating bar looking into the kitchen, half bathroom, laundry room, office, and the master bedroom suite.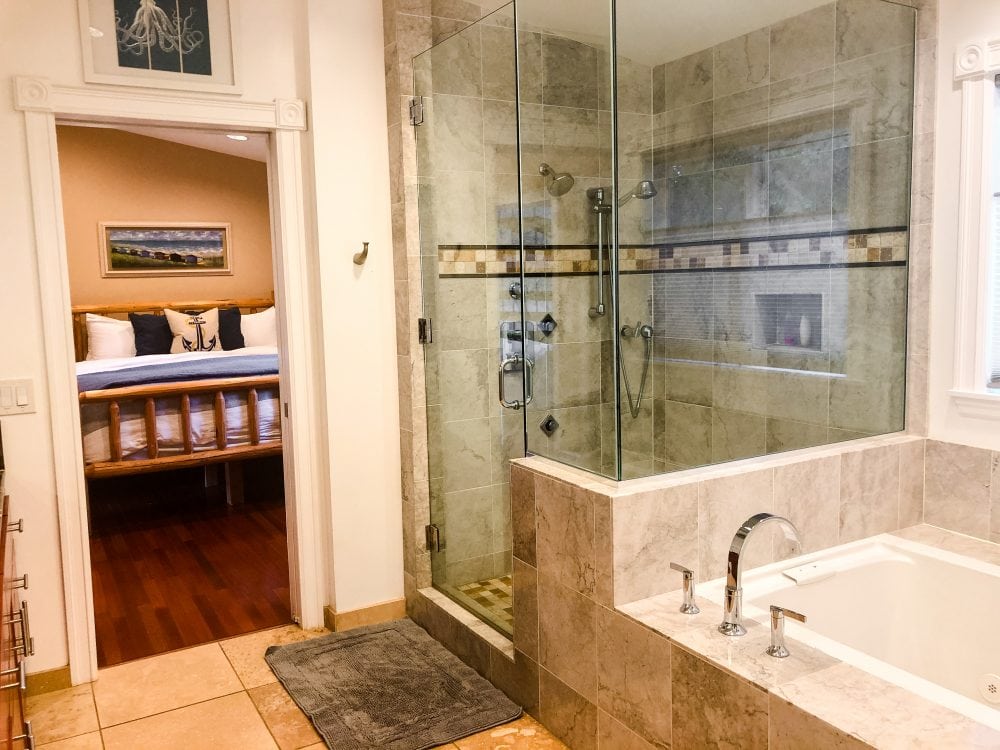 The master bathroom is a real delight – walk-in shower with multi-nozzle spray jets, soaking tub, double sinks, coffee maker, and separate toilet area. It even has heated floors!
The office area, which connects the dining room to the bedroom, has floor-to-ceiling shelving that houses hundreds of board games. Just browsing through what was there was a little trip down memory lane, so many games that took me back to childhood. Of course, there's plenty of current games as well, as a console with video games.
And yes, there's strong wifi throughout.
Top Floor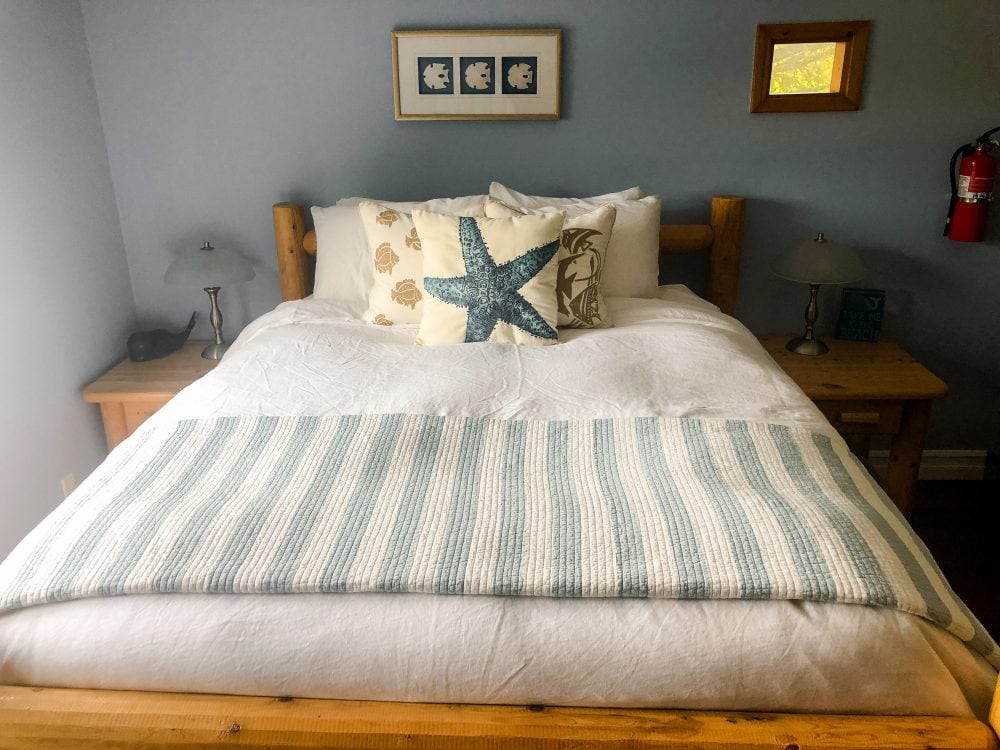 Stairs in the office lead to a top-floor alcove with a queen-sized bed and bathroom with a walk-in shower. The room is bright and airy, and it was tempting to spend one night sleeping up here. Floor-to-ceiling shelves up here are full of games and books as well.
Lower floor
The family room on the lower floor has two large leather sofas which can be made into additional beds, along with a half bathroom. We spent evenings tucked in here, Tony watching television while I worked on my laptop. It would also serve fine as a third bedroom if you were traveling with additional friends or family.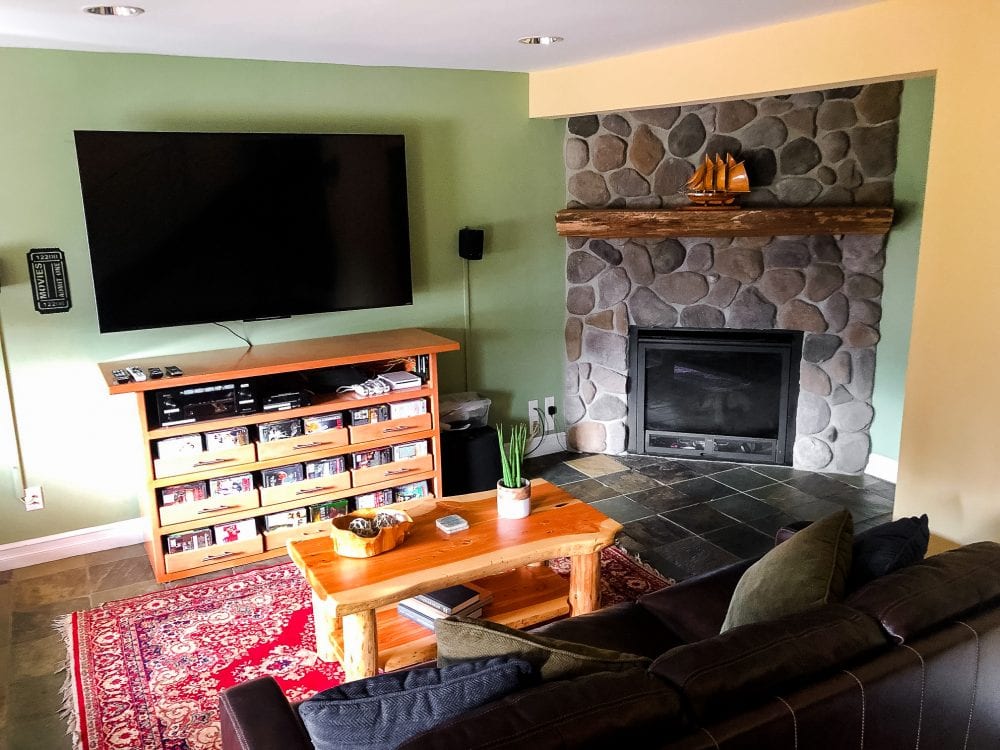 Walk outside the door on the lower floor to the front yard area. Outside the cabin, there is a fully furnished patio area with chairs, a fire pit, picnic table, and grill. There is also a hot tub (accommodates up to six people), fantastic for relaxing in at the end of the day.
Another treat at this property is the lower level game area. The garage has been converted into another game area and features foosball, ping pong, and pool tables.
The Beach
It's a short walk to the beach, down a gravel road, through some dunes, and then there's nothing by sand and ocean. The walk is easy and will only take a couple of minutes. When we were there, it wasn't crowded, it was blissfully peaceful, and the weather temperate for a Washington State fall day.
You don't need to pack up your gear to bring with you on the getaway. The cabin has everything you need for a day at the beach, such as a wagon, beach umbrella, beach chairs, and coolers. There's even an outdoor shower; if you get all sandy from your day at the beach, you can shower off instead of tracking it all back into the cabin.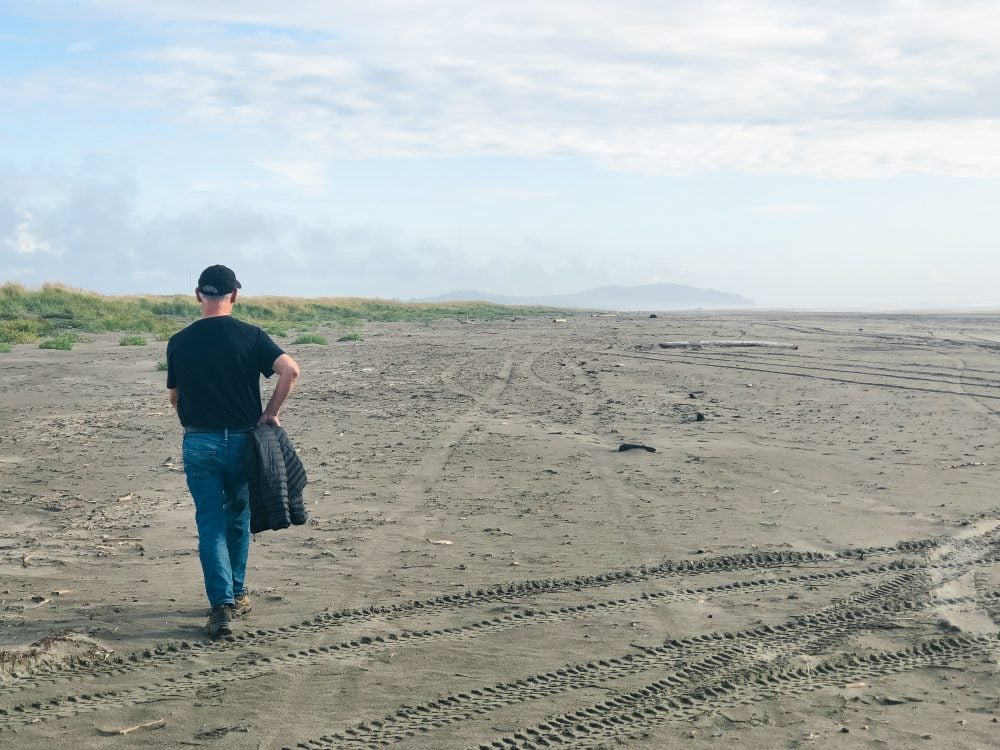 The water is too cold for me for swimming, but you may enjoy it. We walked on the beach, looked for shells and sea glass, and were happy with a relaxing afternoon.
Our Recommendations
It had been a few years since I'd been to the Long Beach Peninsula, so after we got settled in the cabin, we headed off to explore. We'll have a full guide to how to enjoy your time in the area, but we do have some recommendations on how to enjoy your stay in a Glamping Hub accommodation.
Be flexible. If you absolutely must have one particular property on one particular date, you're going to need to plan pretty far in advance. We like searching for properties that stand out for us, then we try to find dates that match up with our calendars. This might seem backward for people who are used to having a date and searching for availability from there, but we find having date flexibility has worked well for us.
Enjoy your location. Half of the fun of a glamping getaway is enjoying your surroundings. We live in suburbia, so a few days at the ocean was a wonderful break for us. While we did a little exploring and enjoyed a few beaches in the area, we spent most of the time close to the cabin.
Stay in. You've searched for a great glamping accommodation in a wonderful spot – now enjoy it! While we originally planned to scout out some neighborhood restaurants and bars, when we saw the cabin, we knew we didn't need to leave. We headed to a local store to pick up some wine and snacks, then headed toward the fishing piers to pick up some local seafood for dinner. Another night we grabbed some to-go ribs and warmed them up at back at the cabin, serving them up with some fresh vegetables. A stop at the Cottage Bakery in Long Beach for breakfast pastries and desserts, and we had everything we need.
Bring family and friends. We were traveling as a couple and had a great time, but I can't tell you how many times we referenced what we'd be doing if we had family and friends with us. From cooking big family-style meals to a game night full of sibling rivalry, from sitting on the beach and enjoying the stars to wine in the hot tub, it was one of those great locations that would be even better with friends and family.
Nearby. There are a number of state parks in the area as well as the famous Lewis and Clark National Park. Long Beach has Saturday markets, beach concerts during the summer, and the World Kite Museum and Hall of Fame is a fun stop. Nearby is Ilwaco, another fishing town with local flavor. It was only about 10-15 miles to cross the border into Oregon, with Astoria and Seaside short drives from there.
More Information
To check out the great properties on Glamping Hub, click here.
To see the fabulous Long Beach property where we stayed, click here.
Pin for Later!
You keep all your travel ideas on special Pinterest boards, right? So do I! Pin this for a future trip to Washington coast and for tips on using Glamping Hub.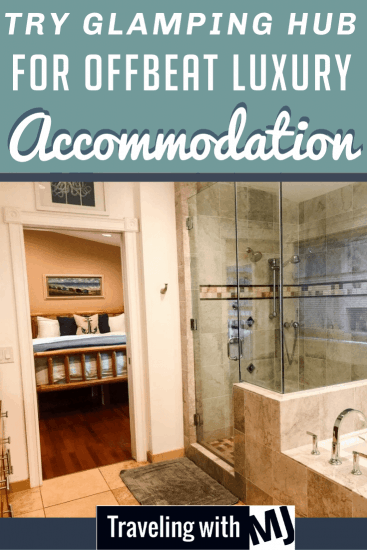 Disclosure: We partnered with Glamping Hub for this stay at one of their properties. We picked the location and accommodation that matched up with our travel preferences and received a complimentary stay for the purpose of this review.