You may have heard the name Molly Malone before. Whether through the famous song Sweet Molly Malone, a visit to the Irish capital of Dublin, or simply coming up in conversation one day. But the question remains – who exactly was Molly Malone?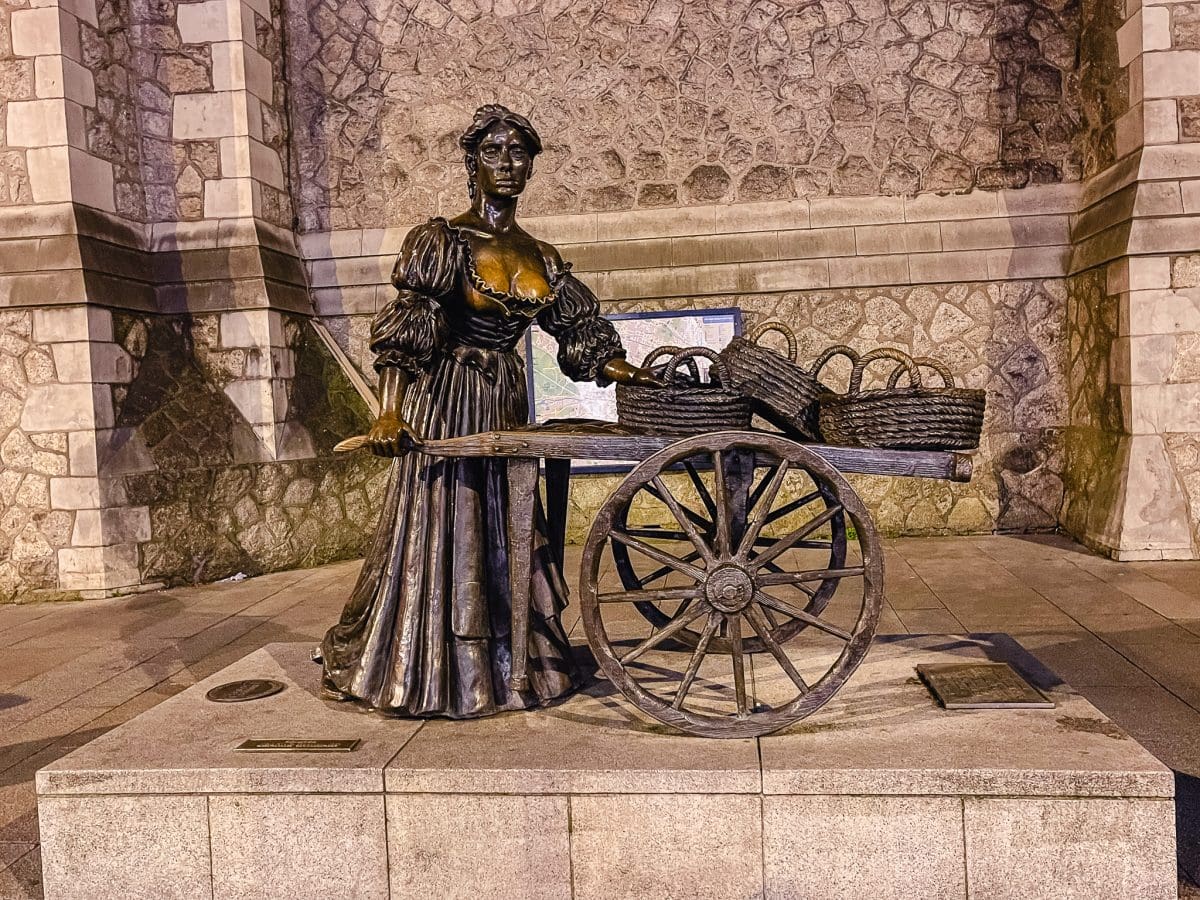 A Brief History of Molly Malone
Let's rewind a few centuries.
The story of Molly Malone seemingly originates in the 17th century. Serving as a song's tragic heroine, Molly Malone could be based on a real woman who lived in Dublin. Of course, she could also be a fictional fishmonger. Either way, she's become a part of the many stories of the Irish people, preserving her status as a tragic heroine in Irish song and lore.
The character and persona of historical Molly has changed many times, whether fictional or true, but some basics remain:
She was a fishmonger in Dublin known for selling mussels and cockles from her street vendor cart (from the song: "cryng cockles and mussels, alive, alive, oh").
She was a busty young woman, and her large breasts often spilled out of her low-cut dress. This gave rise to the idea that she may have been a "working girl" (perhaps a part time vendor and part-time prostitute).
It's believed that she died from typhoid fever, a common cause of death at that time in Europe (from the song: "she died of a fever, and no one could save her").
Her ghost is said to haunt the streets of Dublin.
The Cultural Significance of Molly Malone
The Molly Malone Statue, along with the song, continue to keep Molly front and center in Irish history and culture. The story has been told throughout generations and I'm not sure anyone cares who exactly she was, or if she was a real person. It's all so very Irish.
There is a dedicated Molly Malone Day in Dublin, celebrated on June 13th of every year. Since it's early summertime, the weather is generally warm and pleasant. The atmosphere is festive, with dancing, storying, and – of course – the singing of "Sweet Molly Malone."
It's a warm and infectious atmosphere, fueled by the friendliness of the Irish and, perhaps, multiple pints of Guinness.
Sweet Molly Malone – The Song
"Sweet Molly Malone", written about the iconic character, was first released in 1884. It was written and composed by James Yorkston of Edinburgh.
While "Sweet Molly Malone" was the original name of the song, there are a number of other names that the song is known by. "In Dublin's Fair City" and "Cockles and Mussels" are two other song titles that you might come across in Irish culture.
The song itself is centered on Molly's time as a fishmonger, selling cockles and mussels through the streets of Dublin. It briefly touches on what would've been a family business as her mother and father were fishmongers before her. Finally, and rather sadly, the song speaks about Molly Malone's death due to a fever and how her ghost haunts the streets of Dublin to this day.
The song starts rather happily with images of a young, energetic girl walking the streets with her cart selling cockles and mussels. It then ends on a rather sad note, with a death that would have likely lasted weeks and been rather painful. This weaving of happiness and tragedy is often seen in Irish folk songs, and this one has become sort of an unofficial anthem of Dublin.
Versions of the songs have been recorded by many artists, including The Dubliners, Danny Kaye, Pete Seeger, Sinead O'Connor, and U2.
In Dublin's Fair City
Where the girls are so pretty
I first set my eyes on sweet Molly Malone
As she wheel'd her wheelbarrow
Through streets broad and narrow
Crying cockles and mussels alive, alive o! 
The Molly Malone Statue
The statue of Molly Malone was unveiled in 1968 by the Lord Mayor of Dublin, Ben Briscoe, during the Dublin Millennium celebrations (1988).
The beautiful bronze statue was created by Jeanne Rynhart and depicts Molly Malone with her cart and baskets of cockles and mussels. It quickly gathered attention from international visitors, soon earning the nickname, The Tart with the Cart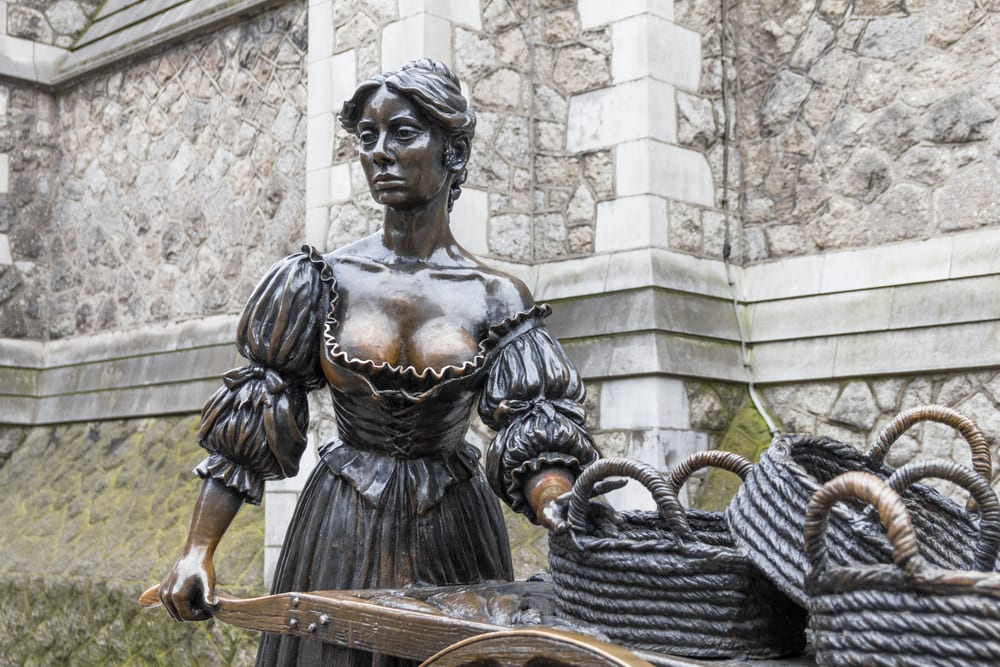 The statue was relocated in 2014 to Suffolk Street, in front of the Tourist Information Office, near Trinity College.
There is a superstition that touching the breast of Molly Malone will bring you good luck and fortune. So, if you find yourself in the Irish capital visiting Molly's statue, don't be alarmed if you see people touching, holding, or fondling her brass breasts.
I visited the Molly statue while on a literary pub crawl as part of a Globus Tour in Ireland. Despite copious amounts of beer, none of our crawlers pawed the statue. Your mileage may vary, and no one is judging if you need a little luck of the Irish.
For Pinterest
Save to your favorite Pinterest boards