Your San Francisco itinerary should include some of the city's classic culinary dishes, drinks, and snacks. Not sure where to start? For starters, wind down a windy San Francisco day near Fisherman's Wharf at the Buena Vista Cafe, located at the terminus of the Powell-Hyde Street cable car line.
This corner spot's allure is not just good food and fast service, but also a friendly crowd. On an average day, the old-school charm of Buena Vista draws in thirsty and hungry visitors who fill it to the brim. It can be loud and noisy, this isn't the spot for quiet conversation. Don't get put off if a stranger takes an empty seat at your table – patrons grab a seat where they can find it, and that might be next to you.
The Buena Vista lays claim to America's first take on Irish coffee. People come for the restaurant's reliable American fare but also come for the signature Irish coffee. Let's take a look at the history of this cocktail and how it came to be a part of mixology history.
Fun fact: Did you know that the loyal Andy Garcia in the 1994 movie "When a Man Loves a Woman" picks up the beautiful Meg Ryan at the Buena Vista?
What's in Irish coffee?
The winter warmer from the Emerald Isle consists of sugared coffee, whiskey, and dollops of cream. It combines for an interesting depth of flavor, with sweet creaminess emanating from the blend of Irish whiskey and the heavy cream topping.
The rich coffee and whiskey beverage should be slightly bitter, nutty, fiery, and caramelly all at the same time. You can enjoy this delicious cocktail after dinner, as a holiday morning treat, or it makes a nice accompaniment to a winter brunch. It's also a soothing way to transition from snowy slopes to apres skiing. 
The making of the perfect Irish coffee can be an elusive feat. This isn't a haphazard mix of coffee, booze, and cream. Spray can cream, bland whiskey, and run-of-the-mill coffee will produce the irredeemable blend that can give this cocktail a black eye. The best Irish coffee recipes demand high-quality fresh coffee and the best Irish whiskey. 
Here's what you need to make top-notch Irish Coffee.
The Coffee
Although you will see Irish Coffee recipes that call espresso, sometimes a double espresso, connoisseurs claim that stronger roasts and Espresso-style coffee will imbalance the blend, with the coffee overpowering every other flavor. Think of this cocktail as a choir singing harmony, rather than as a solo act.
Buena Vista's choice is an organic Colombian medium roast, fresh and flavorful coffee. After all, Irish whiskey is a tad mellow and smooth, needing but a lingering flavor of the coffee. Therefore, if you do not want your coffee liqueur to turn out like a punchy martini use filter brewed coffee that you would enjoy fresh.
The Sugar
Sugar is essential in Irish coffee not just for the flavor but also for the perfect floating cream. Original Irish coffee recipes call for a tablespoon of soft brown sugar. The modern variation of this old recipe uses the soft raw cane kind.
Recipes that use alternatives abound. You can find recipes that use a spoonful of dark muscovado sugar. Muscovado sugar has natural molasses, is brown, moist, and has a toffee aftertaste for a unique flavor. Other recipes call for lightly flavored molasses instead of sugar. While still others suggest using a flavored syrup to infuse additional flavors into the concoction – Demerara syrup is popular and adds a caramelly depth.
Your choice of sweetener is dependent on the flavor that you are going for. New Irish coffee imbibers might find an infusion of bitter molasses undesirable in their drink, but don't be afraid to experiment to find your perfect combination.
The Irish Whiskey
Do you know that scientists say that whiskey can help you live a healthier and longer life? It also makes you more creative giving you some of that good Old Dutch courage. Regardless of the truth of those adages, every pub in Ireland has a whiskey they prefer to use when making Irish coffee. 
Some bartenders recommend the robust Jameson Original. Bushmills Black Bush leaves a spicy aftertaste, Green Spot is a little fruity, and Teeling Small Batch is super smooth. At the Buena Vista, Tullamore Dew remains the undisputed champion of its Irish Coffee and it, too, is known for its smoothness.
Fun Fact: If you're visiting Dublin, I recommend touring the Jameson Distillery to learn more about how this whiskey is distilled, the various blends, and how to match up the right whiskey with the right cocktail recipe.
The Cream
Some recipes use Baileys Irish Cream mixed into the cream, but the original Irish Coffee recipe is simply heavy or double cream. According to Buena Vista's top-notch booze blending research, allowing your cream to age for a day or two will make floating easier after whipping. Splurge on the good stuff with at least 36% fat; worry about the calories later.
Whip your cream in an upright blender gently for leisurely thickening and exquisite frothy textures. Do not whip until stiff, though, as you need some viscosity to float the cream on top of the coffee – you don't want it to form a glob or sink. It may take lots of practice to find the sweet spot.
The History of Irish coffee
While San Franciscans claim to have invented everything from fortune cookies to sourdough bread, they did not invent Irish Coffee. The Buena Vista Café does have a long-term relationship with the Irish sipper, however.
The legend goes that the drink was first created by Joe Sheridan, an Irish chef, in the 1940s. Chef Sheridan worked at the Flying Boat restaurant at the Foynes Airport in County Limerick. When a passenger flight had to return due to inclement weather, he was tasked to whip up something warm and tasty for the now-stranded passengers. Driven by the famous Irish hospitality Joe Sheridan rustled up the now world-famous cocktail as a balm for travelers. 
It wouldn't be a good legend, let alone an Irish one, without a little controversy. Some sources claim that Chef Sheridan had studied the art of coffee and liquor blending from Michael Nugent, his boss, and local hotel proprietor. Another legend claims that Nugent was the creator of Irish Coffee, having developed a love of whiskey in coffee during the war. He floats cream on the top as a way of covering up what was really in the glass.
I leave you to decide which legend you believe.
Buena Vista Cafe History
Stanton Delaplane is credited with the popularity of Irish Coffee in the US. Delaplane was a travel writer and was challenged by the then-owner of the Buena Vista to recreate the drink. Many hours and samples later, it still wasn't quite right. 
A trip to Ireland was in order with the purpose to figure the darned concoction out. Eventually, creator Joe Sheridan was wooed to the United States to recreate the drink at the Buena Vista. . The Irish chef took over the art of making the sweet boozy drink, settling in and working at Buena Vista for a decade.
Buena Vista Café sits on a building that was once a boarding house. In 1916, the structure's owner turned it into a saloon, named Buena Vista, Spanish for a good view. The saloon's seascape setting soon turned it into a busy meeting point for dockside workers and the Sardine Cannery employees. The arrival of the Irish drink however completely changed the fortunes of the tavern.
Before Covid struck, the present-day, Buena Vista would serve close to 2,500 glasses of Irish Coffee each weekend. The bartender in charge today is Paul Nolan. The 43-year-old Nolan has worked at Buena Vista for most of his adult life serving close to 5 million of these coffees during his tenure.
Reading Recommendation: Irish Coffee: A Mystery Set at the University of Notre Dame by Ralph McInerny. "When Fred Neville of the Notre Dame athletic department winds up dead under mysterious circumstances, amateur sleuth and academic Roger Knight, and his brother, Phil, a P.I., investigate the apparent murder. The trouble: no suspects. No suspects, that is, until the day of Fred's funeral, when several likely candidates suddenly appear at the poor man's wake." More info here.
Make a Buena Vista Irish Coffee
So how does Buena Vista make the perfect Irish Coffee with a balance of coffee, sugar, whiskey, and cream?
Follow these steps and make your perfect glass at home.
This deceptively simple drink's success begins with its glass. At the Buena Vista, there are two dozen glass tulip shape goblets set up along the bar in a neat line. The bar's favorite glass? A petite stemmed glass with a 6-ounce capacity. The cusp of the glass cleverly shows off the cream's snowcap.
Nolan is a cubes guy when it comes to sugar. He says that the tight sugar cubes make measurement easy and dissolve into the hot coffee faster and more efficiently than other sugar or molasses options. Start off with cubes at home, but we recommend experimenting as you gain expertise. Liquid and dry sweeteners are both excellent choices but keep your drink on the barely sweet side.
Buena Vista's coffee goes into the goblet fiery hot. Pour the hot coffee into the hot glasses until they are 3/4 full. The heat of the coffee and glass counteracts the cold of the cream and the whiskey's room temperature providing a perfect temperature. Make coffee fresh to get the best flavor at the hottest temperature.
The Buena Vista Café uses Tullamore D.E.W. Irish Whiskey. Use 1-1 ½ ounces of whiskey per drink.
The pouring of the cream is what distinguishes professionals from amateurs. The cream's crisp white collar should float atop the coffee and not sink down or drizzle into the coffee. The café's choice is heavy whipping cream foamy from light blending. It takes a steady hand and a careful pour to get it just right. If you just can't get it right, try slowly pouring the cream over the back of a spoon and layering it into the drink.
Whether you're planning a visit to the Buena Vista Cafe or just want to make the perfect Irish Coffee at home, pin this to your favorite Pinterest Boards.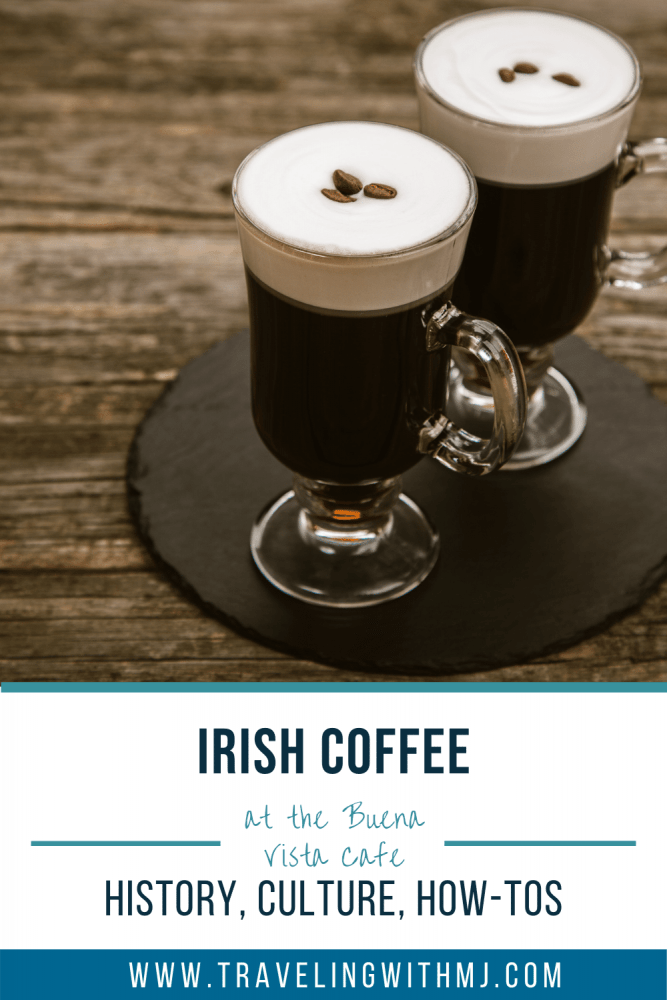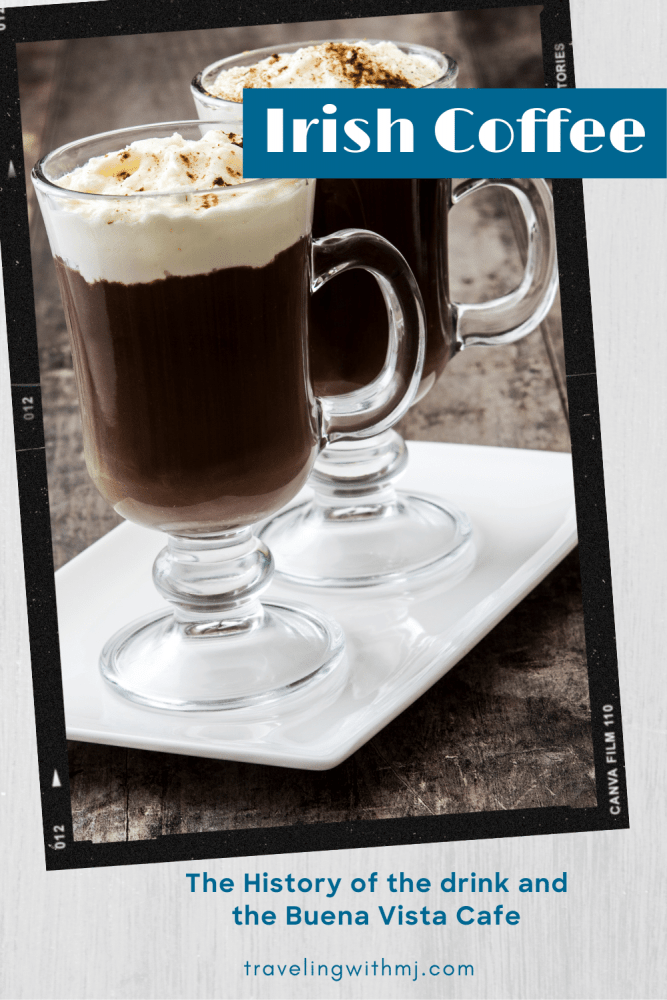 Disclosure: This post contains affiliate links.