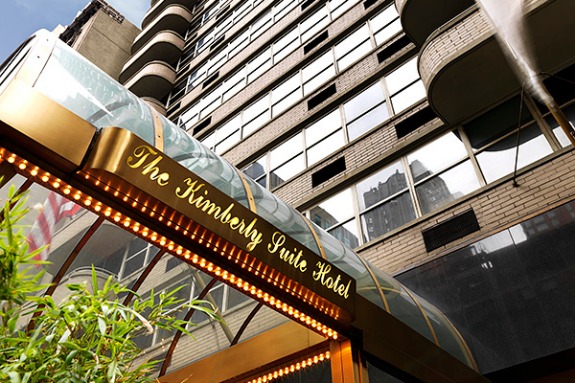 The Kimberly
Address:  145 East 50th Street (50th Street between Lexington and 3rd Avenue, Midtown), New York City
Value Luxury Rating:  


 (of 3 hearts)
Features: Located in the heart of the midtown, The Kimberly is an upscale property that is well situated for business, shopping, or just a sightseeing getaway. The 192 European-styled rooms, most of which are suites, feature flat screens and satellite TV, kitchen or kitchenettes with microwave, refrigerator, coffee maker, sink and untensils; robe and slippers, electric shoe-shiner, complimentary water, and the expected upscale bathroom amenities. Some rooms have balconies and jacuzzi tubs.
Price Range:  Low winter rates range from $160 night for a deluxe guest room to $223 for an executive 1-bedroom suite. Rates jump up in spring to $430-550, and if you can bear the heat of summer, drop down to $320-440. (Prices based on a random check of dates.)
Personal Notes:  Midtown Manhattan is not known for inexpensive hotel rooms, so if you elect to stay there, be prepared to pay for the convenience of the location. That doesn't mean youcan't get good value – it's there to be found, it just takes a little looking.
Our arrival at The Kimberly was the end of a long day of cross-country flying, a train from Newark Airport to Penn Station NYC, and a cab ride to the hotel. We were tired and hungry, and I'm sure that showed in our appearance and attitude. Despite our bedraggled look, we were warmly greeted, but instead of heading directly to our room, we were mesmerized by the huge cylindrical tropical fish tank in the lobby area. Wondering if there was some backstory to the tank, I learned that it was fairly straightforward. The owner of the hotel liked fishtanks and had one installed. Sounds simple. But this tank is anything but, it was featured on National Geographic's Fish Tank Kings.
We stayed in a 1-Bedroom King Suite, which included a bedroom with a king-sized bed, a living room with a sofa bed, large bathroom with jacuzzi tub, kitchenette (refrigerator, microwave, wet bar, and coffee maker), and balcony with sitting area. The space was wonderful, with plenty of room for working (wifi is an additional charge, typical in this price range, but a big fail in my book) and relaxing. The room was well laid out, with sitting areas that made sense, plenty of well located plug-ins, and attractive European-style decor.
The usual upscale amenities were present, along with a few surprises, including:  complimentary NY Times (daily, except Sunday), robe and slippers, electric shoe-shining machine, jetted tubs (in select rooms), a nice assortment of bathroom amenities, Wolfgang Puck coffee (but only powdered creamer, another big fail in my book), and two bottles of water daily.
We put the hotel staff through the usual questions and requests, including questions about how to use and where to catch the subway, the best way to get across town, location of casual nearby, some shopping and theater questions, and some odd bits of queries about the hotel itself. Both the concierge desk, located right outside the elevator bank, and the front desk staff, were full of helpful (and accurate) information, helpful suggestions, and spot on advice.
I loved the strategic location of the concierge desk, just a few steps from the elevator, although I admit to being a bit confused at first. But, after an elevator discussion on where to go for dinner, the welcome smile of the concierge just a couple of steps away from the elevator, made it easy to walk over and ask for a recommendation without feeling like we had to search them out or interrupt them. It felt like like they were placed there to help us. They did, and we appreciated it.
The Kimberly is right in the heart of midtown Manhattan, with shopping, restaurants and bars located steps, and blocks, from the front door. If you don't want to head out, there are two restaurants on property:  Bistango, offering contemporary Italian fare, and Ibis, offering Mediterranean cuisine. There is also a rooftop bar (indoor and outdoor) where breakfast is served. With a full schedule of places to be, we didn't eat in any of the restaurants, but we did check out the menus and found good variety :  Ibis is actually no longer there. It is now Empire Steak House, a restaurant, lounge and private event space, which is open for lunch and dinner. It offers over 400 selections of some of the best wines from around the world as well as a Single Malt Scotch list with over 100 selections to accommodate each and every dish.
UPDATE 5/28/17:  Ibis is actually no longer there. It is now Empire Steak House, a restaurant, lounge and private event space, which is open for lunch and dinner. It offers over 400 selections of some of the best wines from around the world as well as a Single Malt Scotch list with over 100 selections to accommodate each and every dish.
[tweetthis]Here's why The Kimberly is a #valueluxury choice [/tweetthis]
In addition to the lovely room appointments and helpful service that is expected at this level of accommodations, there are two features that make The Kimberly a solid value luxury recommendation:
Convenient location:  Walking distance from Fifth Avenue's shopping and Rockefeller Center, the hotel is perfect if you're doing business in midtown or the east side. An easy subway away from most major business and sightseeing spots means you save money – and time – on cabs or car services. Paying more for a hotel room, and less for ground transportation, is a solid value luxury decision.
Large rooms with kitchenettes:  With room to spread out, The Kimberly offers plenty of room for work projects and, if you have a suite, may be appropriate for interviews or work meetings. In fact, for the price of a typical NYC room, you can get a suite at The Kimberly. If you're feeling stressed or tense, head to the lobby and grab a table by the fish tank – fish are said to have a calming influence on those who sit and watch them. I also appreciated the convenience and value of having a kitchenette in the room. This provides an opportunity to save on food expenses by picking up our own beverages and snacks, and with a microwave, you can bring a doggy bag back to the room for a midnight snack. While we took full advantage of the many great restaurants in the city, I still appreciated having juice and yogurt in the room before heading out for the day. If you're traveling as a family, the sofa bed provides sleeping room for the kids and you can pick up some microwave popcorn for those nights that you have no energy to go out. Splurging on the room, saving on unimportant meals and snacks, is another solid value luxury choice.
The Kimberly offers the feel of a small European hotel in the middle of New York City, the largest city in the United States. The hotel has been named to the Top 100 Hotels Around the World, has been named one of the Top 3 Business Hotels in the U.S., and received a Conde Nast Traveler Readers Choice Award.
Disclosure:  I received a complimentary stay at The Kimberly for purposes of this review.
Bedroom at The Kimberly NYC
Living Room at The Kimberly NYC
Kitchenette at The Kimberly NYC
Bathroom with jetted tub at The Kimberly, NYC
Bathroom amenities at The Kimberly NYC
Bistango at The Kimberly NYC