Shangri-La Rasa Sayang Resort & Spa
Address:  Batu Ferringhi, 11100 Penang, Malaysia. About a 45 minute drive from the Penang airport, and about a 20 minute drive from Georgetown.
Value Luxury Rating:



  (out of 3)
Features:  The 5-star Shangri-La Rasa Sayang Resort & Spa is set on 30-acres of beachfront and boasts gardens featuring over 133,000 varieties of plants, trees, and shrubs. Regional artwork can be found located around the grounds and interior spaces. Accommodations are situated in two wings, the family friendly Garden Wing (189 rooms) and the exclusive Rasa Wing (115 rooms). Decor in both is a traditional Malay style blended with contemporary chic, with every modern convenience worked in.
Rooms feature the expected upsale amenities (bath products from L'Occitane), air conditioning, wifi, and more. The resort has three swimming pools (one adult only), a par 3 pitch-and-putt golf course (approximately $7.50 green fees), tennis courts, a water sport center, spa, and health and fitness center. There are four restaurants on property, in addition to 24-hour inroom dining, as well as three lounges.
Price Range:  I checked a variety of arrival dates in June and July and found rates starting at $213/night based on double occupancy. A variety of package offers, some with solid discounts and value-added options, were also available. Room rates were lower in the Garden Wing, and rates varied based on date of arrival and room type. Rates quoted have been converted to US dollars based on prevailing exchange rate at time of review.
Personal Notes:  I stayed in the Rasa Wing, getting the advantage of a private check in that wing's check in area. After a long, hot day on the road, a welcome refreshing towel perked me up as arrangements were made to get the check in process resolved. Coupled with a cold beverage, a chance to enjoy the air conditioning, and I felt welcomed in more ways than one.
I stayed in a Rasa premier room, which had a generous sitting area, king size bed, spacious walk in bathroom with separate shower and tub. The room was well laid out, with easy access to desk work space and ample plug ins.  The generous balcony had a large soaking tub, and although I didn't have time to take advantage of it, a bath butler service is available who will draw your soaking bath and infuse it with salts or other aromatherapy treatments (additional charge of approximately $18). For a relaxing evening, I'd recommend staying in for a sunset soak and glass of wine, followed by a light inroom dinner. That's what I'm doing next time.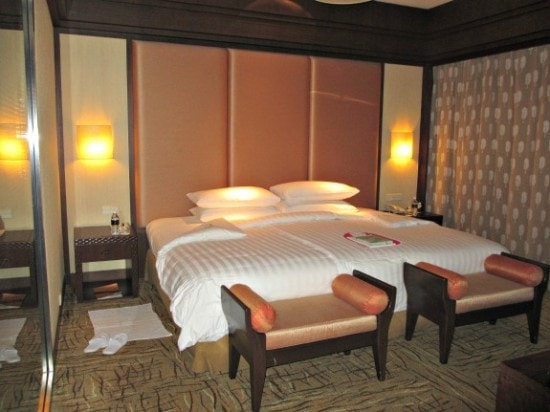 Staying in the Rasa wing includes some additional value added that push this from merely a luxury hotel to a value luxury one.  Rasa wing privileges include: express check-in, late check-out, complimentary shoe shine, complimentary high tea (served daily 3-4 pm in Rasa Wing Lounge), light snacks and pre-dinner drinks (served daily 5:30-7 pm also in the Rasa Wing Lounge), daily breakfast (an immense selection at the Spice Market buffet or semi-buffet with menu in the Feringgi Grill), and use of an exclusive adult only (16 and over) pool. The Rasa Wing Lounge is stock with soft drinks and juices, available complimentary all day long, as well as complimentary soft drinks and juices by the pool. Add in the value of these extras, which could easily add up to $100/day, and this is a solid value luxury hotel choice.
I enjoyed breakfast in the Feringgi Grill both mornings of my stay. I opted for healthy choices of yogurt, fruit, and an excellent coffee (okay, a pastry one morning) rather than tempt myself with the platterful of decadent and delicious options in the Spice Market Cafe. My traveling companions raved about those choices, but I enjoyed a smug feeling of starting the day in a healthy way. My loss.
There was no time for lounging by the pool or strolling on the beach, regrettably that will have to wait until a future visit. I did have time for a quick walk around the grounds, finding them restfull with surprising touches here and there. I would loved to go on the weekly garden tour that's led by the Grounds and Garden Manager to learn more about what I was looking at.
No surprise here, but I did make time for a massage at the resorts CHI spa. The Spa settles into a secluded corner of the resort, facing the water. There are 11 spa villas, each with a changing room, treatment room, and private garden. The lobby is serene, seemingly structured centuries-old trees and growth.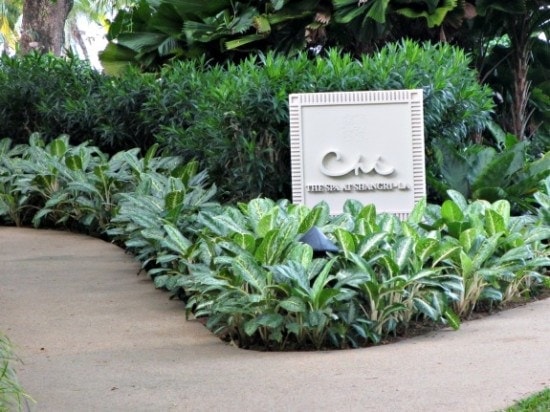 I opted for the CHI Signature Massage, hoping to calm my yin and stimulate my yang. The one hour treatment costs approximately $97, although when I was there I took advantage of a half price spa special. Special are offered frequently, so it's worth inquiring. Even at full price, this is a value luxury spa price at a high end, luxury spa. Set aside some time to enjoy it. Aromatics, essential oils, and other products used at the spa can be purchased in the Spa Boutique. Warning:  With the variety of lovely products used, this could be a time consuming shopping experience.
Although there are beautiful grounds, pools, and a beach to enjoy at Rasa Sayang Resort, the property has a shuttle service to transport you to a sister property (Traders Hotel) in Georgetown. You can enjoy the facilities at the other resort, or use it as a springboard for daytime exploring our historic Georgetown, a UNESCO World Heritage Site. The last shuttle returning to the hotel currently departs at 5:30 pm (check on update schedule during your visit), so this is not an option for an evening trip into town.
I spent most of my time exploring Penang instead of lounging at the resort. While I missed out on some of the relaxation this luxury resort would have provided, I don't regret all the time spent exploring in Penang.
My sightseeing recommendations include:
Cheong Fatt Tze Mansion (also called the Blue Mansion) – 

Built at the end of the century, the mansion is a vivid indigo blue, making it hard to miss, and boasts 38 rooms, 7 staircases, and 220 leaded Gothic-style louvered windows, in a style that follows the principles of Feng Shui.

Kek Lok Si Temple – The largest Buddhist temple in Malaysia, it is also called the Temple of Supreme Bliss.
Penang Heritage Trail – Easy to follow routes of historical areas of Georgetown, whether you're on foot, biking, or opt to hire a tri-shaw. The maps are available at the World Heritage Office.
Penang Butterfly Farm – Hang out with over 4,000 butterflies, representing over 120 different species, in a lushly landscaped garden. Pathways allow you to get fairly close, so have you camera ready to get some great nature shots.
Tropical Spice Garden – Landscaped gardens with over 500 different types of tropics plants. See if you can identify you're favorite herbs and spices as they naturally grow. I took a cooking class at the Tropical Spice Garden and will have a post about that experience coming up soon. While I'd recommend the cooking class, it's worth a visit to the Garden even if you aren't able to schedule a class.
Penang Hill – Head up the hill to escape some of the heat found at lower elevations, and get a great view of the area at the same time. Keep the camera ready and snap some panoramic shots of the mainland, Penang Bridge, and the Straits of Malacca.
Disclosure:  My stay at Shangri-La's Rasa Sayang Resort & Spa was part of a trip sponsored by Malaysia Tourism, Tourism Authority of Thailand, and Thai Airways. Spa expenses and gratuities were at my own expense.
Click on photos below to bring up full view.