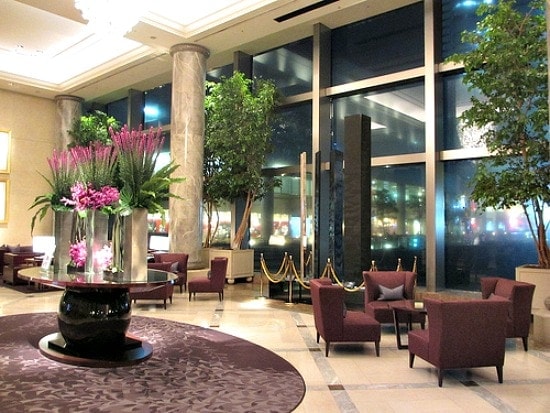 Yokohama Royal Park Hotel
Address:  2-2-1-3 Minatomirai, Nishi-Ku, Yokohama, Japan
Features:  The Yokohama Royal Park Hotel is situated in the Minato Mirai 21 area, a cosmopolitan development area of Yokohama which combines a variety if sights and attractions, including an amusement park and the Cosmo 21 Ferris Wheel, shopping, over 200 restaurants, museums, theaters and entertainment venues, and more.
The lobby and other public areas of the hotel are lovely – inviting, filled with beautiful floral displays, and offering seating and gathering areas that are well placed and don't clutter things up. I'd call it an elegant Zen vibe, with a nice dash of upscale luxury.
Hotel features and amenities include:  fitness center, indoor pool, 9 restaurants, spa, business center, tea ceremony room, gift shop, and concierge service.
Located on floors 52-67 of the building, every one of the Royal Park's 603 rooms has impressive views of the city, Yokohama Bay Bridge, and Mount Fuji. The views are spectacular!
The rooms partially carry over the vibe from the public areas, but fall a tad short in the luxury feel. The sleeping side of the room was nicely decorated, had comfy beds, and had well placed outlets. The work table side of the room was rather spartan, with a dresser with drawers that didn't close properly, a simple table with inadequate work lighting, and a television placed on top of a dresser as if it were an afterthought. Walking from one side of the room to the other, it felt like two different decorating themes. The bathroom was large and modern, with upscale products and amenities.
Room features include air conditioning, CD player, TV with DVD, minibar, coffee machine and electric kettle, and nightwear.
Let's be honest here. Japan can be a very expensive country to visit, and over-the-top expensive if you're looking for a luxury hotel in a prime location. The Yokohama Royal Park Hotel gets a 2-heart Value Luxury rating as an upscale property (solid rooms, beautiful public areas, all rooms with a view) combined with a great location (near entertainment and dining, easy access to other things). It's proximity to Tokyo makes it possible to visit Tokyo as a day trip, saving substantially over comparable hotels in the city. While no hotel is perfect, the Royal Park finds the sweet spot where luxury and price intersect, making it a solid value.
Price Range:  Checking random dates in January, I found prices starting at approximately $146/night (room only, based on current exchange rates); packages are available that include breakfast. Rates will vary based on date(s) and availability, restrictions may apply.
Personal Notes:
Yokohama, the second most populous city in Japan, is situated on Tokyo Bay, about 20 miles from Tokyo's city center. Yokohama attracts business travelers, it's a commercial hub and major port, but don't overlook it as a leisure destination. Shuttle service from Narita takes about 2 hours and from Haneda, about 50 minutes, making it an easy day trip from Tokyo or a fun weekend getaway. It also serves as a launching point for further exploration to the Mount Fuji area.
Things to do in Yokohama:
Yamashita Park – located on the waterfront
Yokohama Chinatown – the largest in Japan, and one of the largest in the world
Yokohama Stadium – catch a BayStars game (central league baseball)
Hakkei Island Sea Paradise – aquarium
Motomachi – fashionable shopping
Queen's Square Yokohama – shopping mall
Cosmo Clock 21 – not only a tall Ferris Wheel (in 1989 it was the tallest in the world) but also the world's biggest clock
Yokohama Museum of Art – galleries and workshops
Shin Yokohama Ramen Museum – A collection of Ramen restaurants, allowing you to sample noodles from famous Ramen restaurants from various regions in Japan
Yamate – a western settlement overlooking the the harbor that includes Harbor View Park
Yokohama has a number of sister cities, including San Diego, California, and Vancouver, B.C.
Click photos below for larger view.