It was the best of times, it was the worst of times. . . no, I'm not talking about Paris in the Charles Dickens era, I'm talking about traveling with a group of family and friends.  Or even traveling with your spouse, partner, or best friend.
If you want to lie on a beach and soak up some rays, does your spouse want to go white water rafting?  Do the kids want to move into an amusement park, while you want to check out some art and architecture?   Do you want to get in touch with your spiritual side while the rest of the gang wants to go the ballpark every day?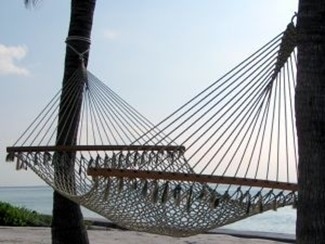 If you only want to do what you want to do, traveling solo is your best option.  But since there are times you will share travel experiences with others, you'll need to learn the art of compromise.  Compromise is critical if everyone is going to enjoy the vacation, so adjust your thinking to see it as a win-win solution rather than pouting because you're not getting your way.  And for heaven sakes, once a decision is made let it go – and don't keep nitpicking things.
Here are some vacation ideas that can help give everyone a little bit of what they want.
Camping:   You can have a rugged outdoor experience without roughing it, and luxury camps can be a good way to meet the needs of outdoor adventurist as well as the luxury lover.  You can dine beneath the stars without having to be the one who has to cook and clean up.  Let go of your need to be roughing it in exchange for an outdoor experience that includes your special someone.  You can relax in the hammock, while the adventure lover is off is off exploring with others.  Pick some activities to enjoy together, enjoy time doing your own favorite things, and meet up at the end of the day to share it all.
Large cities:  A major city will offer an exciting mix of museums, music, sports, theater, and shopping, along with a certain something special unique to its geographical area.  Trade off a night at the ballpark for a museum visit the next day.  Or break up into smaller groups during the day and meet up with everyone later in the evening for dinner.  Some of you could attend a night at the theater while others chill out in front of the television. There should be something for everyone, it you just let go of the need to be together constantly.
Small cities:  Rural environments generally mean a lot more togetherness, but it doesn't mean that everyone has to do the same thing.  Go for a walk, relax in a hammock, write in your journal, or check out the mom-and-pop businesses.  Consider a home rental or stay at a bed and breakfast where everyone can do their own thing without, without being too far away from one another.
Cruise:  Cruise ships come in large and small sizes, representing a variety of ports and activity levels.  Whether you're looking for a party cruise, a nature trip, or going around the world, cruises offer a variety of broad based activities that will appeal to most people.  The fitness fan can hit the gym of run the deck while the information lover is attending a class, or you can sleep in while your cabin mate enjoys a cup of coffee and watches the sun come up.
Exotics:  For many, exotic locations are a no-go unless organized with all details arranged.  Can you let go of the need for control and independent travel in exchange for the opportunity to experience an area that you find compelling.  Perhaps a Kenya safari or an organized caravan trip will satisfy the nature lover, the photographer, the adventurer, as well as the traveler collecting passport stamps, but still alleviate the worries and concerns of the more timid traveler.
I love exotic vacations and unusual destinations, but I travel with someone who is not quite so adventurous and has major concerns with the condition of accommodations and the quality of food.  It's easy to make a compromise where I get the destination that I want and in return I agree to stay in a little more luxurious accommodations.  During the day we can venture out, have little day trip adventures, with my traveling partner confident that he has a clean comfy bed and a good meal at the end of the day.
How do you compromise your travel selections?
Photo credit: SXC
This post was sponsored by Sanctuary Retreats; the opinions expressed herein are those of the author.