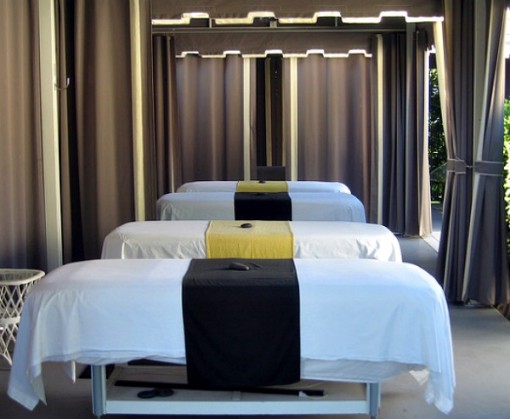 Spa travel and spa visits have become an integral part of the experience for many travelers.  With tons of spa deals available. it can be hard to choose, so here's some information to help you decide if you'd like to incorporate a spa experience into your travel plans.
Structured Spa
A stand alone destination spa, often in a resort environment, will mean your every need is catered to.  The program is often set up on a fixed schedule, meaning you need to commit to staying the required days (usually 3, 5, or 10 days), but some allow a rotating arrival and departure day.  At the spa, or occasionally in advance of your arrival, you'll fill out a profile indicating your health history, interests, and spa goals, and from that the spa will structure your activities, appointments, treatments, and food plan.  Once you show up, all you have to do is follow your daily schedule as you go from fitness activity to beauty treatment to health education session.  Structured spas are generally all-inclusive, with the exception of tips, and cover a specified number of treatments, all classes, overnight accommodations, and meals.  Price range:  moderate to high (depending on the degree of luxury, days of program, and the number of treatments included).
Where to find a structured spa:  It's believed that the very first spa was The Golden Door in California, but since then additional spas have cropped up around the US (Texas, northeastern US, Arizona, etc.) and the world (Mexico, Switzerland, etc.).
Resort Spa
Nearly every value luxury hotel worth their salt these days has a spa on premise offering a range of spa and beauty treatments and services.  Booking in advance is often recommended, and most offer the full menu of services online – although you may have to call for the price list.  You can also book a treatment once you're at the hotel, although available times may be more limited.  Many hotel spas have a full fitness center that is available for complimentary use with any spa treatment, so careful timing of your appointment can help you avoid that additional service fee.  You can book one treatment, or opt for a half or full day of pampering.  Hair salons are often available, but usually operated separately from the spa.  Resort spas range from high end luxury, with amenities like soaking pools, saunas, steam rooms, fully outfitted changing rooms and showers, relaxation areas with beverages and light snacks to more austere spas with small changing rooms only.  Price range:  moderate to high (depending on hotel, degree of luxury of amenities, and treatments chosen).
Where to find a resort spa:  Any high end hotel in Las Vegas, Paris, or other major city.
Day Spa
Similar to the way a resort spa operates, a day spa offers independent treatments, services, and products without being tied to a specific structured plan.  If your hotel doesn't offer a spa on property, or if perhaps you'd like to check out something off site, a day spa can be the way to go.  While they generally trend more toward the beauty and salon types of services (facials, massages, pedicures) rather than health (gym, fitness classes), the array of options is often staggering.  Price range:  moderate (often depending on location).
Where to find a day spa:  Check with your hotel concierge who should be able to make a recommendation and often secure your appointment.
Spa Towns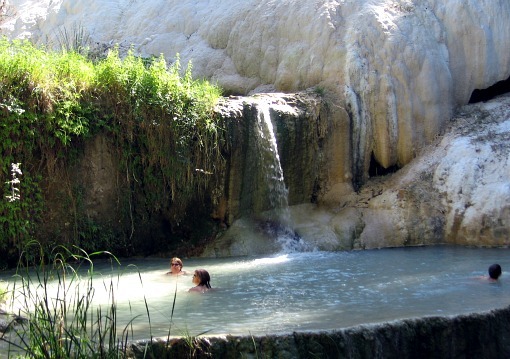 Entire towns have evolved around the ritual of taking the waters and it's often more of a lifestyle option than an occasional pampering treatment.  You'll find thermal and sulfur pools for soaking and relaxing, hot springs, and often those pools have plenty of mud to slather all over you for a mud treatment.  These are family friendly (previous options are adult only) and can often involve a bit of hiking a walk or hike to get to.  I enjoyed an afternoon at a bagni (Italian for bath) this past summer (photo above), and thoroughly enjoyed the different levels of pools complete with the mud from the deepest one.  It was relaxing, fun, and my skin glowed for days.  Price range:  Inexpensive (a modest entrance fee) or free.
Where to find a spa town:  Primarily in Europe, and usually near small towns.  Look for words like baths, waters, pools, or something like that (in any number of languages).   These spa towns are great fun to get a couple pals together for a vacation as they make for cheap spa breaks, leaving you free to spend money on other things.
Photo credits:  author's personal collection