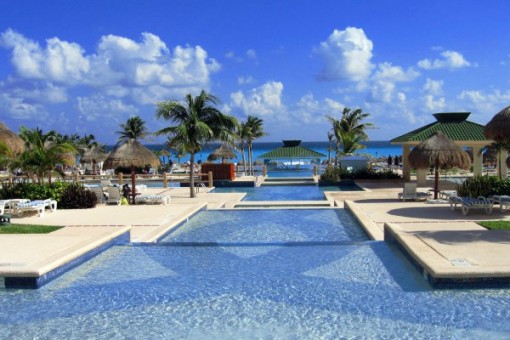 Destination wedding are on the rise, and brides and grooms (and their familiies) look for ways to combine a special destination with their special event, and often roll their honeymoon into that same destination as well.  Mexico, despite going through some troubling times, still remains popular for destination weddings, probably because of its beautiful weather and resort.
Regulations may vary between the Mexican states, so be certain to get current information from the place where you would like to have your ceremony.  And, as with any large and expensive travel plans, you should strongly consider travel insurance.
Here are some general things to know if you'd like to get married in Mexico.
First off, decide if you want an official, legal wedding or merely a ceremonial one.  A ceremonial one is every bit as lovely as a legal one, just requires that you make the union official at home (either before or after).  If you choose the ceremonial option, no one need know that what they're attending isn't the real deal.
Next you'll need to decide if you wish a civil ceremony or a religious one.  The information here will apply to civil ceremonies as the various religious denominations can vary widely.  If you wish to get married in a religious ceremony, you should check with your priest, minister, or rabbi at home.
Many resorts offer full service destination weddings that can take care of many of the details.  You can find one through a reputable travel agent, doing web research, and getting referrals.  You can also opt for the do it yourself route.
The bride, groom, and four witnesses need to arrive in Mexico at least 1-3 business days prior to the ceremony.  The specific time varies based on the state in Mexico where you'll be, so you'll need to check before making your plans.  This is the time necessary to take care of all the administrative tasks that you'll need to do. There is a fair amount of tasks to take care of, so having a rental car in Mexico may be helpful.
One of the administrative tasks on your list will be filling out at application at the civil registry office.  You'll need to specify if you wish separate or "joint" (community) property.  When you come to fill out the application, you'll need to bring with you blood test results from a Mexico doctor.  You can arrange for the blood tests on your own or check with your hotel – many have a doctor on property or on call.
You'll need your passport, of course, but bring along some copies as well.  You'll also need your tourist permit (you probably will have filled that out on the plane coming into Mexico), and your birth certificates.  Your birth certificate must be authenticated, not merely a copy, and must be translated into Spanish.
If you've been married before, you will need bring along proof that the earlier marriage was terminated.  This can be a divorce decree or death certificate, and again must be authenticated and translated into Spanish.  If the marriage ended in divorce, Mexico requires a one year period of time between the divorce and remarriage.  There may be additional fees if this is your situation.
Marriages are performed at the Civil Registry Office.  You can make arrangements for another location, but again, an additional fee will likely apply.  Think of it as if instead of getting married at the local courthouse, you asked the judge to come to a different location.  After the ceremony you'll receive a certificated copy of the marriage and have it authenticated by Mexican authorities.
Parties who are under 18 years of age will need parental consent.
Only civil marriages are recognized as legal in Mexico.  Many couples also opt for a religious ceremony, but it is ceremonial rather than legal.  A civil wedding is Mexico is recognized in the United States, although you may want to obtain an English translation.
Less than a third of the foreign weddings in Mexico are civil ones – the vast majority are symbolic ceremonies with a priest, rabbi, minister, etc.  The process is pretty much the same as the civil ceremony, with the addition of the inclusion of typical personal touches, but these are symbolic and not legal marriages.
Photo credit:  author's personal collection