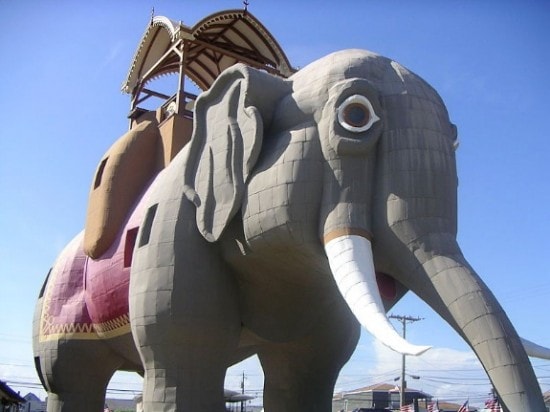 I love offbeat and quirky kinds of places – for just the reasons that they are offbeat and quirky. I've been known to drive out of my way to see the "biggest," "smallest," "world's only," "oldest" thing or place or whatever. Why not?!
Although the Hurricane Sandy did a lot of damage on the Jersey shore, it didn't harm one of the shore's iconically quirky attractions – Lucy the Elephant.
Lucy is a six story, 90 ton elephant made of wood and tin sheeting. She was put up 1881 to attract tourism and development to the south Atlantic City area, and while she was architecturally unique at the time, she soon became merely the first of several zoomorphic (animal-shaped) buildings. Did you even know there was such a thing a zoomorphic architecture?
Since she was originally constructed, Lucy has been a restaurant, office building, and a tavern, before being moved, refurbished and designated as a National Historic Landmark in 1976. Yep, that's right – this elephant is a historical landmark! Today Lucy is a tourist attraction, with guided tours that take visitors up her rear leg (there's a spiral staircase) to the howdah (the main interior offering views of the ocean and the Atlantic City skyline).
Have you been to see Lucy? I think she's just too quirky to pass up.
Location:  9200 Atlantic Avenue, Margate, New Jersey
Hours:  Tours of Lucy are offered every half hour, on the top and bottom of the hour. Holiday schedule (through December 31st): Wednesday, Thursday, Friday, 11 am-4 pm. Saturday and Sunday 10 am-5 pm. Then closed for the rest of the winter to reopen in April on the same schedule. Extended summer hours begin in May, so check on times.
Admission:  $7 adult, $4 kids ages 2-4, FREE for kids under 2. Members of the military are also admitted free.
Note:  If you're interested in other zoomorphic architecture sights, you might consider Dog Bark Park Inn (Cottonwood, Idaho), Big Duck (Flanders, New York), Giant Muskie Building at the Freshwater Fishing Hall of Fame & Museum (Hayward, Wisconsin), and Dinny the Dinosaur (Cabazon, California).
Photo credit:  public domain via wikimedia commons