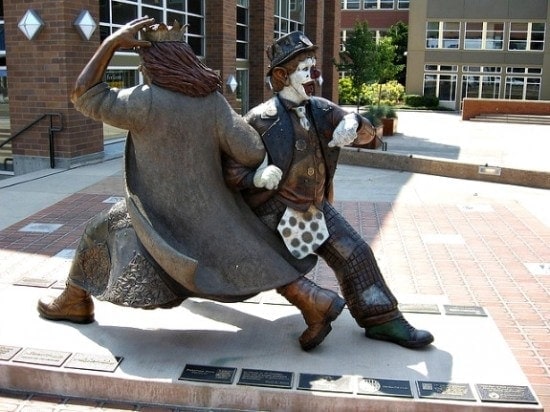 Many cities have statues honoring their founders, heroes, and statesmen.  In Seattle, we have a statue of JP Patches and Gertrude.
JP (Julius Pierpont) Patches was played by Chris Wedes.  I hesitate to say "played" because in many respects the real person was lost in the larger-than-life persona of his television character.  His was the first live show to air on then fledgling station KIRO (a CBS affiliate) and was as unscripted as they come.  That was a rarity back in 1958 when the show first aired.
The JP Patches showed aired twice daily and I remember watching it before school every morning at then again after school.  JP lived in the City Dump, and had crazy friends like his best pal Gertrude, Ketchikan the Animal Man, Sheriff Shot Badly, and Boris S. Wort (the world's second-meanest man) all played by Bob Newman.  JP's sly charm, full of dry wit and double entendre, wasn't lost on adults in the audience either.  Every day he instilled family values (the real ones, not the political ones) as he looked right at us, via his ICU2-TV set, and wished us a happy birthday, told us to mind our parents, share our toys, and encouraged us to be a member of the Clean Plate Club.  We all wanted to be a Patches Pal.
JP Patches aired from 1958-81.  For 13 years it was on twice a day, then dropped to once a day for 8 years, and in the final 2 years was only seen on Saturday mornings.  After the show went off the air, Chris Wedes continued to work at KIRO as a floor director until his retirement.  But JP Patches never really retired.  For nearly 30 years after his show went off the air, JP Patches and Gertrude made public appearances at SeaFair activities, parades, and grand openings.  They raised money for children charities and were often seen visiting ill children at Children's Hospital.
In August 2008 a bronze statue of JP and Gertrude was erected in the Fremont neighborhood.  The unveiling date coincided with the 50th anniversary of the JP Patches show.  The statue is titled "Late for the Interurban."  JP and Gertrude were present for the dedication.  A couple of years later, suffering from an incurable form of cancer, JP Patches made his last public appearance.
Chris Wedes passed away earlier today (July 21, 2012) of the cancer that forced him to curtail his public appearances.  He was 84.  Generations mourn his passing.
Statue Location:  Solstice Plaza at North 34th, Fremont
Photo credit:  martialstax