During the holiday season it seems like I watch lots of movies.  Whether it's catching up on television, renting videos, or indulging in pay-per-view, it's an enjoyable way to spend some lazy winter days.  Assuming you like the movie, of course.
I like a variety of movies, but the ones at the top of my list are those that give me a sense of time and place.  Movies that make me want to be where the movie is, and sometimes even when the movie takes place.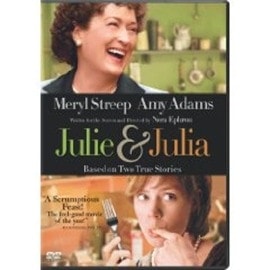 Earlier this week I watched Julie & Julia, a great movie, and one that made me long for a return trip to Paris soon.
Julie & Julia was written and directed by Nora Ephron, and stars Meryl Streep as the famous chef Julia Child and Amy Adams as Julie Powell, a young, and somewhat depressed, New Yorker writer.  The movie is based on two true stories – the early years Julia Child's career as documented in her autobiography My Life in France, written with Alex Prudhomme, and a memoir written by Julie Powell documenting her experiences, and blogging about, her efforts as she devoted one year to cooking all 524 recipes found in Child's Mastering the Art of French Cooking.
The movie has the stories of Julia and Julie interwoven, moving back and forth between Paris circa 1949 and New York post 9-11.
In Paris:  Julia and Paul Child set up residence in Paris, and although she goes through some adaptation, it's clear that she falls in love with the city.  (I know how she must have  felt.  I experienced an immediate emotion connection with Paris the minute I came out of the Metro.)  One of the things that Julia falls in love with is French cuisine, she loves to eat, and finding herself bored with nothing to do, she decides to sign up for a cooking class.  The first cooking class she attends is far too simple, with skills like how to boil an egg, so she goes looking for something a little more challenging —  and ends up in a cooking school for serious chefs (meaning men).  Although initially behind the curve a bit, Julia throws herself into cooking and it becomes the second passion of her life.  Julia teams up with a couple of other cooks in an effort to write a cookbook, and the very long task of bring it to fruition is fraught with problems, disappointments, and adversity.  Success finally comes as a result of single-minded focus and determination, and a career is launched.
In New York:  Julie and Eric Powell set up residence in a 900 square foot apartment in Queens, while she tries to settle into a cubicle job handling phone calls about post 9-11 issues.  She is clearly depressed by her job, which she hates, and finds that her writing career is going nowhere.  She finds solace in cooking, and over dinner one evening, she decides to pour her writing efforts into a blog – about cooking.  After going through a variety of ideas, she decides to blog about how she will cook all of Julia Child's recipes over the course of a year.  She calls it the Julie/Julia Project.  Julie's blog chronicles the highs and lows of cooking new dishes, her frustrations with blogging (she has no comments), and her determination to once and for all finish something. (Sound familiar bloggers?)  Julie comes close to abandoning the project a few times, but through determination and perseverance she completes the project, gathering a little fame along the way.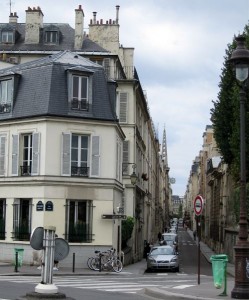 The movie showcased each woman's determination to succeed, albeit in different ways.  They each had a calling, in the beginning unrecognized, but by following their passions and heart, work became pleasure, which in turn became success.  Both women set a great example of do what you love and the money will follow.
As Julia Child walked the streets of Paris, sat at cafes, and dined at restaurants, I wanted to be there with her.  Oh sure, who wouldn't want to hang out with Julia Child, but more than that, I wanted to wander the streets of Paris.  I wanted to sit and have a cafe au lait, or a glass of wine, and watch the world go by.  I wanted to savor the sounds and taste of Paris, to shop at the small markets, and to find the best fromagerie and patisserie.  And to eat well, even if I'll never cook like Julia Child.
Not only that,, this film is the first major motion picture that is based, at least in part, on a blog.
Photo credit: Amazon (DVD); Mary Jo Manzanares