If you like unusual and out-of-the way destinations, some place that most of your friends have never heard of, then put travel to Mauritius on your bucket list.  This island nation of the east coast of Madagascar is one that many people have never heard of, let alone thought about visiting.
What does Mauritius have to offer a traveler?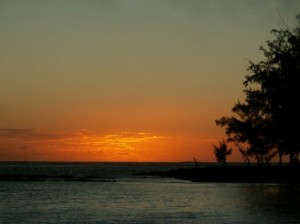 Beaches!
It's an island — so of course there are miles and miles of beaches to tempt you:
Pointe aux Piments is popular with snorkelers looking for beautiful underwater scenery
Trou aux Biches is home to a Hindu temple
Choisy, one of the most popular beaches on the island, is great for its selection of water sports
Belle Mare offers beautiful white sandy and crystal blue water (in photo)
Blue Bay, probably the finest beach on the island, has a beautiful stretch of white sandy beach and clear, light blue waters
You may come for the beaches, but at some point you're going to have to leave them, and there is still much Mauritius offers to keep you entertained.  You can enjoy Mauritian cooking, an eclectic blend of Creole, Chinese, Indian and Muslim food.  Be sure to try the local fare.  Shoppers can take advantage of the local sweaters, knitwear and other textile products.  Adventure travelers can enjoy trekking, cycling, and caving, while sports enthusiasts can opt for snorkeling, fishing or golf.
This island paradise offers warm climate nearly year round, ranging from the 70's in winter to the 90's in summer.  As you move away from the beach and into the interior of the islands it will cool off substantially.  And remember, Mauritius is below the equator so you need to reverse your seasons.
As your considering Mauritius travel plans, keep in mind the favorable currency exchange.  1 Mauritius Rupee equals about 4 cents.
Doesn't a Mauritius vacation tempt you?
Photo credit: via wikimedia commons