If a visit to New York City is in your plans, you'll enjoy today's guest post outlining your options from getting into the city from the area's three major airports.  One method not mentioned, and I think worth exploring, in the train/subway connection.  Do your homework and you'll save time and money.
—-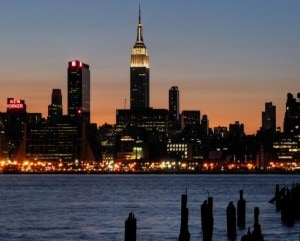 Whether flying for business or leisure, planning transportation can often bet the most challenging part of a trip. Not only that, but if there is something that travelers typically forget to plan for, transportation and parking is often that one thing. Thus, many travelers have to settle for the most convenient transportation and parking options, which aren't always the most economical.
This couldn't more so be the case than in NYC, which has multiple airports, including the big three, LaGuardia, JFK and Newark. As one of the largest metropolitans in the world, it usually takes some planning when traveling to and from New York City's airport and can often times make for a stressful experience if not carefully planned out.
Unless you're traveling with a large family, most travelers settle for just taking a taxi to and from New York City's major airports. This is typically the easiest and takes the least amount of effort. However, depending on where you're going, a taxi cab ride to and from the airport can easily put you out $100 unless you're sharing a cab. If taking a cab, this of course, is the most ideal situation if traveling with a friend or colleague. However, the cab is usually the most expensive option for getting to and from NYC's airports.
Although taking a taxi is typically regarded as the most expensive transportation method to the airport, it's not exactly the most pricey. If traveling with a family or group of colleagues, you may consider a luxury sedan or SUV, which typically start around $69. This is certainly the classiest and most comfortable way to get to the airport, but at a little more cost than a taxi.
The best case scenario for getting to and from New York City's airports is typically going to be by taking an airport shuttle. Airport shuttles often vary in services and prices. The cheapest airport shuttle is usually going to be a shared shuttle that is picking up multiple passengers. This requires some planning as it means you have to be ready to leave much sooner than if you were just taking a cab. Shared shuttles can often cost as little as $10 each way, but is more usually closer to $15 or $20.
Although the number of hotels that offer it can be few and far between, using your hotel's airport shuttle service can be one of the most convenient and economical alternatives for going to and from the airport. Hotels close to the airport may offer a complimentary shuttle. The farther out from the airports you get, the more you'll be paying for a hotel shuttle, as well as the less likelihood that the hotel will offer a shuttle. Those hotels that do offer a shuttle typically run them in 15 to 30 minute intervals.
If staying in Manhattan and flying in and out of LaGuardia, taking the city bus is a convenient and economical option. The M60 runs to all LaGuardia terminals, and travels from the East Side, West Side and Astoria. It runs from 5 am to 1 am between 106 St. and Broadway. Travel time on the M60 depends on your location, but is often between 40 minutes and an hour.
There are many factors to consider when choosing whether or not to use a taxi, shuttle, sedan or public transportation. The most important factor of course is time. If you have the time before your flight and want to save some money, than publication transportation on the city bus or catching a shuttle is often the best choice. Early morning flights are typically going to require a taxi.
Photo credit:  via flickr