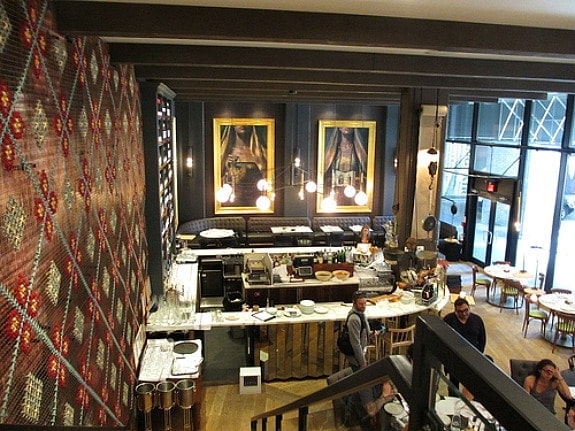 Patria
Address:  480 King Street West, Toronto, Ontario
Rating:  


 (2 out of 3 hearts)
Features: Patria makes use of the open concept, with high ceilings, full-sized cross-stitch art on the walls, and and exposed beams. There is a narrow outdoor patio, great for warm weather and, with the addition of some heat lamps, could easily extend into the fall and winter season. The venue is sexy in a bright and bold way, rather than dark and intimate, and it had me longing for lingering warm weather meals on the Costa Brava.
Price Range: Moderate to high. The beauty of tapas is that you can try so many different things. But that also means your bill can add up pretty fast. Consider making a mean of a meat and cheese platter with a glass of sangria if you're looking for a value priced option. Patria also offers prix fixe options starting at $55 for three courses plus dessert.
Personal Notes:
I was in Spain last year, and while there learned what "authentic" Spanish food really is. And it's none of the stuff that I've been eating around home. It was a real treat, then, to get a chance to taste the good stuff on a trip Toronto. Food blogger pal Andrew Dobson put together a feasting tour of the his city, and Patria was on our list of places to stop.
The menu focuses on traditional Spanish food and ingredients, most served as tapas (small plates) suitable for sharing. A full listing of our tasting menu follows, so I'll hit up a few of my all-star highlights:
Paraiso Naranja – This fresh tasting apertif is made of aperol, cava. and blood orange juice, creating a sparkle in the glass and on your palate. This is great as a starter to brunch and conversation, tempting you with the meal to follow. Home mixologists may want to find a recipe and put this on their home cocktail menu. $13 glass, $36 pitcher.
Red Sangria – Difficult to get right, not too sweet yet not to tart, this is an all purpose beverage to see you through an entire Spanish meal. $12 glass, $33 pitcher.
Almendras Salidas – Salted marcona almonds that paired deliciously with the sangria. $7 small plate.
Ham – Beautiful Iberico ham, salami, and other cured meats paired with Spanish cheeses. As tasty as it looked, this could easily make a meal. $16 for an assorted plate.
Datiles con Tocino Iberico – One of my all time fave dishes, and Patria did it well. This irresistible combination of sweet sticky dates, combined with the saltiness of ham and the creaminess of cheese, makes me drool just thinking about it. There's a lot going on in all those flavors, and it's a rich wonderful gooiness in your mouth. This is a rich dish, so pace yourself if you have other small plates to come. $9 for a small plate.
Pimientos de Padron – If you need proof that simple is often better, look no farther than this dish of blistered peppers sprinkled with sea salt. Yummy. $7 for small plate. Order two, you won't want to share.
Our menu included:
Red Sangria
Paraiso Naranja
Almendras Saladas
Pan Con Tomatoe
Seleccion de Embutidos
D.O Monte Enebro
Datiles con Tocino Iberico
Croquetas de Jamon
Pimientos de Padron
Paella Carne Mixta
Patria was ranked as one of the Top 10 new restaurants by Toronto Life Magazine. I'd recommend Patria if you're looking for Spanish food in Toronto.
NOTE:  I was a guest of Patria for a tasting of their menu.