I enjoy museums, and try to get to one on a fairly frequent basis.  Art, history, science, culture — it all has appeal to me.  The the thirst for knowledge, information, or just seeing and experiencing something new is always a good time for me.
And then there are other kinds of museums.  The quirky ones, the ones with all sorts of odd collections and exhibits, the ones that you secretly want to check out even if everyone else laughs at you.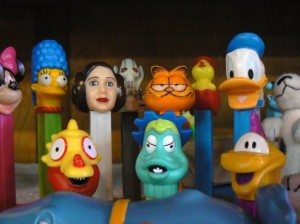 The Burlingame Museum of Pez Memorabilia may very well fall into this latter category.
Created by an Austrian candy executive in 1927, Pez is an abbreviation of the German word for peppermint (Pfefferminz), the original Pez flavor.  Originally the candy was sold in small tins, and marketed as an adult mint for people who were trying to quit smoking.
Around 1950, dispensers debuted.  A couple years later, cartoon head dispensers debuted, and fruit flavored candy was introduced.  Pez became a full-fledged candy phenomenon, not just a quit smoking aid.
Pez dispensers have developed a strong foothold in popular culture, and have appeared in movies ("The Client,"  "Stand by Me,"  and "E.T."), and television ("Seinfeld").   Likenesses of cartoon characters, toys, historical characters,  and other pop culture figures have been used to create Pez characters, and Pez dispensers have become big collector items.
The Pez museum opened in 1995, and is the only place in the world where you can see an example of every single Pez dispenser ever made.  That's right, over 550 different characters since the candy was invented.
The museum is located at 214 California Drive in Burlingame, California (map), about 10 minutes south of San Francisco International Airport.  Hours:  Tuesday-Saturday, 10 am-6 pm.  (Closed, Sunday, Mondays, and major holidays).  Admission is $3 for adults, $1 for children 4-12 and Seniors.
The Pez Museum won't be  everyone's cup of tea, but if you were a collector, or still are, or maybe just think the candy is a bit of silly fun, take an hour and check out the museum.
Photo credit:  Benimoto @flickr