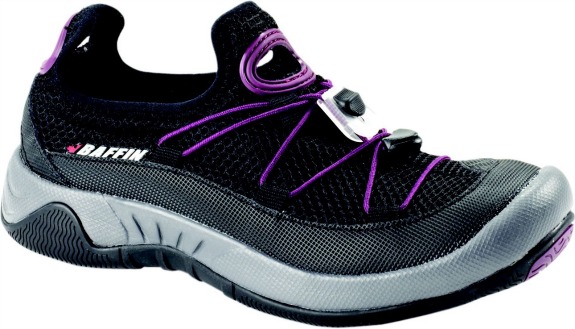 The Trail to Rapids Line from Baffin
Product:  Cabo Trail to Rapids from Baffin
Features:  This lightweight and highly breathable trail shoe is designed for comfortable use on dry or wet trails. A specially design 5-layer system allows water to drain through, while a metallic grid in the sole keeps rocks or other debris from getting into the shoe. The insole channels take care of draining all moisture. The Cabo comes in black with purple lacing (the one I have) and chocolate with black lacing. The shoe is available in for men and women.
What I thought:  I refuse to bog down my luggage or day pack with multiple pairs of shoes. They're heavy and take up too much room that can be put to better use. My rule of thumb – wear a pair, pack a pair, and flip flops take up no room at all. That rule of thumb means I need shoes that do double – or triple – duty, and that look smart enough to move me from casual to business casual whenever possible.
I received these shoes and put them through their paces. I wore them walking in Hawaii, walking around in the snow at Hurricane Ridge, and hiking in Olympic National Park. I've worn them around home and out shopping. I've worn them on sand, hardpacked snow, concrete, and wet ground. I got them wet. I got them dirty and cleaned them up. I've put them through their paces in enough different situations that I know what these gems can do.
What was great:
Lightweight. When I lifted them out of the box it was like they didn't weigh a thing.
They were roomy and comfy. Since they only come in full sizes, the shoe felt a little big when I wore thinner socks, but was just right with a thicker sock.
They looked cute. The black is practical and goes with everything, and the purple lacing gives it a bit of style while not detracting from its versatility. These could be worn with shorts, workout wear, jeans, or casual pants.
Sturdy, yet cushy, sole that remained comfortable in a variety of terrain.
Good traction. They were only a few places on wet moss that I was worried about slipping.
Great price point.
Easy to pack. These have become a go-to staple in my bag.
And what wasn't quite as great:
The lacing was confusing. This is a little embarrassing, but since I'm used to shoestrings that tie or velcro straps, rather than many of the new lacing system, I didn't really get what I was supposed to do. I didn't know how to get the little clippy things tight and locked down. Look at the photo and you'll see what I mean. If you purchase these in a store, you'll have someone show you how it's done. It would be nice to have a video or something for those who buy it online.
Sizing ran a little large. I'm typically a size-and-a-half, so moving up to the next full size wasn't a huge issue. But if you are sized where you move up to the half size for a little comfort, you may find it harder to get the best fit.
The Cabo just skirts the business casual side of fashion, and is likely not going to be suitable for wearing with a dress or in a business setting.
Who it's for:  Travelers who need a good all-purpose shoe, one that is lightweight and can see them through a variety of active adventures, will want to add this shoe to their wardrobe. If you're an avid runner, these won't replace your running shoe. Also, if you're setting out to climb a mountain or spend serious time hiking in snow, you'll want a boot geared more toward those specifics (which Baffin has, so you may want to check them out).
Price Range:  Available online for $79.99 for women and $84.99 for men. Prices are in Canadian dollars (Baffin is located in Canada). Baffin shoes can also be purchased at outdoor retailers around the U.S.
Personal Notes:  The Cabo take up such little space and weight, it would be easy to pack another pair of lightweight and dressier shoes. I just might be breaking my shoe packing rule.
Disclosure:  I received a pair of Cabo Trail to Rapids for the purpose of this review.