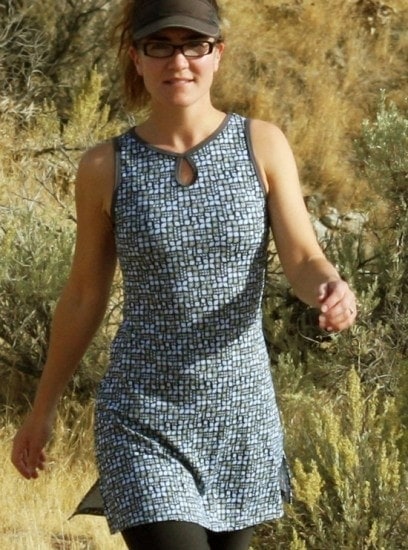 Nuu-Muu
Product:  Nuu-Muu exercise-and-everything-else dress
MJ Rating:  

 (of three)
Features:   The Nuu-Muu is an easy care multi-purpose garment than can be worn for a variety of purposes. There are basically two styles – one with pockets, one without.
What I thought:  I'm always looking for clothing choices that are easy to pack, yet stylish enough to do double (or triple) duty while on the road. After all, there's a fine line between practical comfort and looking frumpy. Need I explain which one is the better option?!
I was interested in the Nuu-Muu exercise-and-everything-else dress because it seem designed to flatter real women's bodies – you know, with all those little imperfections – and it looked perfect for exercise, travel, and as a beach cover up. The Nuu-Muu can be worn over bike shorts, running tights, yoga pants, swimsuits, jeans, leggings, pretty much anything you have in your wardrobe. In other words, it had potential.
The fabric choices were sufficient, if not plentiful, and there was an attractive selection of solids and prints. Since my traveling wardrobe is based around black as its core color, I chose a black, gray, and white geometric print called Pebbles, as I knew it would go with most everything I packed for a couple of weeks in Ireland. The Nuu-Muu rolled up into a teeny roll, taking up very little space in my luggage. So far, so good. Now let's see how it looks and wears.
While traveling around Ireland and Northern Ireland, I wore the Nuu-Muu with black stretch pants and black leggings. I wore it for traveling around, sitting on the train, walking around town, and out for lunch. Because it was fall, and the weather was cool, I needed to wear a sweater or jacket over it. This definitely took away from the look, it would have been cuter left uncovered, but it was still stylishly comfy and a good travel choice.
What I liked:
Local company (Bellingham, Washington) with a social conscious.
Niche product, two styles to choose from, easy to make a decision without getting bogged down in styles and patterns that wouldn't work.
Comfortable, easy to move in.
Laundered well by hand washing in a sink; ditto for the washing machine at home. Fast drying.
Competitively priced.
What was a challenge:
Sizing. Nuu-Muu claims to be sized for real women's bodies, and to an extent they are. However, I'm long through the torso, and so ordered a size larger, but it still wasn't quite long enough. It would be nice to have a tall size that added about 1-2 inches through the torso to better fit those of us who need a little more length in that area.
Length. And while we're speaking of length, it worked, but I'd love to see a little longer option available as well. There are plenty of countries where a little more modest of an option would mean I could wear the Nuu-Muu in more diverse situations. In tropical destinations, that still require a bit of modesty, it would be nice to have it long enough that I wouldn't have to wear long pants beneath it. Again, just a couple of inches would make a big difference.
Who it's for:  Fashion conscious urban athletes, tennis players, yoga practitioners, runners, walkers, travelers.
Price Range:  Around $70.
Personal Notes:  All products that are reviewed come with my personal recommendation. If I didn't like it – or, more importantly, don't think you'll like it – it doesn't make it to the blog. That means that everything comes with a couple of hearts as a rating just to get published. The heart ratings shown above are what moves a product recommendation from average to good, and from good to great.
Disclosure:  I received a complimentary Nuu-Muu for review.