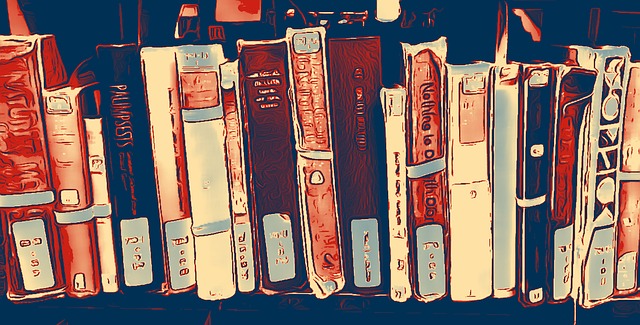 Like most travelers, I read a lot. Part of the reason I purchased a Kindle years ago, and the Paperwhite Kindle just a couple years back, is because even on the shortest of trips, I pack two or three books to read. And I can't begin to count how many books I'd pack for a month long trip to Europe. No matter how much I enjoy the feel of a book in my hand, I just couldn't pack around that kind of weight – even when I left them behind after reading – any longer.
I like reading a variety of types of books, from autobiographies to mysteries, from chick lit to literary fiction, from travelogues to business philosophy, and am constantly asking friends and fellow travelers for reading suggestions. While I've always gotten great recommendations, I also enjoy my subscription to the Sunday New York Times and their book section to discover new authors, new books, and new themes to read about.
This year, I've also decided to do the 2017 Pop Sugar Reading Challenge. I can't believe that I've missed doing this in the past, especially since so many of my book loving friends have mentioned it to me. What I love about the challenge is that is is NOT a list of books to read. Instead, it's a list of book themes that lets you pick something within your reading preferences while stretching you to explore new options. The list is 40 books for the basic challenge, plus an additional 12 for the advanced challenge, the latter equating to one book per week for the year. It doesn't even matter if you complete it, the point is to expose participants to new books, authors, and ideas. What's not to like about that?!
I'm off to a bang up start for the reading challenge and want to share my progress and a few books that I've read and that you might enjoy. Pick them up at your local bookstore, via Amazon, or at your local library. (By the way, did you know that your local library probably has e-books to check out and download to your Kindle?) You'll have lots of good reading material for your next trip, whether that's commuting to work or heading off around the world.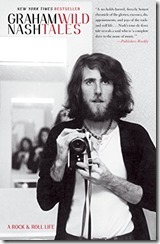 Wild Tales:  A Rock & Roll Life
Author:  Graham Nash (buy it here)
Synopsis:  From Graham Nash — the legendary musician and founding member of the iconic bands Crosby, Stills & Nash and The Hollies — comes a candid and riveting autobiography. Nash tells of his childhood in the rough-and-tumble north of England; his developing love of music and the formation, with Allan Clarke, of his first band, the Fourtones, who eventually became the Hollies; his introduction, through Cass Elliott, to David Crosby; his relationships with Joni Mitchell and Rita Coolidge; and his tumultuous relationship with group Crosby, Stills, Nash, and Young. Even with Stills's and Young's virtuoso guitars and Crosby, Nash, and Stills's genius for weaving harmonies around each other and flying into soaring musical flights, the group was anything but harmonious, and Nash doesn't hold back in his descriptions of the titanic struggles between Stills' and Young.
My thoughts:  Growing up with the music of CSNY, and of the solo careers of these four musicians, I was aware of some of the troubles and squabbles existing between them. This autobiography by Graham Nash shares some of the lurid wild tales of sex, drugs, and rock and roll, along with inflated egos, but what I found more compelling was a look into his personality and his drive to create beautiful art – whether that was music, photography, painting, sculpture or more. If you relate to the political message found in CSNY music, you'll want to understand more about how some of these songs came to be. And in today's turbulent political times, that might be a good thing.
Category:  A book with pictures (lots of great photos of the band as well as other notable musicians of the era).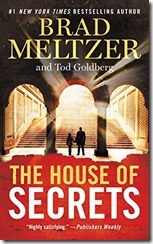 House of Secrets
Author:  Brad Meltzer & Tod Goldberg (buy it here)
Synopsis:  When Hazel Nash was six years old, her father taught her: mysteries need to be solved. He should know. Hazel's father is Jack Nash, the host of America's favorite conspiracy TV show, The House of Secrets. Now, years later, Hazel wakes up in the hospital and remembers nothing, not even her own name. She's told she's been in a car accident that killed her father and injured her brother. But she can't remember any of it, because of her own traumatic brain injury.
My Thoughts:  I like a good political conspiracy themed book, and I have enjoyed Meltzer's books in the past. They're well researched with lots of historical details, have compelling characters, and have some underlying philosophical angle that doesn't beat you over the head. This book, written with a co-author, followed the same formula but missed the mark for me. The conspiracy didn't grab me, I didn't like the characters very much, and the plot jumped around and didn't seem to have a cohesive flow (perhaps as a result of writing with a co-author?). I'd still pick up a Meltzer book but probably would lean toward one that he wrote solo.
Category:  A book with multiple authors.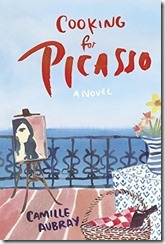 Cooking for Picasso
Author:  Camille Aubray (buy it here)
Synopsis:  The French Riviera, spring 1936: It's off-season in the lovely seaside village of Juan-les-Pins, where seventeen-year-old Ondine cooks with her mother in the kitchen of their family-owned Cafe Paradis. A mysterious new patron who's slipped out of Paris and is traveling under a different name has made an unusual request–to have his lunch served to him at the nearby villa he's secretly rented, where he wishes to remain incognito. Pablo Picasso is at a momentous crossroads in his personal and professional life–and for him, art and women are always entwined. The spirited Ondine, chafing under her family's authority and nursing a broken heart, is just beginning to discover her own talents and appetites. Her encounter with Picasso will continue to affect her life for many decades onward, as the great artist and the talented young chef each pursue their own passions and destiny.
My Thoughts:  The plotting and pacing derive from the question of what would you do if you learned that your grandmother once cooked for Pablo Picasso and received a painting in return? That question is answered by jumping back and forth between two times frames – the era of Picasso and current day – and weaves tales of art, the quirky personality of Picasso, the French Riveria, and the search for identity. I loved hearing about how the grandmother cooked the food, the love and thought that went into it. Although there were no recipes in the book (a shame), you can find some of them here.
Category:  A book set in two different time frames.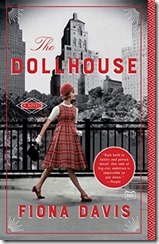 The Dollhouse
Author:  Fiona Davis (buy it here)
Synopsis:  At New York City's glamorous Barbizon Hotel for Women aspiring models, secretaries, and editors attempted to claw their way to fairy-tale success in the 1950s. When Darby McLaughlin arrived there she befriended Esme, a Barbizon maid, and was introduced to seedy downtown jazz clubs where the music was as addictive as the heroin, the startling sounds of bebop, and even the possibility of romance. Over half a century later the Barbizon's gone condo. Rumors of Darby's involvement in a deadly skirmish with a hotel maid back in 1952 haunt the halls of the building as surely as the melancholy music that floats from the elderly woman's rent-controlled apartment. Journalist Rose Lewin, Darby's upstairs neighbor becomes obsessed with the story.
My thoughts:  I loved this debut novel and it was my favorite of this group of books. Although I am not old enough to remember the era of young women staying at the Barbizon while pursuing their careers, I certainly experienced the stereotypes and discrimination that stemmed from that time period. The transposition of the story of the young career woman of the 50s with the young career women of the 00s hooked me and pulled me into the underlying untold story. I'm looking forward to reading more from the author.
Category:  A book set in a hotel.
If you're doing the reader challenge, I'd love to know what you've discovered for the various categories. I'll be updating my reading list periodically, hopefully providing you more plenty to load up with for your next trip. Leave you favorites in the comments.
NOTE:  This post contains affiliate links. If you click through for information or to purchase a product, a small payment may come my way. By clicking on these links, you support the site while still paying the same price. I thank you for your support.
Keep track of great reading ideas on a Pinterest Board: